Cho phép sử dụng Google Calendar từ máy tính của bạn kể cả khi Offline
Quick launch summary about breakout rooms in Google Workspace 
Bây giờ bạn có thể kích hoạt chế độ hỗ trợ ngoại tuyến cho Google Calendar trên Google Chrome từ máy tính của mình. Khi được kích hoạt,  bạn có thể xem lịch và các sự kiện của mình từ bốn tuần trước hoặc bất kỳ lúc nào trong tương lai theo tuần, ngày hoặc tháng. Điều này đặc biệt hữu ích khi bạn đang ngoại tuyến hoặc truy cập internet không đáng tin cậy. 
Getting started with breakout rooms in Google Workspace 
Quản trị viên: Tính năng này sẽ được BẬT theo mặc định và có thể bị tắt ở cấp miền hoặc đơn vị tổ chức (OU). Để tắt tính năng này cho tổ chức của bạn, trong Admin console điều hướng đến

Workspace > Calendar > Settings for Calendar > Advanced Settings > Calendar web offline

và bỏ chọn

"Allow using Calendar on the web when offline".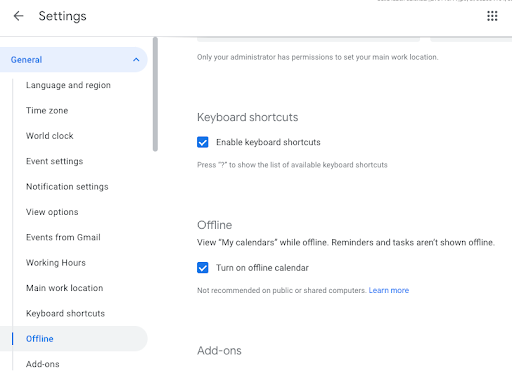 Thời gian phát hành 
Kiểm soát dành cho quản trị viên 
Cài đặt dành cho người dùng cuối 
Availability
Có sẵn cho Google Workspace Essentials, Business Starter, Business Standard, Business Plus, Enterprise Essentials, Enterprise Standard, và Enterprise Plus, cũng như các khách hàng của G Suite Basic, Business, Education, Enterprise for Education, và Nonprofits.
Updated: Gimasys.