Enhancing Google Workspace Add-ons in Gmail with Compose-time functions
Quick launch summary about Google Workspace Add-ons in Gmail

We're enhancing the way you work with Google Workspace Add-ons in Gmail with the addition of Compose-time functions. This allows Google Workspace add-ons to make it easier for you to work with multiple applications when you are working on your daily routine of reading and responding to email. Compose-time functions can help modify and format your messages in Gmail faster by: 
Adding recipients in the "To", "CC", and "BCC" fields. 
Inserting content into the subject line and body of the email. 
Inserting message templates for a consistent look and feel for your communications, and more.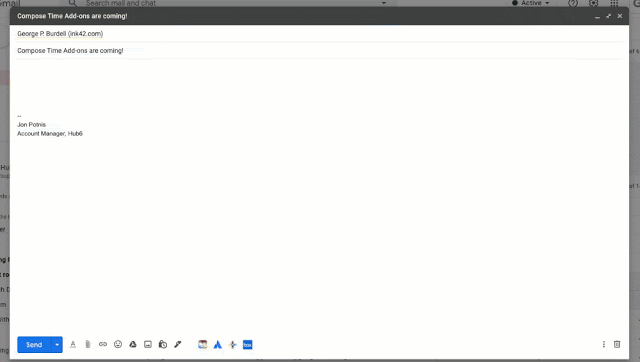 Organizations can also create their own compose-time add-ons using Apps Script or alternative runtimes. Use the Google Workspace Developer Guide to learn more about building compose actions. 
Getting started with Google Workspace Add-ons in Gmail

Rollout pace 
Compose time add-ons are available now in the Google Workspace Marketplace. 
Availability 
Available to Essentials, Business Starter, Business Standard, Business Plus, Enterprise Essentials, Enterprise Standard, Enterprise Plus, Education, Enterprise for Education, and Nonprofits customers (when enabled by admins) and users with personal accounts.
Update: Gimasys