Google Chat: Evolving Rooms to Spaces to create a richer, more collaborative experience for users
What's changing
In 2020, Google has launched Google Workspace as an integrated solution that provides everything you need to get anything done, all in one place. Earlier this year, They introduced a series of innovations, including smart canvas, all aimed to help you better manage your time and build deeper connections with each other as the future of work continues to evolve. 
Now, Google is announcing new forthcoming innovations in Google Chat to help teams do their best work in the hybrid work world, as many of us begin a return to office. In addition, They will also introduce a more streamlined and flexible user interface that helps people and groups more easily stay organized and balance focus and multitasking. 
Later this year, Google will evolve the Rooms experience in Google Chat to Spaces, a dedicated place to organize people, topics, and projects in Google Workspace. In Spaces, you'll notice new features like: 
In-line topic threading 

Presence indicators 

Assigned tasks 

Expressive reactions, custom statuses using emojis, and GIFs 

Improved content search across Spaces 

Message pinning 

User roles and moderation tools 

Discoverable spaces 
Spaces will also seamlessly integrate with Calendar, Drive, Tasks and across Workspace becoming a new home for getting more done, together. In Spaces, you'll be able to: 
Create and share docs 

Side-by-side discuss and edit 

See status from calendar 

Run interactive polls 

Integrate workflows directly with Bots 
For moments when you need to collaborate further, you can easily convert your group conversations into Rooms. In the future, you'll be able to convert group conversations into Spaces when it becomes available.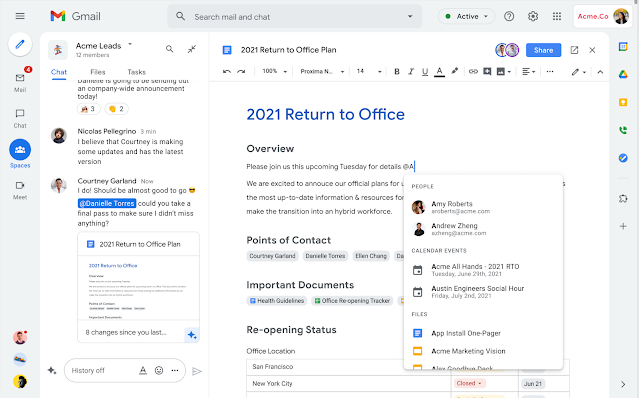 The new experience will begin rolling out to all users of Chat in Gmail over the next several months for all organizations that have Chat enabled, with new features being delivered on a rolling basis. They will continue to provide updates on the Workspace Updates Blog as these features become available. 
Who's impacted 
Admins and end users 
Why it matters 
Google Chat has been an essential part of work during the last year, serving as a bridge for separated colleagues to collaborate in real time. Google hopes these innovations will give distributed teams more shared spaces, making collaboration easier. 
Additional details 
In the coming months, we will introduce a new streamlined and flexible user interface that helps people and groups more easily stay organized and balance focus and multitasking. The new experience will feature a new left-hand navigation which surfaces critical applications like Gmail, Chat and Meet in one location. 
This will make staying on-top of and navigating to important conversations and critical notifications easier, eliminating the need to switch between various applications.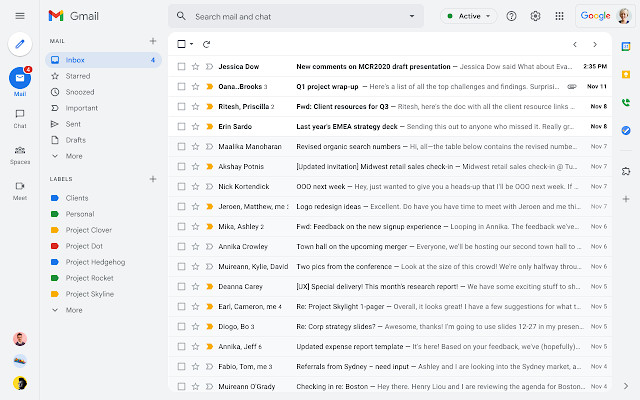 Google Workspace customers who are interested in early access to these features, please express interest here. If accepted into the program, Google will contact you in the coming weeks to confirm and share next steps.
Getting started 
Rollout pace 
Custom statuses and group chat to Rooms conversion 
Google will provide an update on the Workspace Updates Blog as the additional features become available. 
Availability 
Available to all Google Workspace customers, as well as G Suite Basic and Business customers 
Source: Gimasys