5 reasons businesses should use G Suite Team Drive
If you already own a Gmail account, surely many people are familiar with creating, editing, storing and sharing documents on Google Drive, whether for work or personal use. However, for businesses that are using or considering choosing G Suite, Google also offers a much superior document access management tool, which is Team Drive. So what's the difference between Team Drive and regular Google Drive?
Google My Drive and Team Drive
In the comparison article the difference between Google Drive and Team Drive, we have explained and compared the similarities and differences between these two Google apps. Brief explanation: These two applications have a lot in common when they both provide a place to store, share and edit documents in the cloud. The biggest difference between these two apps is ownership. In Google Drive, whoever creates a file takes ownership of the document (who is the owner of that file) – that is, ownership of the document belongs to individuals, each employee. But in Team Drive, no one is the sole owner. Whoever created the file, the ownership of that file is also the whole team - that is, belongs to the business. This feature of Team Drive sounds very simple, but in fact it solves a lot of problems, and is the most awaited feature of businesses right before Google launched.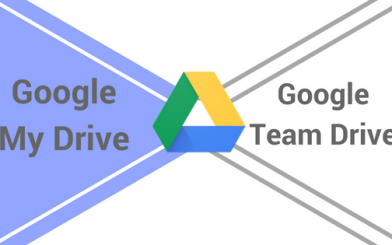 Currently Google offers three versions of G Suite (Workspace) for business: Basic – Business – Enterprise. Because Team Drive is an advanced feature, it only appears in two higher versions, Business and Enterprise. Users of the Basic version with Google Drive only have 30GB of space (if you are a personal Gmail account user, this number is 15GB), but the following two versions are completely unlimited. Therefore, not only bringing more management benefits, businesses can also comfortably store without worrying about exceeding quota limits.
So if you already have Google Drive, Team Drive was built and developed by Google to solve what business problems?
1/ Centralized management of enterprise resources
One of the most practical benefits of Team Drive is being a data warehouse, with the ability centralized management (centralize) company resources. As a result, the company will not need to spend money, time and personnel managing data servers in the traditional way. Team Drive solves the problem of "monopoly" of data (also known as "data silo") when information is stored separately between departments and individuals instead of being centrally managed in one place. Even many businesses have a situation where "key" individuals store and manage confidential business information in their personal Drive.
Whether you are an employee or a manager, there must have been many times when you have fallen into a situation where you cannot make timely decisions because you always have to wait for reports from one department, data from another? Want to gauge the overall situation with the latest information, but have your numbers last updated three months ago?
With Team Drive, a manager or admin can create a library, or a common repository of information, where employees can access data according to their rights and functions. This approach not only helps the work to be solved effectively when users quickly get the information they need, but also ensures general security.
2/ The data stays when the employee leaves
When using Google Drive, if the admin does not manage it closely, it is easy to delete the employee's account and delete their data, or let the employee download all documents/share for the accounts. is different. Admins can also keep documents, and transfer ownership to others, but this time the location and access of shared files can be messed up.
But In Team Drive, the files inside belong to the whole team, no one has a specific owner. And every time an employee quits, the admin just takes away access, and everything stays in the same place, without any files being moved or disappeared.
3/ Help new employees integrate more easily
Helping new employees adjust to their new environment, culture and job can take a long time, weeks or months, if by the time they can understand and be productive, effective. The cause often comes from limited access, or they simply do not know what information sources to find, where to complete assigned work or projects. This situation also often occurs when the new employee comes in and does not have enough time to receive the work handover from the predecessor.
Admins can solve this by aggregating documents by job or project. Every time someone new joins, they will immediately have access to all the necessary resources, so they can quickly and proactively solve their tasks.
4/ Easily manage and grant access rights
There are many ways to leverage Team Drive to help employees across teams, departments, and partners work together more smoothly. For example, admins can divide documents in Team Drive based on the following:
Projects and works that need internal as well as external coordination: Here, the admin can grant access rights to members of the same team, partners, customers, or seasonal employees, collaborators... Thanks to that, everyone will easily grasp and Keep abreast of workflows, work using the latest and general metrics.
Departments, departments, groups: Allows people belonging to the same sub-organization in the company to access their department's information and data. For example, an admin can create a separate Team Drive for the sales department in the North region and a similar Team Drive for the South region. Here, members of the two teams can find out information specific to the market they are in charge of.
Shared files and forms for the whole company: For example, internal regulations and policies, general remuneration policies, application for payment of travel expenses, etc.
Important, sensitive files: With these files, the admin can tighten access rights, only grant viewing rights to certain people, or strictly prohibit sending them to the outside, etc.
5/ Team Drive uses Machine Learning to help you find information
Every month, up to 800 million active users (Active users) use Drive and trillions of files are stored on it. In each business, the number of files that employees create and upload to Drive is not small, especially for businesses that have been operating for a long time and have a large number of employees. Drive is now the treasure trove of common knowledge, the gray matter of the whole enterprise. Therefore, Google has developed the "Quick access" (quick access) to help users quickly find what they need in this sea of information.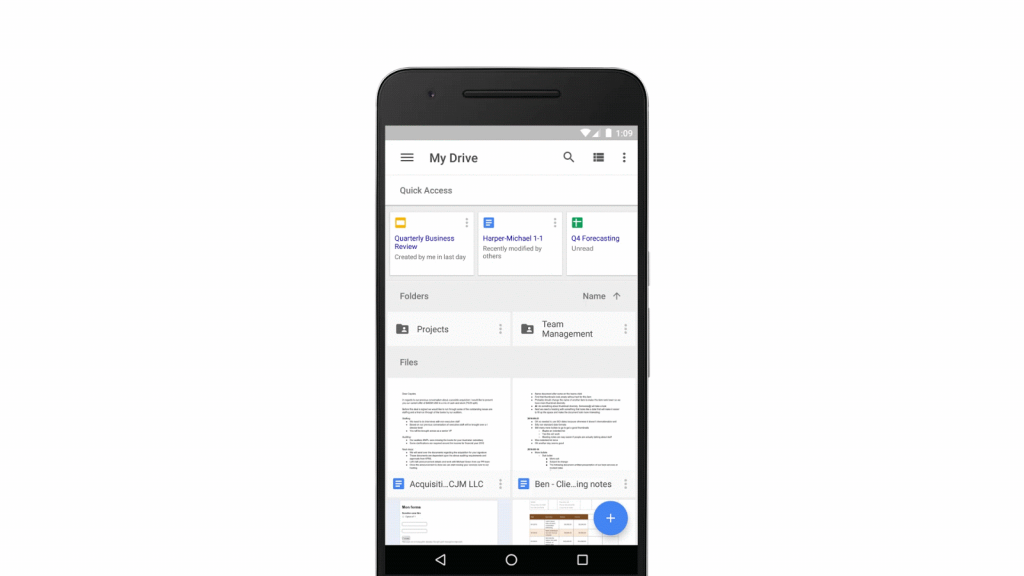 This quick access feature uses a deep neural network to identify common usage patterns and habits of users. "Quick access" uses many different signals such as user activity on Drive, meeting schedule in Calendar, document editing history, behavior of other related users, etc. From there, the system will predict and display the file you are looking for.
Google Team Drive is an application built by Google to solve the problem of managing and sharing data inside and outside the enterprise more effectively. You can consider the problems you are facing to see if the above benefits can apply to your business. If your business has signed up for or is trying out G Suite, you can refer to the Instructions to install Team Drive here.