Improved publishing on Google Sites
When you choose "Publish – Publish" a Google Sites page, it means that your site can be viewed by others. If your company allows you to put google sites on the web, then there will be 2 choices for you (1) Allow people in your domain or anyone on the web to access your site, (2) allow your google sites page to show up in search results.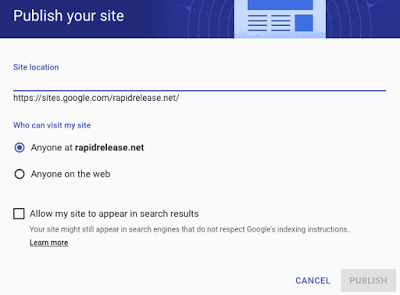 Google has received a "allow the site to appear in search results" response that is confusing and unclear how it affects site availability. With that feedback, Google is setting up some changes. With this release,
If you choose to allow people on the web to be able to access your site,

you will see an option to "Ask the public search engines not to index my site". By default this option will not be selected, which means that search engines (like Google) will index your site page. This option will be labeled as "Search Settings" to distinguish it from the above enforced permissions, by checking it you only indicate your preferences which are not indexed by search engines. your site item.
If you have chosen to restrict viewing of your site to only people in your domain, you will not see the option "Ask public search engines not to index my site" because No one outside your domain can access that page. Depending on the configuration you install, the site may appear in your organization's internal search engine and on Google Cloud Search.
Note that this feature will not affect the settings of previously published sites, unless those sites are unpublished and republished.