New admin privileges to manage custom templates in Google Drive
New admin privileges to manage custom templates in Google Docs, Sheets, Slides, and Forms
In November 2016, we introduced custom templates in Google Docs, Sheets, Slides, and Forms, enabling teams to spend less time formatting and more time searching, collaborating, and share your ideas. We've also provided G Suite Business, Education, and Enterprise customers with optional controls in the Admin console such as:
• Moderation – requires user-submitted templates to be approved by an administrator with administrative privileges of Drive and Documents.
• Restriction – limit template submission to administrators using Drive and Documents administrative privileges.
With this launch, you no longer have to give Drive and Docs full privileges to admins who want the ability to control and manage templates. Instead, you can give administrators a new Docs Template privilege, allowing them to approve templates and modify template settings in the Admin Console, but not change Drive, Docs, Sheets, Slides, and Forms settings and more. Admins with full Drive and Docs privileges will continue to be able to manage templates.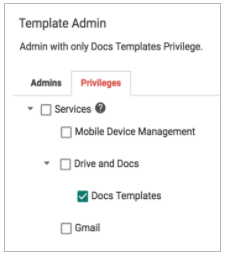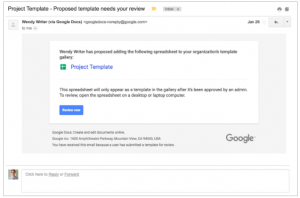 This change will allow your organization to manage custom templates in a scalable way, without having to give up control of sensitive administrative settings.
The source: Gimasys