Move files and folders in Google to Team Drives
After the Team Drives feature was announced in March, it's possible that you and your users have assets that need to be moved from Google Drive (e.g. My Drive) into these new Team Drive spaces. As a G Suite administrator, you have 3 ways to do this:
Allows users to move files to Team Drives
If you enable this setting in the Admin console (Apps > G Suite > Drive and Docs > Migration Settings > Allow users to migrate files to Team Drives), your users will be able to migrate files individually to Team Drives, as long as they have Edit permission to these files and the owner of the file is also a member of the Team Drive.

Move folders like a super admin
If you're a super admin and have view or higher permissions to the current Drive folder, you can manually move the folder to Team Drive. Access Help Center​ for detailed instructions.
Delegate admin migration rights to individual users
If you are a super admin, you can delegate the administration described in option 2 to any user in your domain. They'll then be able to move the My Drive folder to a Team Drive. For step-by-step instructions on granting these administrative migration permissions, detailed at Help Center​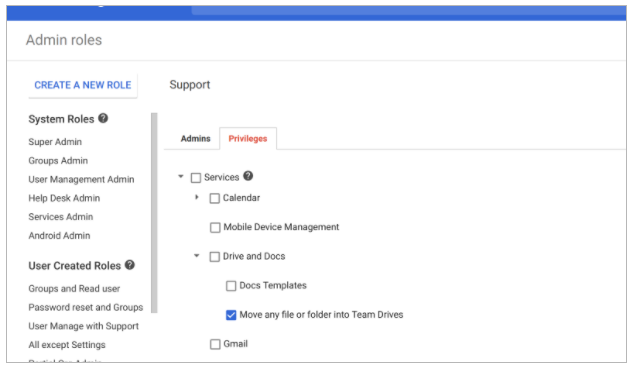 Regardless of which option you choose, be careful when moving files and folders to Team Drive:
Any files transferred to the Team Drive will then be owned by the Team Drive, not the individual.

The moved files will still be in Shared with the user and the user's recent location, but they will be deleted from all other Drive locations (for example, My Drive).

File sharing permissions and associations will not change when it is transferred to Team Drive. People who are not members of Team Drive will still be able to access the file with their previously granted permissions.
For more details please visit Help Center