G Suite vs Office 365: Which is for Business?
G Suite and Office 365 is currently the most popular service for businesses looking for a basic cloud computing solution. Unlike normal cloud applications, the two platforms of Google and Microsoft are Gather the most essential applications for businesses: Email by domain name (Gmail, Exchange), information storage and sharing tool (Google Drive, One Drive), text editor (Docs, Sheets, Word, Excel, ...)
Google with a solid foundation in the Cloud has made a breakthrough when it launches Gmail service that attracts 1.4 billion monthly users (more than 25 email service providers combined, including Microsoft's Outlook and Microsoft Outlook). Yahoo! Mail), Microsoft is quite famous for its office suite. So what factors do businesses need to understand and consider to be able to choose the most suitable solution for them?
1. What's the difference between G Suite and Office 365?
Business email: G Suite vs Office 365 comparison: Since both platforms have similar features, it will be difficult for businesses to make decisions based on these factors alone. An important factor to be aware of when weighing between these two options is their nature, or 'origin'. You need to understand this fundamental difference to know which is the best option for you.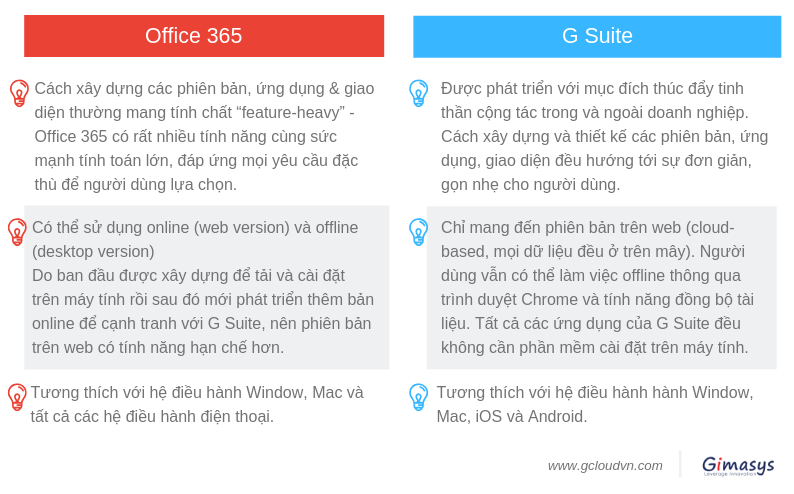 2. Compare the cost of G Suite and Office 365
A. G Suite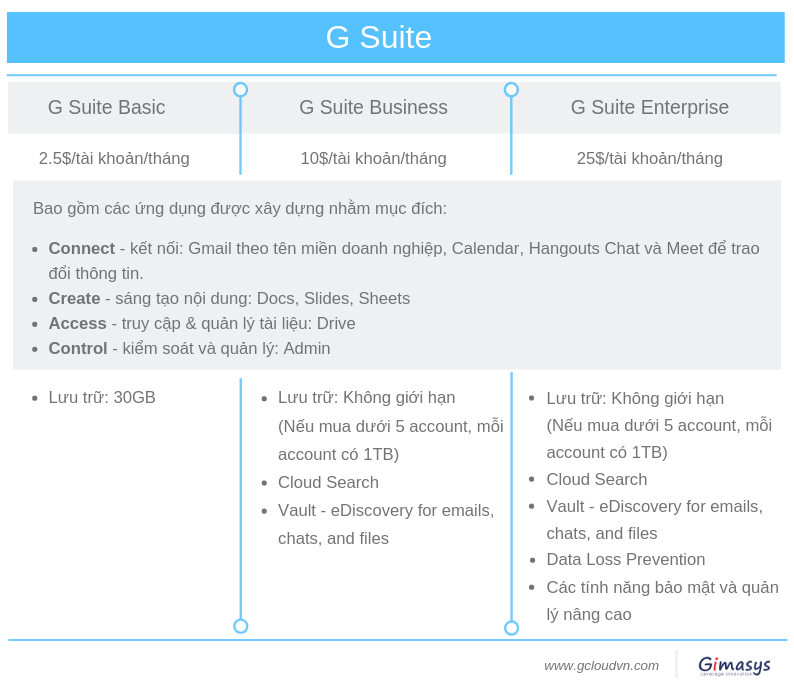 Versions and costs correspond to each G Suite version (Cost excludes tax, committed by year. However, businesses can still buy by month)
Như được đề cập từ đầu, Google luôn hướng tới sự đơn giản và gọn nhẹ cho người dùng. Bởi vậy, dịch vụ G Suite (Workspace Google) cũng chỉ chia ra làm 3 phiên bản: G Suite Basic – Business – Enterprise với chi phí lần lượt là 4.2$ – 10.2$ – 25$ cho mỗi tài khoản.
The main differences between each version are in storage capacity, user management, and security in the enterprise. In the two higher versions, businesses can establish strict compliance policies for their employees.

All three versions are not limited in the number of users. Whether it is 1, 10, 100, 1000, 10 000 users, businesses can still use 1 version and only need to buy more licenses when the staff increases.
Advantage
:
The advantage of G Suite is its simplicity of choice and "agility" - which can be easily changed to fit the growing scale of the business. Although only included in three versions, all three packages contain the essential applications that every business needs – Email, storage, chat, video calling and text editing.

About the lowest capacity 30GB -> unlimited storage depending on the version used. This division helps businesses save a lot of money. For small and medium businesses: users only need 30GB and buy more space for accounts that need large memory, avoiding wasting several tens of GB of each account. For large enterprises or have a lot of storage needs: only 10.2$ is unlimited memory (compared to 20$ of Office E3).

The Gmail interface is familiar to many users due to its friendliness and simplicity from the personal version, which helps employees in the company quickly adopt the new system, saving time and training costs when the company moves. to use G Suite enterprise.
G Suite and Office 365: Security, privacy when going to the Cloud
B. Office 365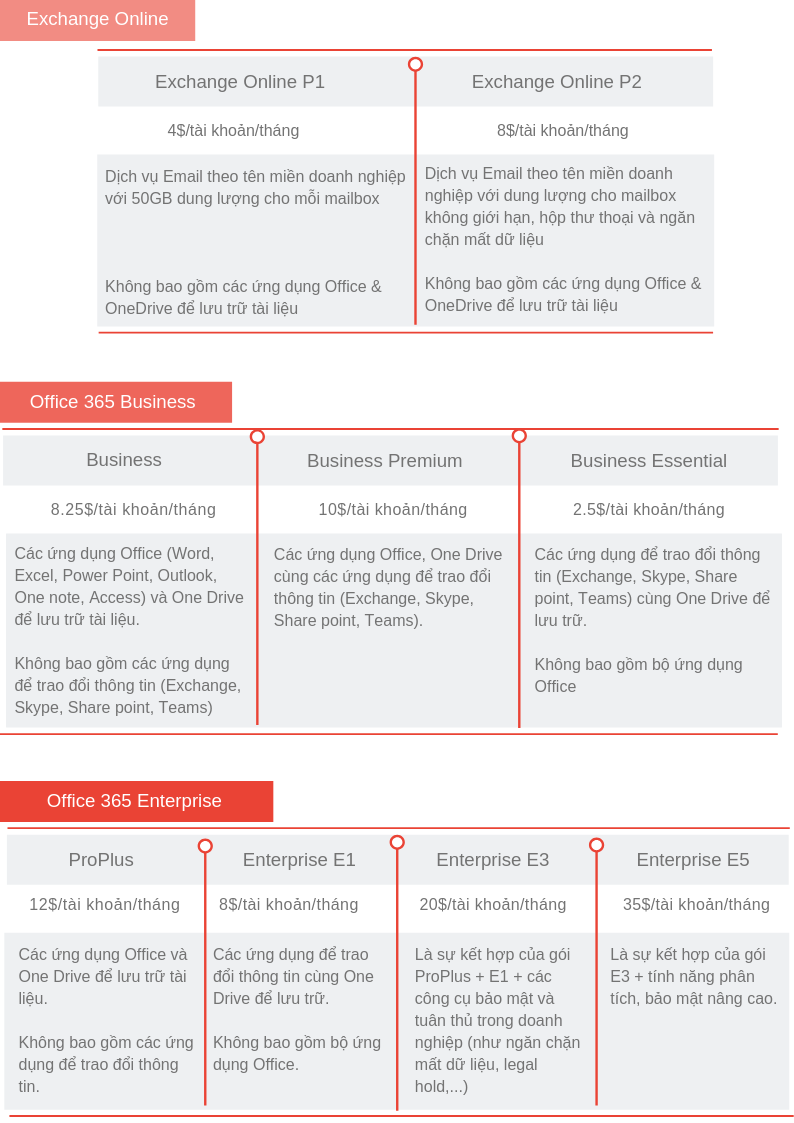 Versions and costs corresponding to each version of Office 365 (cost exclusive of tax and commitment by year)
Office 365 is divided by Microsoft into two groups: Office 365 Business for small and medium businesses (SMB). Office 365 Enterprise is for large businesses. Within each group, businesses will also have a variety of options:
Office 365 Business: For businesses with less than 300 people, there is no big change in the number of employees (Because if you are using the Business version, but then the business expands with a scale of over 300 people, you must upgrade to Enterprise edition).
Office 365 Enterprise: For large enterprises and unlimited number of users. In the Enterprise version, Microsoft again divided into 4 different packages for businesses to choose from such as ProPlus, E1, E3, E5.
In addition to these two plans, Microsoft also has a separate service plan that only includes business email – Exchange Online. However, with the cost of 4$/account/month and not including other features, this cost may not be the optimal choice for many businesses.
Advantage:
This way of breaking down services into multiple instances provides business flexibility. Depending on the budget, work requirements or the number of users, the admin can choose the appropriate package. For example, businesses can only use Office applications (such as Word, Excel, Power Point, ...) or only use information exchange applications (such as Exchange - email under business domain, Skype, Sharepoint, etc.) ) or a combination of both.

Storage capacity is 50GB
However, when there are too many options, people often… do not know what to choose (not to mention the naming of the Office 2013, Office 2016 packages, making users even more confused). If you choose Business Essential, you won't have the Office suite. If you choose Business, there will be no Email by domain name. If you choose Premium to have enough features, the cost is somewhat over the budget. Not to mention in a business, not everyone has the need to store up to 50GB or 100GB.
3. System requirements comparison
A. G Suite:
Vì G Suite 100% sử dụng web và không có phần mềm để tải về, tất cả mọi thứ bạn cần là một trình duyệt: G Suite hỗ trợ Chrome, Internet Explorer, Safari, Firefox dù đó là phiên bản mới hay cũ. Vì sản phẩm được xây dựng trên mây, nên trải nghiệm của người dùng cũng như tính năng của sản phẩm sẽ không bị phụ thuộc vào hệ điều hành của thiết bị (MacOS, Linux, WIndow, ChromeOS…)
With updates and innovations in features: They are all done in the background and automatically appear on the interface, users just need to use it without having to do any action.
When working with Office applications (word, excel, ...): users will not need to upgrade to any version. As long as that version of Office is still supported by Microsoft, G Suite will also remain supported. So, whether to upgrade Office applications or not is entirely up to the user.
B. Office 365:
Because Microsoft products are a combination of both Cloud and On-premises, in addition to having a browser (Chrome, Internet Explorer, Firefox, ...) to work online, users need a compatible environment to run. offline software. For example: Although Microsoft supports Windows, Mac OS, Android, and iOS operating systems, when running Office on different operating systems, users still face corresponding limitations. Some apps like OneDrive are only supported on Windows, Mac, iOS, Android or Sharepoint Designer is only supported on Windows.
Besides, Office can only be supported during the Mainstream support period (5 years after its launch). All new features will then be deprecated on Office 365; and all new features added on Office 365 after this period will also not be available on older versions of Office. Example: After October 13, 2020, versions of Office 2013 and Office 2016 (perpeptual) will not be accessible on Office 365. Basically, customers will have to regularly update each time the company launches a version. new and this update cycle will depend on Microsoft.
4. Choose G Suite or Office 365?
In general, compared to other solutions available on the market, both G Suite and Office 365 All of them are rated as outstanding in terms of product quality and ability to fully meet the most basic requirements of enterprises. Both platforms allow users to collaborate, easily store and share documents online.
G Suite
Trước đây, giải pháp này của Google thường được đánh giá là lựa chọn phù hợp đối với các doanh nghiệp nhỏ (dưới 100 nhân viên) và vừa (từ 100 – 999 nhân viên, theo Gartner) and businesses with staff who often have to move and work remotely. However, according to the latest statistics in 2018, many large enterprises have become "early adopters" in switching to Google's G Suite. Some familiar names can be mentioned such as: Nippon Airways, Colgate-Palmolive, Dow Jones, Nielsen Holdings, Salesforce.com, etc. Especially in March 2018, one of the two largest aircraft manufacturers in the world – Airbus – has moved all of its 130,000 employees using Microsoft (on-premise) to G Suite (Cloud). The reason that Airbus gives is not at all because of the cost, but rather in the collaboration and agility that G Suite brings to businesses. Besides, because users are used to using Gmail and its accompanying applications, bringing all employees to the cloud is not too difficult..
Office 365
Thường được đánh giá là phù hợp hơn với các doanh nghiệp lớn – với mô hình quen thuộc nơi toàn bộ nhân viên làm việc tại văn phòng, sử dụng máy tính để bàn, chạy hệ điều hành Windows. 
In summary, if you have grasped the essential difference between the two applications, the last and most important question that you need to ask yourself is: Does your business need a real transformation? Transforming the way of working and adapting to Industry 4.0? Or simply need an environment to store and share documents in the cloud? If the answer to the first two questions is "Yes" – G Suite is the best choice for your business.
Nếu doanh nghiệp của bạn đang cân nhắc lên cloud cùng G Suite của Google, bạn có thể đặt lịch tư vấn Online cùng Gimasys để nhận được những thông tin tư vấn phù hợp nhất với yêu cầu của doanh nghiệp.
Updated: Gimasys
Maybe you are interested: