Google Search for G Suite apps
Every day, people from all over the world use Google Search to find information. Indeed, there are millions of searches every year. That's why Google continues to invest in cloud-based technology as a powerful search engine, helping businesses find information internally. In February, Google officially launched Google Cloud Search (formerly known as Springboard), a new product that uses an intelligent engine for users to experience searching through the G Suite service.
The classification of information within the enterprise has become increasingly complex, and more and more companies have moved data and work to the Cloud. That makes it possible to work as a team in a flexible environment and organize large amounts of data in various formats from emails and documents to spreadsheets, slides, forms, internal pages. In fact, according to MCkinsey's survey, the average worker spends 20% working time per week searching and synthesizing information, so workers have spent a lot of time searching for information. that they need for the job.
Experience with smart search engine
Cloud Search has taken full advantage of Google search's smart search engine to integrate into G Suite. It allows users to have comprehensive search and optimal suggestions to help users find the right information they need.
For example, when users open the Cloud Search application on their phone or laptop, they will see relevant information arranged in simple cards (assist cards) that can help them manage their work in the most effective way. . Assistant cards are a new way to help users find the right information at the right time. Using advanced Google technology, these cards help users take the initiative for upcoming meetings, even suggesting documents that users need attention. Support cards are designed at the right time and place, so users can coordinate their day-to-day tasks more efficiently. Because of that, Google continues to research to know what information suggestions are most useful for users, Google will add more support tags in Cloud Search.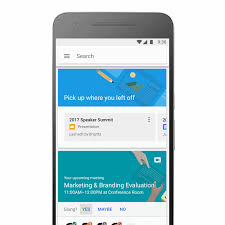 In addition to finding information, users can also search in the company's directory. They will see details of their colleagues' contact information, events and frequently used documents. They can even choose to email, call, or Hangout.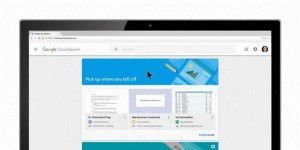 For businesses, security is always a top priority. Cloud Search respects G Suite's document sharing permissions, users can only find and see the documents they need to sign in to. That is to say, corporate data sources specify a deadline by which everyone in the organization can find them, but your team's projects appear only to team members, and tasks will always be available to members.
Information hierarchy
Since launching the first testers program last summer, businesses have used Cloud Search to decentralize internal information and log in more quickly. QAD, an ERP solution provider for multinational manufacturing companies, helps businesses manage their finances, distribution channels, and business smarter. There is very little time that can be extended searching through documents to get the business strategy decisions they need, so QAD uses Cloud Search to assist them.
"At QAD, We operate with high intensity and require flexible, fast and easy technology to log in information. Cloud Search has met that. The solution allows us to decentralize information where it is currently in different systems and unlocking the information will not take much effort for the IT department," said Scott Lawrence Lawson, IT Director
Cloud Search is now in the G Suite app
Cloud Search is available to G Suite Business and Enterprise edition customers. Currently just getting started, in the future, Google will add more features so that Cloud Search can integrate with third-party applications. This way, users and their teams can find, log in, and manage most of their information in G Suite.
Once Cloud Search is enabled for your business, it will be logged in at: cloudsearch.google.com​​.
The source: Gimasys