Instructions to create Gmail by business domain – G Suite
Gmail by business domain (Business email) is an email that uses the company's own domain name (eg tencongty.com) instead of using the provider's generic domain name like gmail.com or outlook.com. When using business email, the user's email address will look like nhavien@tencongty.com. Currently, this service is provided by both domestic and international units, but if you are looking for a stable, secure system and are committed to good support, then G Suite is the first choice. that you should consider. This article will show you how to create Gmail under your business domain – G Suite that you own.
What do you need to create Gmail under your business domain?
Quite simply, everything you need to be able to sign up for Google's email service is:
1 domain name owned by you:
Some of you new to this service often confuse email domain name as a service. In fact, Domain (abc.com) and email by domain name (nguyenvan@abc.com) are two separate services. You have to buy and own a domain name first and then can Sign up and create email accounts use that domain.
To buy a domain name for your company, you can contact domain name service providers such as Mat Bao, Go Daddy, PA Vietnam, Ten Ten, etc. These units will usually provide a domain name when selling domain names. The number of free email hosting accounts is always for businesses, but in terms of capacity, stability and security, it is certainly not as good as Google's products.
Note that this domain name must be owned by you – that is, when you buy the domain name, you will have an account with user name and password to log in to the admin page. You will need this information to perform the domain verification step, which also prevents other parties from using your domain name to impersonate.
1 extra email address:
This email address is used for registration and is required to choose an account with The address is different from the domain name that you intend to register for email. For example, if you are going to sign up for Gmail using a domain name abc.com then the secondary email address you choose must have a different domain name (duphong@gmail.com).
How to create Gmail by business domain name
There are 2 ways for you to choose: 
Method 1: You just need to contact Gimasys!
We'll help your business configure a free trial or sign up for G Suite services. You just need to provide your information and configure your contact settings to work with Google – Gimasys will do it for your business. Why sign up for G Suite through Gimasys:
The price is still the same price directly from Google But instead of having to configure the whole thing yourself with technical troubles, Gimasys experts will do it for your business, quickly, in accordance with security standards.
After the configuration is complete, the highest administrative rights will be transferred back to the enterprise.
You will receive instructions on how to use and administer G Suite accounts. 
Free technical support throughout the use process through Helpdesk, Email, Hotline channels instead of having to manually contact Google every time you need support. 
Issued with a red VAT invoice, your business will not be invoiced when buying directly from Google. 
Gimasys is Google's leading strategic partner in Vietnam and has worked with many customers such as Masan, Jetstar, Jolibee, Dien Quan Media…. View partner certifications 
Contact Gimasys: 
Email: gsuite@gimasys.com
Hotline: +0974 417 099
Method 2: You will manually register the configuration and work with Google by following these steps: 
First of all, you visit the official Google website about G Suite service and lsection selection Start free trial or Get started.
Note: You can change the language of the website by dragging the mouse to the bottom of the page, in the corner right and select the language you want to display.
1. Fill in the basic information about the business.
At the registration page, you will need to enter the information below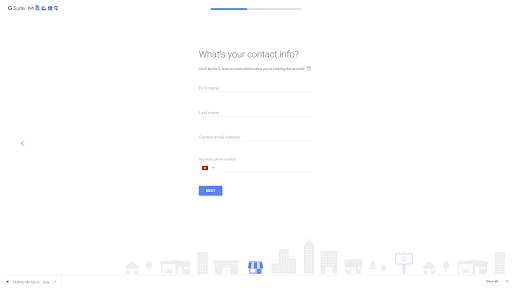 2. Choosing and registering a domain name
After providing basic business and contact information, Google will ask about the domain name you plan to use to sign up for G Suite. Here you can click on one of three options: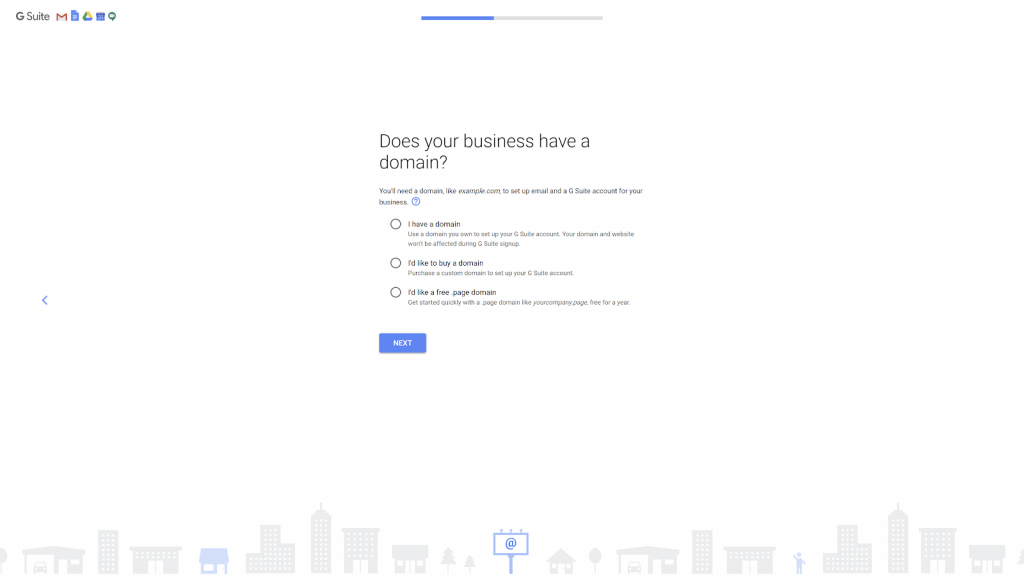 I have a domain

: You already have a domain name and want to use it to set up your G Suite account. During the installation process, your domain name and website (if any) are not affected

I'd like to buy a domain:

You don't have a domain name yet (or have one but want to buy another domain name to use).

I'd like a free .site domain:

You can get started quickly with a domain name like tenmien.site, like tencongty.site – and you can use it for free for a year.
Within the scope of this article, Gimasys will only guide you to register if you already have a domain name (If you don't have one, you should buy a domain name first, then start the steps below).
When you click on the option I have a domain, you will be asked to enter the domain name as below: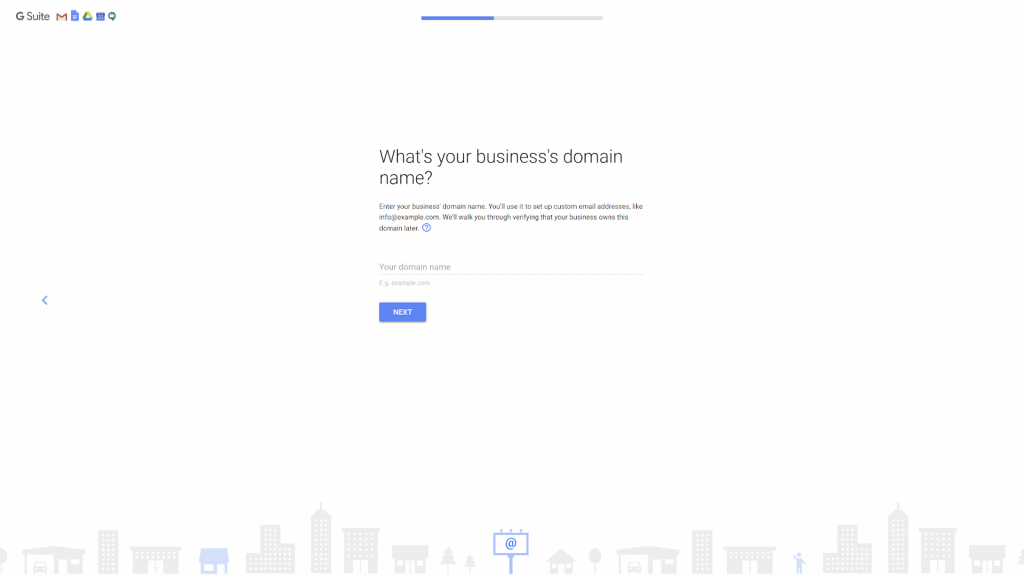 Please enter your company's domain name here
3. Create an Admin account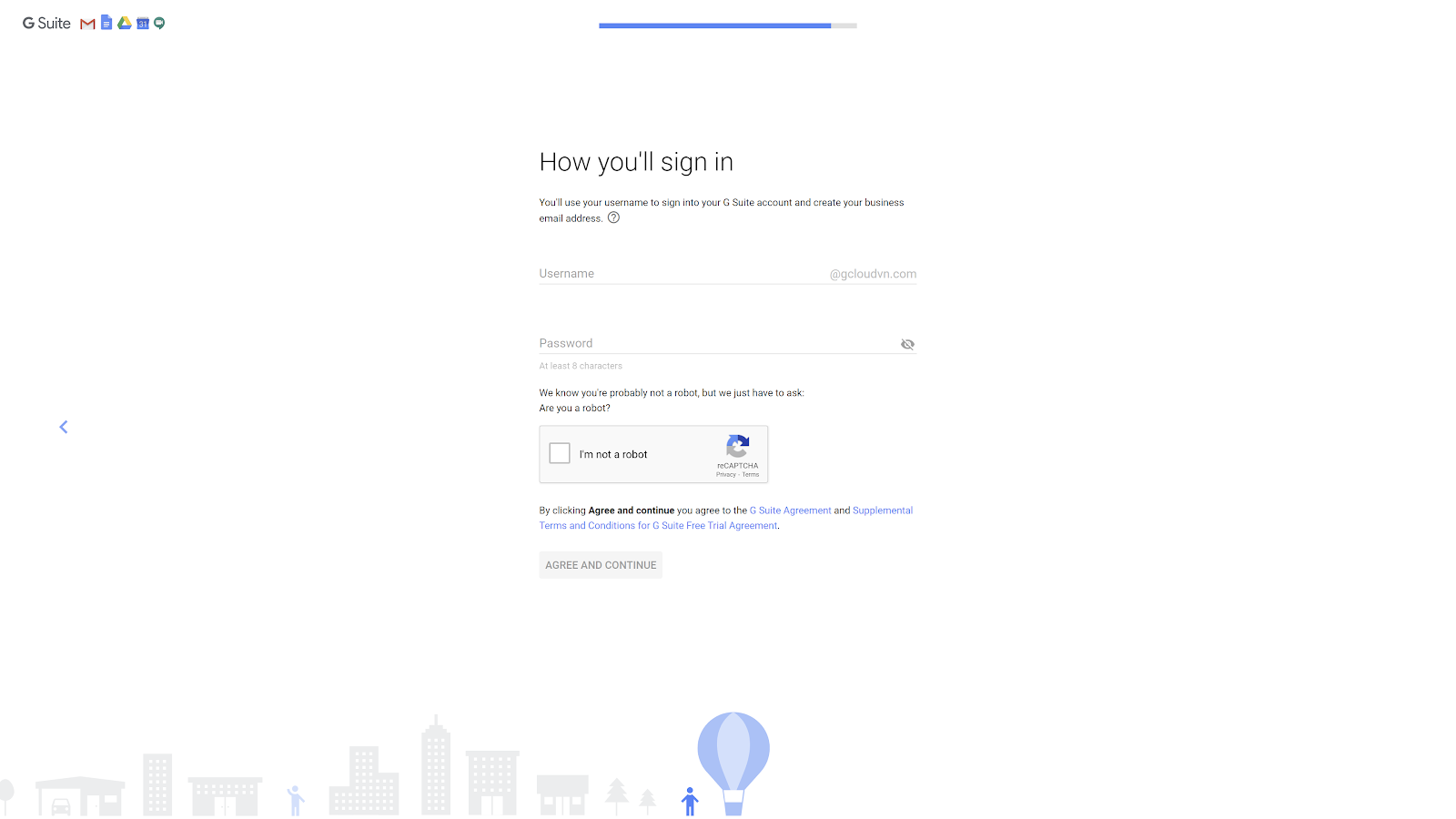 Create an admin account
With an existing domain name, in the first step you will create an admin account and password for that account. You can then use it to sign in to G Suite and create domain accounts for other users. Choose Agree and create an account.
Note: In G Suite, the admin account is not separate from the user account. That is, you do not need a separate account (eg admin@hangquat.site) to log in and perform admin tasks, but you can also use your own account (eg tuananh@hangquat.site) just Log in to the admin, just use it to perform daily tasks (send emails to partners, customers, ...).
If the account creation is successful, you will receive the following message: "Your G Suite account has been created" > Selection Go to setup to start the next steps.
4. Start the installation
After being navigated to the setup page of G Suite, you will see there are 3 things to do as below, of which you have completed the first one is Set up a business account (Create an admin account). There are two more tasks you need to complete, which are:
Add people to your G Suite account

: Create user accounts for the employees in your company.
Verify your domain and set up email:

Verify that the domain you just registered with Google is owned by you and start setting up business emails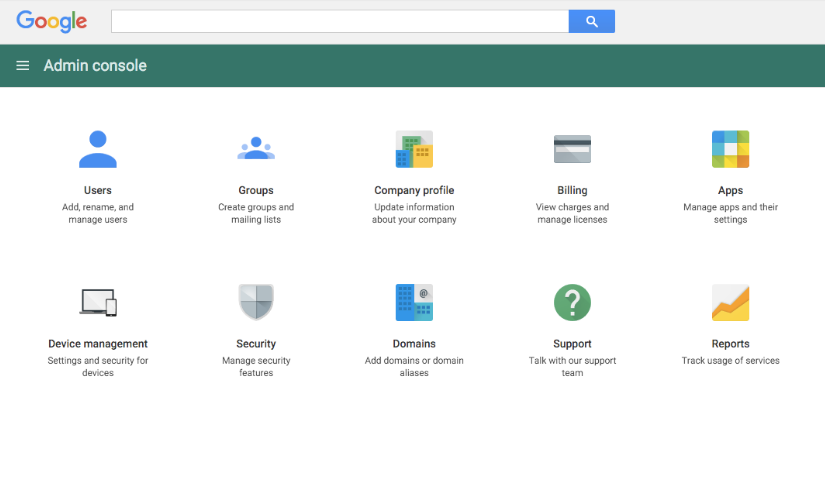 The G Suite Setup interface helps you install the basic information (Note: This is not the admin page interface)
At this interface, you can do the above basic operations. However, to discover more features from the admin page exclusively for admins, you can click on the Mannual setting (small text below the 3 work items) and " tinker" with more things that the admin can do. execute at admin console. The information below will guide you through simple operations.
4.1. Create accounts for users in the business
When creating an account for a user right on the Set up G Suite interface, you can create 10 accounts.
To create each account, you'll need to fill in the First and Last Name, and the email address you provided them. Then choose Add. Do the same with the number of accounts you want to create. Note the option "I added all user email addresses currently using @tencongty.com" so that these accounts all share the same domain name that you have registered.
Then choose next, you will be able to send an account creation notification message to these individuals via their email.
4.2. Domain Validation
This is an important step that many people who sign up for a G Suite trial often run into trouble. However, this step can be done very simply if you remember your login account to your domain name administration page (The domain seller for you will be responsible for sending this login account information to you when you bought the domain name. If you don't remember, you can find it in your email or contact your provider for support).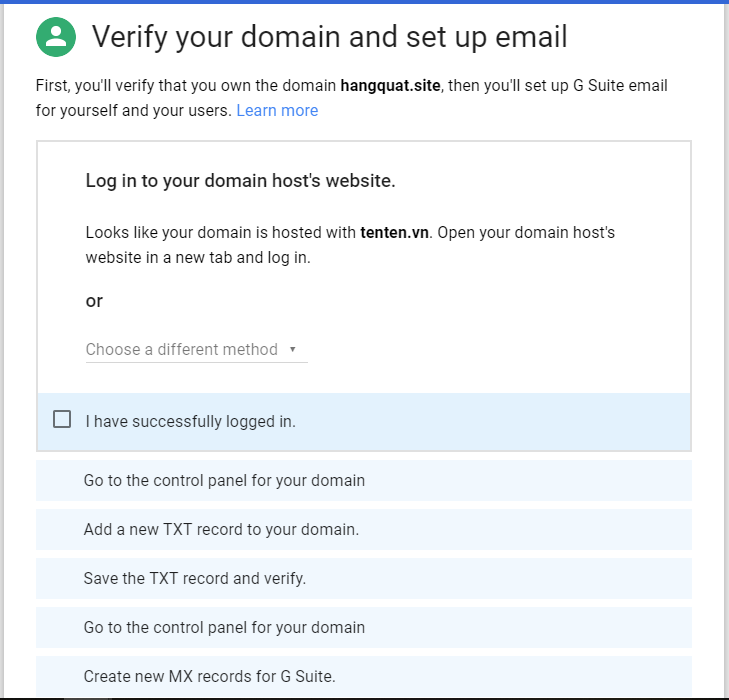 Here are the steps you will have to take to complete the domain validation
Once you've completed domain verification and MX configuration, you've completed the G Suite signup process. The next step is to go to the Admin interface and create an account for the user. Now you and your employees can sign in to Gmail and try out G Suite apps like Google Drive, Hangouts, Docs, Sheets, and more. And don't forget that Google's solution is not limited to just sending and receiving mail, find out if What does G Suite have besides Gmail by domain Please.
If you're having trouble signing up for G Suite. Please contact Gimasys so that we can assist you (via email, online meeting, phone or in person at your office).
Contact: 
Hotline: Hanoi: 0987 682 505 | City. Ho Chi Minh: +0974 417 099
Email: gsuite@gimasys.com
Registration: Here
Updated: Gimasys