Instructions on how to register Gmail with the latest business domain name
Gmail's latest version makes it easy to capture important work. With a secure and ad-free email platform, you can also chat, video or voice calls and stay on top of your projects through shared tasks and files – all right in Gmail . The Google domain email suite also helps build customer trust by giving everyone in the company a professional email address at your domain, like priya@yourcompany and joe@yourcompany. Alternatively, you can create a group mailing list, such as sales@yourcompany. This article will show you how Gmail registration under business domain name Latest.
Summarize email by Google domain
Gmail business (Business/professional email) is an email service designed specifically for companies, businesses, and organizations. The most noticeable difference of business email compared to free email services lies in the address of the mail account: instead of using the same domain names of the provider (such as gmail.com, yahoo.com, outlook.com,….), businesses can use their own domain names. This domain name can be the company name (tencongty.com, gimasys.com, vietinbank.com, ...) or the service or product that the company provides (dulich.com, logisticvietnam.com, ...).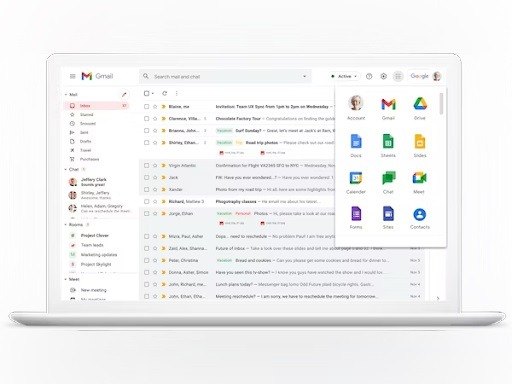 > See more here article 5 benefits when businesses register email under their own domain name
What do you need to create Gmail under your business domain?
Quite simply, everything you need to be able to sign up for Google's email service is:
1 domain name owned by you:
Some of you new to this service often confuse email domain name as a service. In fact, Domain (abc.com) and email by domain name (nguyenvan@abc.com) are two separate services. You have to buy and own a domain name first and then can Sign up and create email accounts use that domain.
To buy a domain name for your company, you can contact domain name service providers such as Mat Bao, Go Daddy, PA Vietnam, Ten Ten, etc. These units will usually provide a domain name when selling domain names. The number of free email hosting accounts is always for businesses, but in terms of capacity, stability and security, it is certainly not as good as Google's products.
Note that this domain name must be owned by you – that is, when you buy the domain name, you will have an account with user name and password to log in to the admin page. You will need this information to perform the domain verification step, which also prevents other parties from using your domain name to impersonate.
1 extra email address:
This email address is used for registration and is required to choose an account with The address is different from the domain name that you intend to register for email. For example, if you are going to sign up for Gmail using a domain name abc.com then the secondary email address you choose must have a different domain name (duphong@gmail.com).
How to create Gmail by business domain name
There are 2 ways for you to choose: 
Method 1: You just need to contact Gimasys!
We will assist your business in configuring a free trial or registering to use the service Email Google Workspace. All you need to do is provide your information and configure your contact settings to work with Google – Gimasys will do it for your business. Why register for Google Workspace via Gimasys:
The price is still the same price directly from Google But instead of having to configure the whole thing yourself with technical troubles, Gimasys experts will do it for your business, quickly, in accordance with security standards.
After the configuration is complete, the highest administrative rights will be transferred back to the enterprise.
You will be guided on how to use and manage Google Workspace accounts. 
Free technical support throughout the use process through Helpdesk, Email, Hotline channels instead of having to manually contact Google every time you need support. 
Issued with a red VAT invoice, your business will not be invoiced when buying directly from Google. 
Gimasys is Google's leading strategic partner in Vietnam and has worked with many customers such as Masan, Jetstar, Jolibee, Dien Quan Media…. View partner certifications 
Contact Gimasys: 
Hotline: 0974 417 099 (HCM) | 0987 682 505 (HN)
Email: gcp@gimasys.com
Method 2: You will manually register the configuration and work with Google by following these steps: 
To register email under the latest Google domain, you can follow these steps:
Go to the Google website or Google Workspace.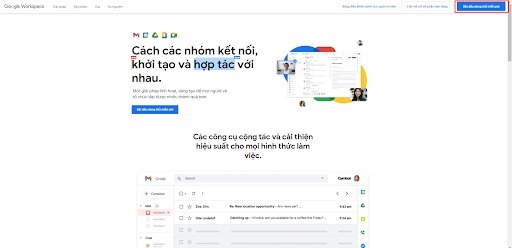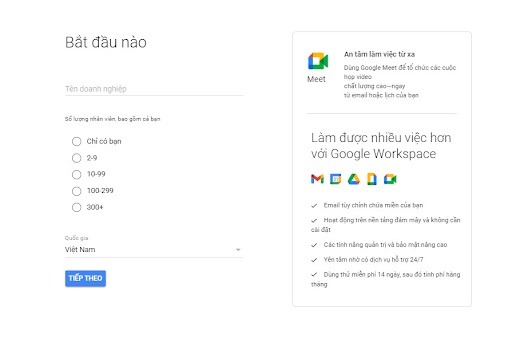 Choose the service plan that suits your needs.

Enter the domain name that you want to use for your email and check its availability.
Here, you have 2 options:
If the domain name is not registered: you can buy it directly from Google or choose another domain registrar to purchase and then associate the domain name with your Google Workspace account.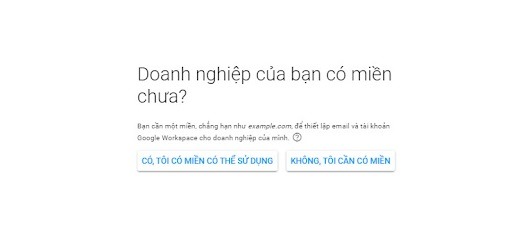 If you already own the domain name, you need to verify ownership by adding DNS records or creating a TXT record in your domain name service provider's domain registration control panel.
(Configure other options for your email account, including user management, security settings, and interface customization.)
Sign up and pay to complete the new registration process and start using email with a Google domain.
*Note that Google often updates and provides new features to its service, so just follow announcements and instructions from Google to make sure you're using the latest version.
Popular domain name email services today
Popular domain email services today include:
Google Workspace (formerly G Suite): Google Workspace is Google's domain name email service platform for businesses and organizations. With Google Workspace, you can create and manage email under your domain, using the Gmail interface and other features like Google Drive, Google Calendar, Google Docs and Google Sheets.
Microsoft 365 (formerly Office 365):

Microsoft 365 is a popular toolkit from Microsoft that provides domain email service, hosting, and online office applications such as Outlook, Word, Excel, and PowerPoint. Microsoft 365 is integrated with Microsoft technologies and services, providing a seamless and seamless experience between apps and devices.

Zoho Mail:

Zoho Mail is another popular domain name email service. It offers professional email features such as a custom user interface, high security, unlimited storage, and integration of other Zoho apps and services.

Outlook.com:

Outlook.com is Microsoft's email service, providing email by domain and integrating with other Microsoft applications and services such as Outlook, Word, Excel, and OneDrive. It offers useful features such as spam filters, schedules, and contacts.

ProtonMail:

ProtonMail is a tightly encrypted electronic email service that is among the safest and most secure. It provides end-to-end encryption and protects user privacy when sending and receiving emails.
The names of the business domain email services listed above include only a few common platform and provider names. Depending on the needs and research, businesses choose to use. 
Email-appropriate versions of Google Workspace by Google domain for business
To select Google Workspace version suitable for email by Google domain, you can consider your requirements and needs, then choose the appropriate service package below:
Google Workspace Business Starter:

This is a basic plan and is suitable for small businesses with workgroups of 1-300 users. This package includes basic features for email, calendar, text, and online spreadsheets.

Google Workspace Business Standard:

This plan offers more advanced features than the Business Starter plan, including video conferencing and expanded cloud storage. This is the right choice for small and medium businesses with workgroups of 1-300 users.

Google Workspace Enterprise:

This package comes with all the most advanced features, including advanced security and management, integrated search and analytics tools, 24/7 support from Google, and some other special features . This is the right choice for large enterprises with workgroups of over 300 users.

Google Workspace Essentials:

This plan provides basic features for organizations and workgroups that don't need domain email, such as providing online meeting tools and cloud storage.
Depending on your size, needs and budget, you can choose the most suitable service plan. You can also check out the comparisons and details of Google Workspace instances from Gimasys so that you can sign up for an email plan under the right Google domain.
Here's how Gmail registration under business domain name Latest. For more detailed product information or to need technical support, you can contact Gimasys – Premier Partner of Google in Vietnam at the following information:
Hotline: 0974 417 099 (HCM) | 0987 682 505 (HN)
Email: gcp@gimasys.com
Update: Gimasys