Store your data as 'iceberg' with new storage service
Data storage is an important part of an enterprise data infrastructure foundation, including volumes in the cloud. Google Cloud thinks you should have a simple set of storage options that let you access your data more securely and reliably when you need it, without performance loss or delays for users. .
Having flexible hosting options will allow you to optimize costs while meeting your business needs. With Cloud Storage, you can choose from a variety of other storage classes. One of the requirements for fastest business growth is to ensure that the system must be able to hold large datasets that, although rarely accessed for many years, still maintain their integrity and protection. very high density. To meet this demand, we announced a new storage class called Archive, our 'coldest' cloud storage service.
Introduction to the Archive class
Cloud Storage's new Storage tier is designed for long-term data storage at rates starting at just $ 0.0012 per GB per month – equivalent to $ 1.23 per TB per month. Relative to existing archive classes, Archive is best suited for data that is stored for more than a year and accessed less than once per year. Replacing and archiving data according to regulatory retention requirements are two of the most common use cases. Other examples include long-term backups and original copies of videos and images.
This new storage class is designed to meet enterprise needs. "The Cloud Storage Archive layer enhances functionality while reducing the cost of long-term data storage," said Scott Sinclair, senior analyst at ESG. With exponential data growth, the businesses we've worked with are finding ways to better leverage the cloud to replace data and other storage needs while reducing spending and does not affect security and integrity. Google Cloud has launched a product that meets that requirement. As businesses have more flexible, cost-effective storage options, they can manage data more efficiently and use resources more wisely."
Unlike first-generation and roll-in cloud storage solutions, Google's approach eliminates the need for a separate data retrieval process. Instead of waiting hours or days, the Storage layer provides near-instant (milliseconds) access to your data when needed. Access and management are done through the same consistent set of APIs, used by other Google Cloud Storage classes, with full integration into Object Lifecycle Management. . You'll get the same experience as 'hot' storage options and can reduce archiving throughout its life without complicating or giving up direct access to your data.
Below is an overview of the data storage classes on Cloud Storage: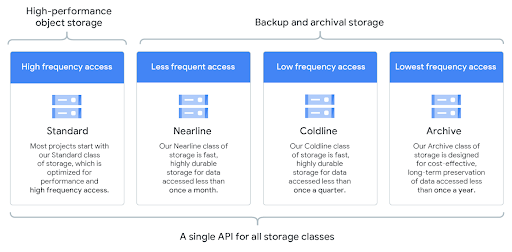 Advantages of the Archive class include:
Cost effective: starting at $ 0.0012 per GB per month.

Secure: All data is encrypted at rest and transmitted by default.

Reliability: Optional geo-redundancy helps protect, avoid the risk of being dependent on a region, and increase availability.

Instant Access: Like all other Cloud Storage classes, you get access with millisecond latency.

Open: Suitable for Google-specific and multi-cloud architectures.

Scalability: Start with as little data as you want and expand to exabytes.

Simplicity: Same API uniform across all storage layers for access and management. Fully integrated with

Object Lifecycle Management

, so reducing your storage TCO never goes out of style.

No change: Apply

Bucket Lock

for an archive bucket in the Archive class can help you achieve WORM compliance for long-term data archiving.
Use Archive to protect data
Customers have large amounts of data that need to be retained for regulatory compliance and data protection. Use the Archive class in conjunction with Bucket Lock to ensure that data objects will be kept without modification for a period of time that you can choose. This is useful for meeting regulatory requirements in many industries, especially in medical and financial services. If maximizing availability and durability are paramount, consider Archive in multi-region or dual-region locations so your data is backed up geographically. In all storage locations and classes, we perform full and in-transmission checksums to ensure that durability is at least 11 9.
Industries that can benefit from the Archive class:
Education and data science research

Energy and seismic

Financial services for transaction storage, audit logs and regulatory data

Government long-term data storage

Healthcare, electronic medical records and medical imaging

Insurance, claims, billing and data storage checks

Life sciences for genomic and imaging data archives

Production for design datasets

Media and entertainment with media data and raw production footage

Physical security for video surveillance data

Telecommunications service records call details, billing and customer service storage

Satellite images and data from vehicles
Get started with Archive
One of the easiest ways to get started with archive is to create a default bucket that stores the Archive class:
On the "Create a bucket" page, select "Create bucket"

Enter the bucket name

Open the "Choose a default storage class for your data" tab and select "Archive"

Click "Create"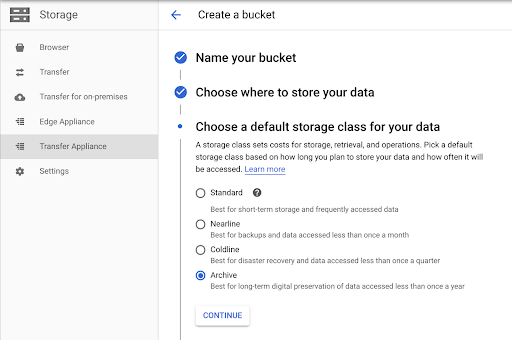 You can then load your data using the tool gsutil or Cloud Data Transfer Service.
Alternatively, for existing buckets, you can use Object Lifecycle Management to downgrade archives from Standard, Nearline, and Coldline to the Archive class..
Cloud Storage is part of a larger set of storage plans. No matter your workload, from backing up your image stock to archiving the human genome, Google has you covered with a range of powerful storage solutions that make it easy to move and store. on Google Cloud.
Updated: Gimasys.