Invite people to join your community
Communities are places where groups can share information on topics with each other. When you create a community for a certain group, you are a member of that community, and what you need to do now is to invite each member to join this community.
There are many ways to invite members to join the community, by email, chat, newsletter… Google already allows sharing a member invite link, so just send the link to others you can invite them all at once.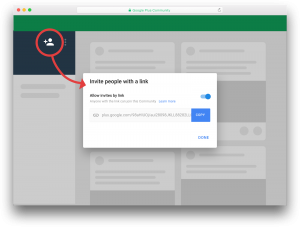 With the community invite link, Community Owners and moderators can share the invite link to people they choose. People with this link can directly join or request to join, and for those who don't have a Google or Google+ account, it will automatically request initialization when they join the community.
When there are changes, you can disable the shared link or create a new one at any time. To share the invite link to your community, simply open the invites menu on the Google+ web, open the "Allow invites by link" feature and get the link that appears.