New features in Google Classroom make learning, teaching, and management easier and easier.
Google Classroom is designed for everyone involved in teaching students. More than 20 million faculty and students use it to teach and learn together, such as how administrators can see this tool in use in classrooms, and developers who are building technologies for education for the next generation. As everyone returns to school for the start of the new term, we are releasing new classroom enhancements designed specifically for groups.
For students: individual work for differentiated learning
We know that all-in-ones don't always meet the needs of students, and we're impressed with the different ways teachers tackle Classroom. Starting today, Classroom makes it easier for teachers to assign work to individual students and groups based on different needs. When they are creating an assignment, article, or question, teachers can choose to share it with all or just a small group of students.
Juli Dalzell, seventh grade teacher at Thomas A. Blake Middle School in Medfield, MA, says she loves how the new features allow her to teach students who can grasp concepts at a high level. different. "I can ask questions of different levels or quality of assignments," Dalzell shares. "I can give documents, as question keys, as students complete their tasks."
With this feature, students can get extra assignments if they are working on a new topic. Sara Enberg, library communications specialist at Willow River Elementary School in Hudson, WI, says that the new update provides a "simple method for assigning teacher substitution sessions or extracurricular activities to students. pill….Just using a simple and quick video will help students and teachers grasp the necessary content immediately. "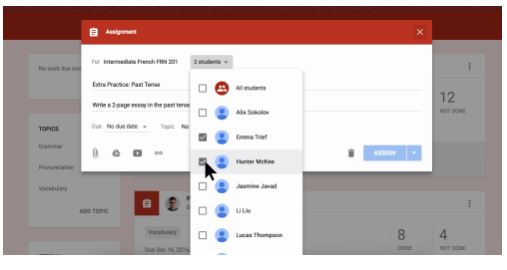 For teachers: new announcements to manage student work
We understand the information overload that teachers feel like they're balancing busy class schedules or, a sea of documenting classes, and after-school activities. To be able to help them manage all that well, teachers will receive two new class announcements – one is when students submit assignments after the due date, and another is when students return assignments. Busy teachers can also continue to use other classroom announcements – such as schedule updates and student work comments – to help keep them organized throughout the school year. .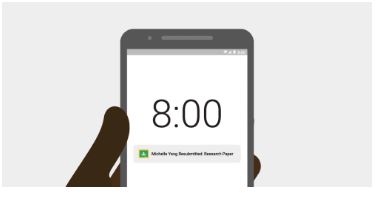 For administrators: metrics to support most classes
Many administrators rely on the Admin Console to see how Google technology is being used in their schools. Starting today, Classroom classroom data will be included in reports in the Admin Console, so administrators can see overall classroom usage data and how many classes and posts were created. , both are combined and used by the user. With these reports, and a new one added in the future, we hope administrators will gain the insights they need to provide the best possible support for teachers and students. pellets.
For developers: More than integrating disciplines
Finally, we add New capabilities for Classroom API for more seamless integration with Classroom for developers. Built-in apps can now programmatically add material for courses or student submissions and can modify existing courses they've created. Hundreds of apps for education have been integrated with Classroom since the launch of the API, including tools like Flat.IO, Classcraft and  Little SIS, and we're excited to see what developers will create with these new capabilities.
With all these new features, we hope that students, teachers, administrators, and developers will have a lot more fun and productivity when back to school and back to work this year. this new.