Private Service Connect now in GA: Consume services faster, privately and securely
13/08/2021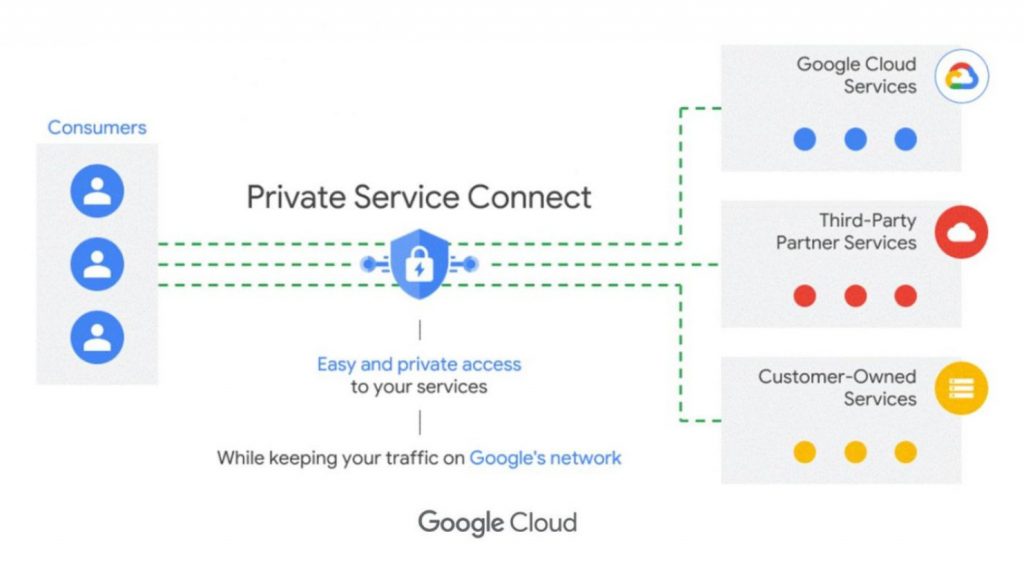 Google Cloud believes in making it simple and secure to consume services whether they're from Google, a third party or customer-owned. With Private Service Connect, they have adopted a service-centric approach to our network that abstracts the underlying networking infrastructure. And today, Google is announcing Private Service Connect is generally available in all Google Cloud regions.
Private Service Connect allows you to create private and secure connections from your cloud networks to services like Cloud Storage or Cloud Bigtable and third-party services like Elastic, MongoDB or Snowflake. It creates service endpoints in your VPCs that provide private connectivity and policy enforcement, allowing you to easily connect to services across different networks and organizations.
Customers told us they want to consume services faster while making sure that the connectivity is private and secure. In the past, achieving this was a challenge: networking teams had to negotiate IP address blocks, mutually agree on policies and coordinate as applications evolved to newer versions. With Private Service Connect, you can delegate the consumption and delivery of services to different teams without having to coordinate between teams.
How it works
Private Service Connect makes it easy to consume services by leveraging service endpoints that are locally managed. The services can be in different projects or managed by different organizations. Access to the service is controlled by strict governance and IAM policies. Application teams and developers can focus on delivering their services easily by exposing their 'service attachment'. No more worrying about networking constructs—Private Service Connect takes care of connecting to the service on the Google backbone for them.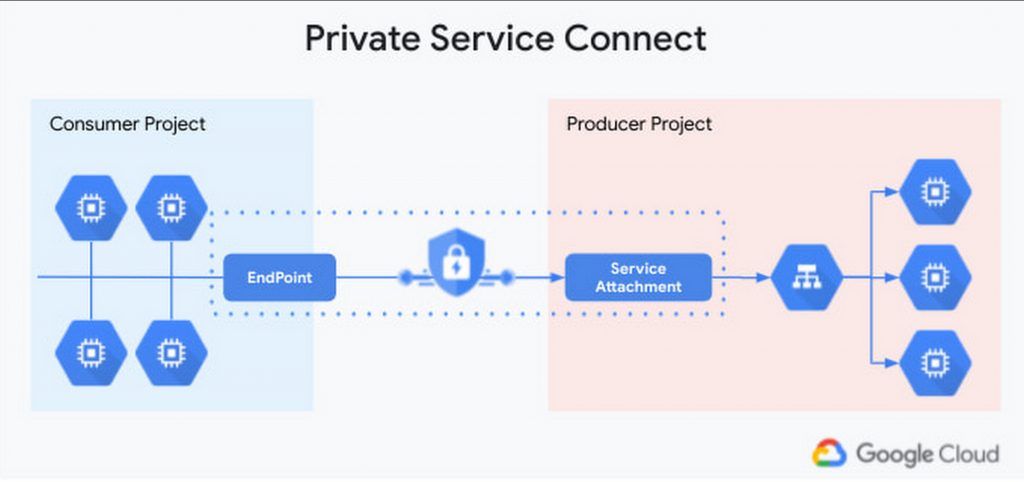 Benefits to our partners
Being able to consume services from a variety of software vendors and service providers makes it possible for enterprises to innovate faster. For that, developers need to be able to compose services from third-party vendors, Google managed services, as well as their own services. To help, third-party partners can use Private Service Connect to deliver multi-tenant services securely and at massive scale, and make the connectivity to their services appear as if they are running on the enterprises' network. Private Service Connect will also integrate with Service Directory to register many producer services, making service consumption even simpler. 
"In today's environment, where seamless access to real-time market information and the ability to handle increasingly vast volumes of data is essential, our clients are demanding native connectivity in the cloud. Google's Private Service Connect offers the performance and reliability required by the types of mission critical apps that rely on Bloomberg's tick for tick market data feed, B-PIPE." — Cory Albert, Global Head of Cloud Strategy, Enterprise Data at Bloomberg 
"One of the key goals for Elastic on Google Cloud is to monitor and protect our customers' data. Google Cloud's Private Service Connect with Elastic Cloud furthers our commitment to our customers that together we make it quick, easy and secure to gain insights and intelligence from their data." — Uri Cohen, Product Lead for Elastic Cloud
"MongoDB's partnership with Google is an integral part of our strategy to support modern apps and mission-critical databases and to become a cloud data company. Private Service Connect allows our customers to connect to MongoDB Atlas on Google Cloud seamlessly and securely and we're excited for customers to have this additional and important capability."— Andrew Davidson, VP of Cloud Product, MongoDB
Source: Gimasys