Google Workspace Review (G Suite 2020): Is Google Workspace Worth It?
Technology is changing every hour, every day to meet the growing needs of businesses. And the toolkits to support businesses in business activities always require high optimization and synchronization. For that reason, Google is constantly revamping its products to provide the best user experience. So in 2020, is Google Workspace worth it after receiving an overhaul from Google.
Overview of Google Workspace (G Suite 2020)
Before it changed its face, G Suite was always known as a support service, allowing businesses to use Google's cloud-based productivity and collaboration toolset. And when the concept of the workspace changed, with the mission of optimizing the operation and business of the business, Google felt the need to have a name to call that change and that's when Google Workspace was born. .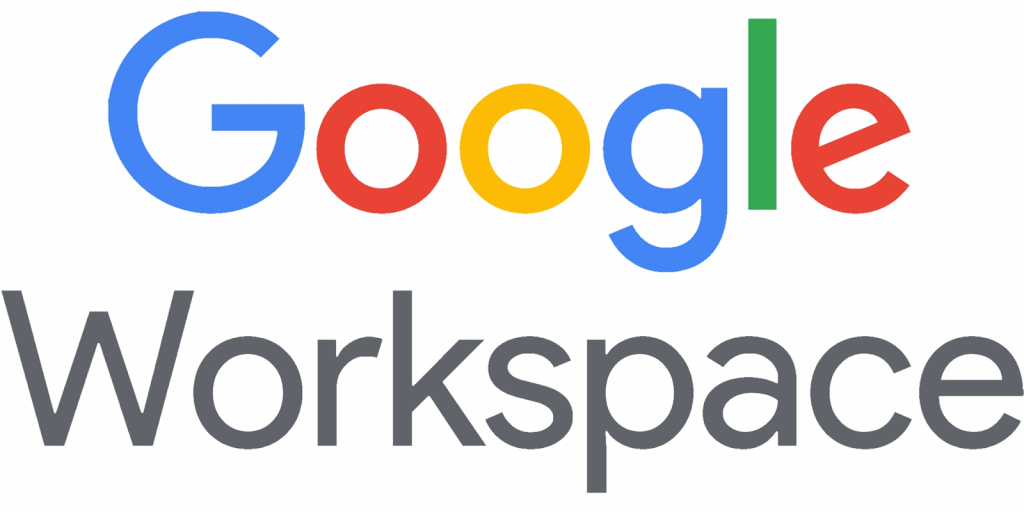 So What is Google Workspace?? At its core, Google Workspace is a G Suite-like service. The toolkit provides applications from communication, storage, collaboration to administration, with key applications such as Business Gmail, Google Calendar, Docs, Sheets, Slides, Google Meet, Google Chat, Google Drive, Google Sites, ... But following the trend of more intensive integration, now the Google Workspace ecosystem develops according to its name, creating a workspace with a seamless, seamless experience.
Features in the Google Workspace ecosystem
According to Google, an optimal workspace needs to meet the synchronization between applications. Then, a well-coordinated set of tools will support all business activities to operate more efficiently. With Google Workspace, an ecosystem with new features and features will make the workspace even more dynamic and efficient.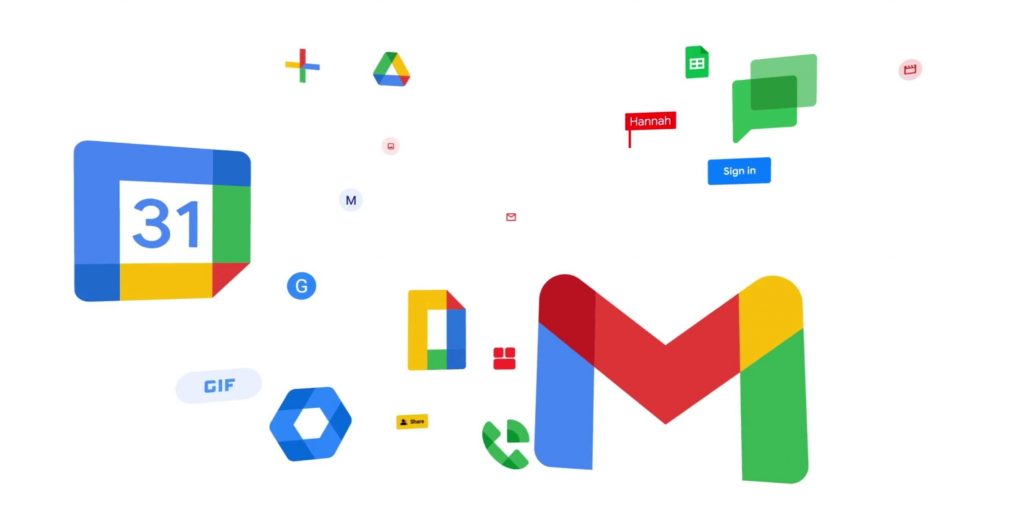 New Features Google Workspace
Google Workspace provide businesses with a system including:
Apps to connect with colleagues: Gmail, Google Calendar, Currents, Google Chat, Google Meet
Applications for storing and accessing files: Google Drive, Google Cloud Search
Applications for creating projects and supporting content creation: Google Docs, Google Sheets, Google Forms, Google Slides, Google Sites, Jamboard
Applications for user control and management: Admin, Vault, Endpoint, Work Insights
The applications in the Google Workspace toolkit are built on top of the Google Cloud Platform. The features of each application are guaranteed to be durable, uptime, and available to customers at least 99.9% at any given time (subject to a Service Level Agreement (SLA)). In addition, data is kept safe with security and privacy mechanisms that meet the most stringent standards for a cloud computing system (ISO 27001, FISMA, SSAE 16/SAE 3402 Type II, SAS 70 ). It can be said that continuous upgrading demonstrates Google's industry-leading knowledge and expertise, helping to support each product of the Google Workspace toolkit.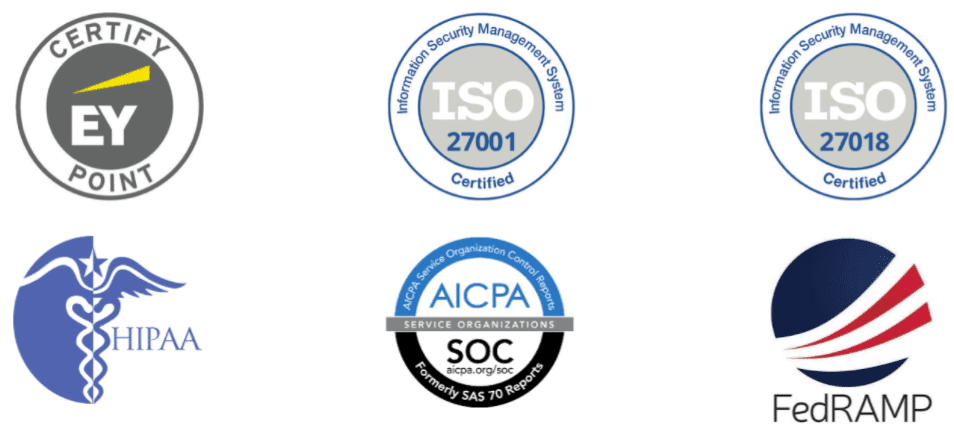 Optimize user experience
Besides, upgrading to Google Workspace is not only about changing the name and new appearance, Google also optimizes the user experience in a more intensive and flexible way.
New user experience: Inside Workspace, you can now collaborate, via Chat, inside any type of Google Doc – from Google Slides to Gmail and Tasks
Smart Chips: a tool that displays a contact's detailed identification, including things like email addresses, social media profiles, and any additional notes your company may have for that individual.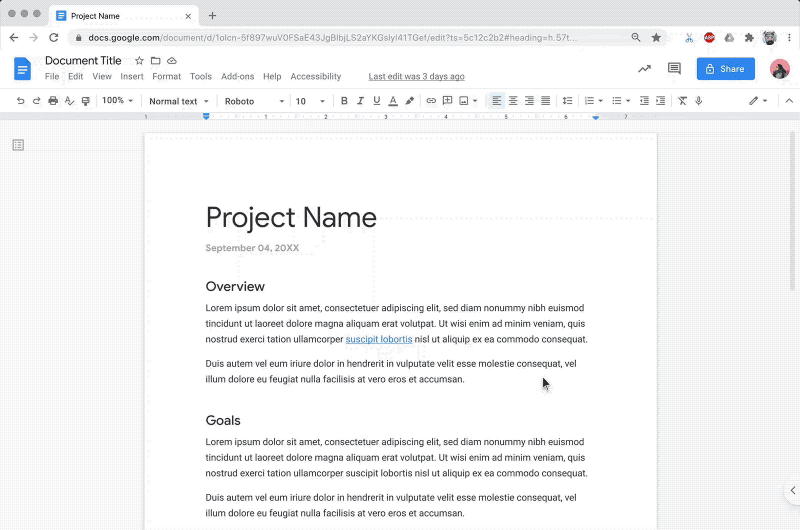 Picture-in-Picture in Meet: Users can now meet online in the main Workspace applications such as Docs, Sheets, and Slides.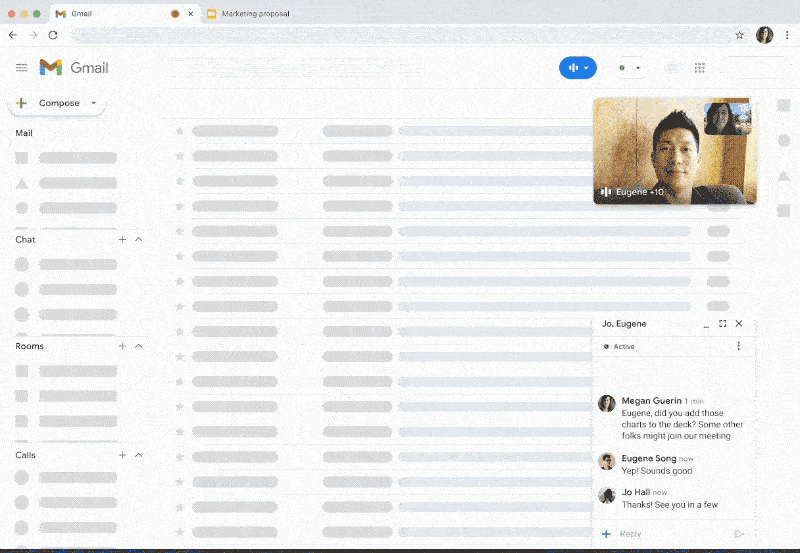 Google Workspace is increasingly valuable to businesses
Multiple versions better meet business needs
In efforts to optimize more and focus mainly on the mission of serving business users. Google Workspace now offers a variety of versions in 2 main groups: Business (Starter, Standard, Plus) and Enterprise (Essential, Standard, Plus), depending on the purposes and needs of each business.
In particular, in the new update from the Business Standard version - equivalent to the old G Suite Business, customers will have an additional feature of recording meetings, this feature is only available in the G Suite Enterprise version. legacy, which aids businesses in enhanced use of Google Meet and saves costs in upgrading to a higher version.
In addition, a noticeable change between the new Workspace versions is the change in storage capacity, if before registering from the G Suite Business version, customers will have the storage capacity according to their needs. (as much as you need), currently the capacity for the equivalent Workspace Business Standard version will be reduced to 2T and the Workspace Business Plus version is 5T. However, an advantage for businesses in the storage part is that after switching to Workspace, the storage will turn into a pool of storage instead of a separate space in G Suite, ie when registering for Workspace, the storage space will be saved. aggregated from all user accounts in the domain and redistributed according to the needs of users in the company, so there will be more flexibility in allocating usage among employees in the company.
In addition, in the 2020 upgrade, Google also introduces a special package, owning all the features from 3 packages on the same premium support service for businesses. However, to own the Enterprise plan, users need to contact sales for pricing information.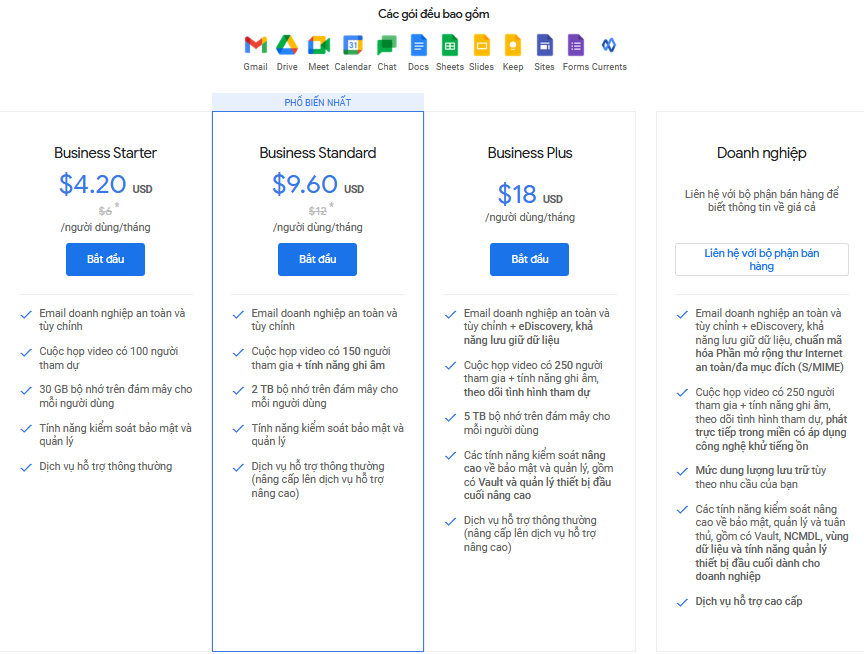 Google Workspace represents Google's ambition to help businesses transform the way they work in the new era and full of applications in the same interface to help users get work done efficiently from anywhere. anywhere, flexibly, securely, and always connected.
Giao diện mới, thêm những lựa chọn mới tối ưu linh hoạt hơn mang đến những trải nghiệm tốt hơn cho người sử dụng là những gì có thể dễ dàng thấy được ở Google Workspace. Hiện Google vẫn đang phát triển và hoàn thiện các tính năng mới để hỗ trợ người sử dụng trong thời gian tới.
Conclude
After a series of upgrades in both interface and features, it shows that Google always puts business and user experience in the very mission of the toolkit. Google Workspace. It can be said that Google Workspace is one of the best multipurpose application suites in the world today, that's why more than 6 million global businesses trust and choose Google Workspace.
Contact Gimasys for advice on a transformation strategy that is right for your business situation and to experience the free Google Workspace application suite: 
Hotline: Hanoi:

0987 682 505

- Ho Chi Minh:

0974 417 099

Email: gcp@gimasys.com
Source: Gimasys