Compare G Suite Basic and Business versions
According to the latest Google figures as of 2019, has come to more than five million businesses worldwide choose to use G Suite, including big names like Salesforce, Airbus, Colgate – Palmolive, etc. within a year 2018 then there was one million businesses switch to G Suite. If you are also one of the businesses that trust Google's technology, this article will help you have a better overview and make the best choice for you, by comparing the two versions of G Suite. most used today: G Suite Basic and G Suite Business.
1. Tổng quan về G Suite
Không chỉ được biết đến rộng rãi thông qua Gmail theo tên miền doanh nghiệp hay Google Drive để lưu trữ và quản lý tài liệu, G Suite (Workspace) còn được tin dùng bởi mang đến một tập hợp các ứng dụng với nhiều mục đích khác nhau, bao gồm cộng tác – trao đổi thông tin và lưu trữ. Một số lợi ích chính mà G Suite mang lại:
Mobile device management

No restrictions on the number of users (businesses can buy 1 or more than 1000 accounts depending on requirements, no limit on the number)

24/7 support (by Google and its authorized partners in Vietnam)

At least 30GB per user storage – twice the size of a free Gmail account

Ensure 99.9% uptime – the time the system operates smoothly, stably, without interruption to the user's daily activities and workflow.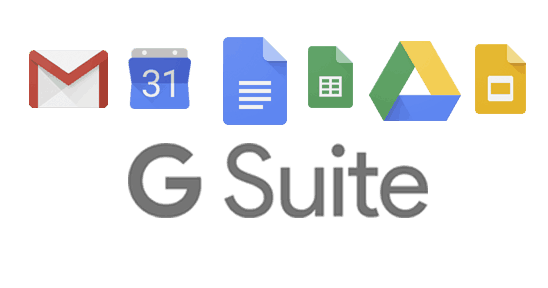 2. G Suite Basic
Basic version – also the lowest version of the options that Google brings to businesses. True to its name, G Suite Basic offers a set of tools that meet the most basic requirements of each business:
Gmail: Create custom email addresses for each company's domain and unique naming. Eg

hoten@tencongty.com

. In addition to the main domain and email address, you can add subdomains (if your company has many different domains) or sub email addresses.

Google Calendar: Share work schedules and events with colleagues, members of the same team, thereby helping to schedule joint work faster and more efficiently.
Hangouts Meet – Hangouts Chat: Exchange information, hold video meetings to quickly connect offices and branches together, using any device.
Google Docs, Sheets, Slides…: Create content and collaborate in real time, no more visuals having to email documents back and forth. You and your colleagues can directly work on the same document file, and edit it at the same time. The data will be saved automatically.
Drives: 30GB capacity per account. Store and back up documents securely using cloud computing technology.
For Admins: Quản lý người dùng và thiết lập chính sách sử dụng cho riêng doanh nghiệp mình thông qua admin console

Currently, each G Suite Basic account is sold for $4.2/user/month – a fairly affordable cost for all the quality applications that Google offers, not just Gmail. Especially in the Vietnamese market, this is a cost that has been greatly favored by Google (compared to $6/user/month globally).
3. G Suite Business
In addition to the same core applications as in the Basic version, the biggest differences with the G Suite Business version are in the price, capacity, and moderation, reporting, and security features. Specific information is as follows:
3.1. Cost
Compared to the price of $4.2/user/month, the cost that businesses have to spend for the Business version is at $10.2/user/month. (Still the preferred price for the Vietnamese market, when in the world businesses have to pay a fee of $12/month). Normally, with a large number of accounts, businesses can directly contact an authorized Google partner in Vietnam to negotiate a possible discount. So with such a double difference, what will users get when upgrading to a higher version?
3.2. Storage capacity
The size of your business and the number of accounts needed will be a big factor in deciding which version of G Suite is right for you. If G Suite basic only stops at 30GB, then when upgrading to a higher version, the capacity will not be limited.
Specifically: If you buy 5 or more Business accounts, each user will be able to store freely without ever having to worry about running out of quota. (If buying less than 5 accounts, each user will have 1TB of space).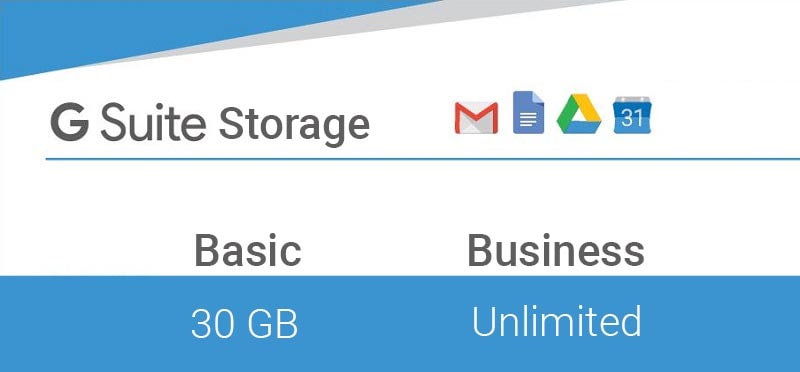 In case your business frequently has to store a large volume of emails, images, videos or files (like blueprints), then G Suite Business will be an ideal choice. There are some businesses that choose the Basic version with only 30GB and accept to buy more storage if it arises later - this is also an economic choice, but if you think 30GB will be faster according to your work experience. If it fills up quickly in a year or two, you should choose the Business version in the first place.
Lý do là bởi chi phí mua thêm dung lượng Drive not cheap, not to mention tax fees. "Eating and wearing durable" with 30GB will also easily lead to "saving" storage and make you tend to delete temporarily unused content to free up memory. Unlimited storage for only about $10/month is a good opportunity that is hard to get in many other service providers.
3.3. Cloud Search: Smart Search in G Suite
An important application that G Suite Basic does not have is Cloud Search - the ability to search intelligently, applying Google Search technology to serve to find information in your company's data warehouse - whether the content What you need to find is stored in Gmail, Drive, Docs, Sheets, Slides, etc. With the power of Machine Learning, Cloud Search will help you quickly find the information you need, right when you need it.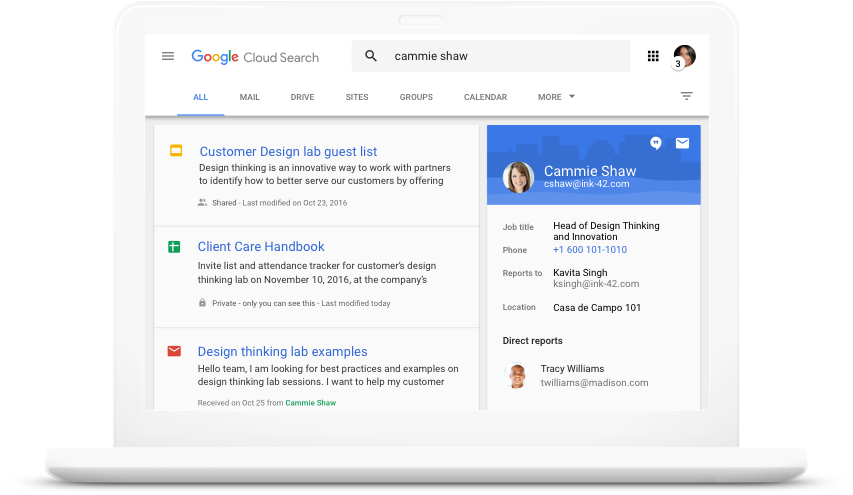 Why do businesses need this feature? With businesses that have been operating for a long time, data and workloads are gradually moved to the cloud, finding and filtering information becomes increasingly complex. Employees will often have to spend a lot of time "swimming" through this data warehouse, not to mention the structure and format of each file is also different (unstructured data). Therefore, Cloud Search will be a tool that plays a particularly useful role for managing and accessing information in the enterprise.
3.4. Security and control with Google Vault
Có thể nói Vault là một trong những lý do quyết định khiến nhiều doanh nghiệp quyết tâm nâng cấp lên G Suite Business (người dùng bản Basic chỉ có thể mua thêm ứng dụng này dưới dạng add-on). Google Vault cho phép người quản lý doanh nghiệp thiết lập các chính sách lưu trữ (Archive & retention) đối với dữ liệu trong email và lịch sử chat, kể cả khi người dùng cố tình xóa chúng đi. Lợi ích của việc áp dụng Vault với người dùng trong doanh nghiệp là giảm thiểu các rủi ro pháp lý và bảo vệ được dữ liệu của công ty. 
> Tham khảo các phiên bản G Suite mới nhất here
Conclude
With the above basic comparison information, it can be seen that in addition to the basic features available from the Basic version, the G Suite Business version is a practical solution to help businesses remove worries about capacity. , works with better performance and greater security. If your business is still in the early stages of growth, G Suite Basic is a better choice for your needs and budget. However, if you are in the accelerated development phase with stricter management and operational requirements, the new Business version is a perfect choice.