New feature support in Google Sheets
Always work hard to ensure that the Google Sheets app can meet your business needs. And as part of those efforts, Google has introduced some very useful features for businesses even as users use Sheets on the Web, Android, and iOS.
Rotate the text direction
Users can rotate text in cells in Sheets (Format > Text rotation). This particular feature will be very useful when they need to arrange long headings in short columns, or simply to make the text look better.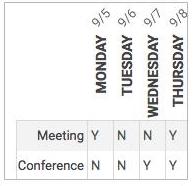 Number formats in spreadsheets
It's easier to read budget and expense reports, and align currencies in Spreadsheets. (Format > Number > accounting). In particular, Google also makes numbers, signs when decimal fractions, repeated in the next lines with the same role to make spreadsheets simpler and convenient for searching and analyzing.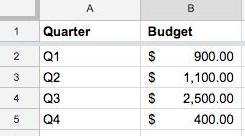 Multiple decorative borders in Sheets
Users can choose from many new border styles in Sheets, which can be thick and double borders (Toolbar > Borders > Border Styles).
Additional mobile enhancements
Google has introduced several new enhancements for users of mobile apps:
Android app, supported using mouse controls in Sheets.

View and choose to change the current color in sheets for Android app

iOS and Android apps support drag and drop rows and columns in sheets

iOS app, format proposals for survey in sheets.