Why is G Suite right for a growing business?
Khi doanh nghiệp phát triển và mở rộng quy mô hoạt động, những công việc đơn giản trước đó như tuyển dụng, đào tạo nhân viên, sắp xếp bảo vệ tài liệu,… sẽ không còn đơn giản. Mọi việc sẽ trở nên phức tạp hơn và tốn thời gian hơn nhiều nếu không biết cách tổ chức, quản lý phù hợp ngay từ đầu. Việc di chuyển lên G Suite (Workspace) sẽ giúp doanh nghiệp quản lý được những thay đổi và biến động xảy ra, để việc phát triển được thuận lợi, bảo mật và càng hiệu quả càng tốt. 
1/ Growing businesses need to manage change and volatility
Khi doanh nghiệp phát triển và mở rộng, sẽ có một số yếu tố tưởng như không có gì đáng bận tâm nhưng lại trở thành điểm yếu, là nguyên nhân phát sinh rắc rối. Có thể kể đến như: Khả năng duy trì văn hóa doanh nghiệp, đào tạo và giúp nhân viên mới hòa nhập, cộng tác – làm việc chung giữa các nhân viên ở các chi nhánh khác nhau,…Tuy nhiên, nhờ sự phát triển của kỷ nguyên số, ít nhất doanh nghiệp sẽ có được sự hỗ trợ về mặt công nghệ cũng như công cụ để thực hiện tốt những điều trên. G Suite là một ví dụ. Nhờ được xây dựng trên nền tảng điện toán đám mây, G Suite giúp doanh nghiệp mở rộng quy mô nhanh hơn, hiệu quả hơn, dù đó là quy mô tầm quốc gia hay toàn cầu.
Lấy ví dụ trong việc giúp nhân viên mới tiếp nhận được công việc và hòa nhập vào môi trường mới. Chắc chắn khi mở rộng quy mô, số lượng nhân viên cũng theo đó mà tăng lên. Không chỉ 5 – 10 người mà có thể lên tới con số hàng chục, hàng trăm. Với G Suite, admin hay bộ phận HR chỉ cần thực hiện vài thao tác đơn giản trong Admin Console là đã có thể hoàn thành tới 80% nhiệm vụ "on-board" nhân viên của mình.
Practical examples? These include Twinkl Educational Publishing House – Twinkl Educational Publishing. By quickly realizing and taking advantage of this benefit, the company was able to grow its headcount from 100 in its territory to more than 500 in 14 other countries (and in just three years!). Twinkl's CTO shared that: "G Suite helps us grow without any barriers".
Now, Twinkl's globally scattered staff relies heavily on G Suite to work together, using Hangouts Meet as a vehicle to meet each other every day. Google Drive is also used to ensure that the information needed for the job is always available, in a secure manner. One of the latest G Suite applications – Hangouts Chat – is also fully utilized to help the team exchange information and get projects up and running faster. It can be said that G Suite is the central element, the "backbone" of Twinkl's global development strategy as well as the goal of becoming a multinational company.
2/ Growing businesses need security
Cyber attack Targeting growing companies is often a factor that is often overlooked until it actually happens, because just one loophole can cause great damage to the business itself. In fact, according to the Enterprise Cybersecurity Threat Index in the second quarter of 2019 of AppRiver, more than half (55%) of small and medium business (SMB) heads responded that they would accept paying a "ransom" to hackers to get their company's stolen data back. This number increases to 74% for the company Large SMB (with 150 - 250 employees), and even 4 out of 10 people will "definitely pay the ransom demanded by hackers at almost any price" to prevent the source of information from being leaked. out or lost. It can be said that these cases, if they do not lead the business to the brink of bankruptcy, will also put the business in a lot of trouble "falling from the sky".
The dangers of becoming a hacker's target are real, and permanent, but they can also be prevented. Most cyber attacks usually start with a phishing email (email phishing) and ends up with the user clicking on the link containing the malicious code. Gmail can prevent 99.9% types of spam, email threats (Business Email Compromise) or phishing emails from "stepping" into your mailbox, or employees in the company. Administrators can also build rules to protect sensitive data such as credit card information, internal documents, etc. from being shared to the outside, whether accidentally or intentionally.
Zenconnect – một công ty nhỏ tại Pháp chuyên cung cấp dịch vụ điện toán đám mây đã chọn G Suite mà không cần phải duy trì một bộ phận chuyên trách về bảo mật. Nguyên nhân là do các tính năng, cấu hình cài đặt của G Suite thường rất đơn giản để quản lý và đảm bảo an ninh cho doanh nghiệp. Cũng như bất kì khách hàng nào sử dụng dịch vụ Google Cloud Platform, Zenconnect tận dụng khả năng tích hợp sâu giữa G Suite và GCP để có thể quản lý việc truy cập – quản lý danh tính (Cloud Identity) ngay trong cùng một bảng quản trị, qua đó đơn giản hóa mọi việc cài đặt. 
3/ Growing businesses need to operate as efficiently as possible
Scaling up development will often also mean having to spend all the time and effort to operate in limited resource conditions. This requires businesses to operate efficiently – this is not a goal to aim for, but a must from the start.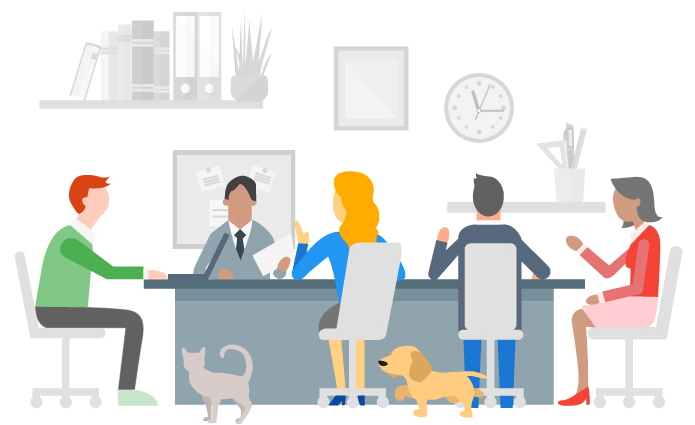 Với sự hậu thuẫn của trí tuệ nhân tạo, G Suite có thể giúp nhân viên hoàn thành công việc nhanh hơn bao giờ hết. Ví dụ, Công nghệ hỗ trợ trong Google Drive sẽ dự đoán và tự động cho display what the user is looking for quickly. Thanks to that, each person will not need to spend time "digging" information in the traditional way. Or in Gmail, artificial intelligence can help draft drafts faster or remind you to deal with emails you accidentally forgot.
The essence of applications built in the cloud is convenience, because users will not spend any time waiting for the system to update. If you use a laptop with Windows operating system, surely there are many times when you ... get frustrated, because while customers only have a few minutes to wait for you, you have to spend hours waiting for the computer to update. But with software built in the cloud, you may not even know when the system downtime is. Not to mention, with just one account and one device, your employees can work anywhere without necessarily being present at the office.
Besides that, The ability to integrate with the applications of famous technology firms such as Salesforce, SAP, DocuSign will also make the workflow more convenient.
A recent report requested by Google, and Forrester estimated that: G Suite app companies tripled their return on investment (ROI) in cost savings, in just three years. The reasons are statistically due to: Increased employee productivity; cut technical support; Get rid of traditional hardware and consolidate the use of software as a service. 
GANT – a global retailer – was able to accelerate the opening of its flagship stores 75% faster than the normal speed. Specifically, the company can open a store in just 3 months, instead of the average time of 12 months.
Conclude
Nếu doanh nghiệp của bạn cũng đang trên đà phát triển, hoặc đang có kế hoạch mở rộng quy mô thì đây chính là thời điểm bạn cần cân nhắc đầu tư vào những công cụ được sinh ra và phát triển "trên mây" như G Suite. Những ứng dụng như này không chỉ mở ra những cơ hội tăng trưởng, nâng cao khả năng bảo mật dữ liệu mà quan trọng hơn, còn có thể giúp bạn tiết kiệm thời gian, công sức và tiền bạc.
Source: Gimasys