Webinar: Phishing Emails and Prevention Tips
14/08/2018
Dear our valued customers,
Recently, phishing attacks through emails have increased in both frequencies and complexity. According to Vietnam Computer Emergency Response Teams (VNCERT of Ministry of Information and Communications), at the end of 2017, Vietnam witnessed 2,605 phishing attacks and this figure has reached 608 within the first five months of 2018.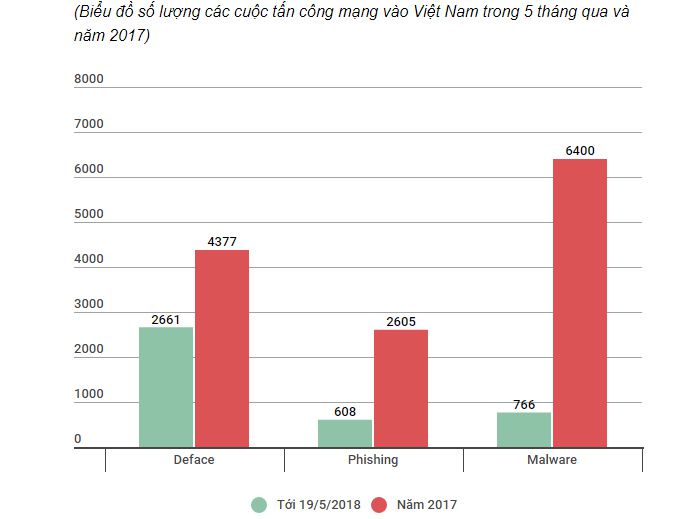 Total number of cyber attacks recorded within 2017 and the first five months of 2018 (VNCERT)
*Red color: Number of attacks in 2017
*Green color: Number of attack in the first five months of 2018
Phishing is a type of online identity theft. It uses emails and fraudulent websites designed to trick users into sharing their sensitive information (such as username, password, bank account,…). Phishing can be of a great threat if users have inadequate knowledge or are unaware of it.
Therefore, to help protect users and business data, Gimasys is going to organize a Webinar, which aims to provide essential information and preventions tips.
Webinar agenda:
What is phishing emails?

Popular types of phishing attacks.

Best practices to protect business users.

Q&A
Time:
Monday, August 20th, 2018.

From 14h – 14h45
Participants: G Suite administrators
Expected duration: 45 minutes
Please note: To guarantee the quality and smooth experiences, Gimasys have to limit the number of participants and point of connection to the upcoming webinar. If you are interested in our event, please fill in the registration form no later than August 17th, 2018.
Registration form: https://goo.gl/forms/8xQKqPgOXRKAAJLp1
After receiving your registration, Gimasys will send confirmation and guideline through provided emails.
Sincerely,
Gimasys.