Manage Android devices without the Google Apps Device Policy app
What's changing: Last year, we launched Basic Mobile Management for iOS—the ability to manage employees' iOS devices, even if those employees don't set up MDM agents or profiles. We've now brought this same feature to Android.
Now, G Suite admins can mandate basic security measures on the Android devices their employees bring to work, without requiring those employees to install the Google Apps Device Policy app on their devices. To do so, admins simply need to select "Basic" under Device management > Setup > Mobile Management > Enable Mobile Management in the Admin console.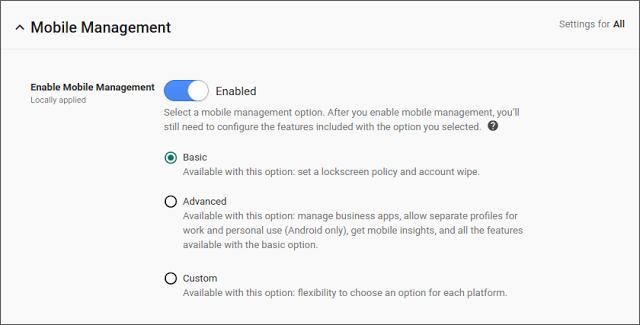 When Basic Mobile Management is enabled, admins can:
Enforce a device screen lock.*

Wipe a corporate account (but not the entire device).

View, search, and manage their device inventory.
Basic Mobile Management makes life easier for end users as well, because it allows them to access their corporate accounts without risking their personal data being wiped.
Updated: Gimasys