Enhancing live streams in Google Meet with captions and cross-domain live streams
What's changing
Google is improving live streams for Google Meet with two new features:
Cross-domain live streams. Previously, only guests in your organization could view a live stream. Now, admins can designate trusted Google Workspace domains for Google Meet live streams. Once added, you can also invite users in those trusted domains to view live streams hosted by your organization.

Captions in live streams. Now, a user has the option of enabling captions when starting a live stream. At launch, captions for live streams will be available in English, German, French, Spanish and Portuguese. Note that captions are already

available for Google Meet video calls

.
Who's impacted
Admins and end users
Why it matters
Many companies have important meetings that require delivering a message to large groups of people, like a company-wide all-hands or onboarding training. With live streaming for Google Meet, up to 100,000 users (or 10,000 in some editions) can watch the meeting from the web or their mobile device.
Cross-domain live streams allows you to extend the viewership of the live streams not only to the guests within your organization, but also to guests in another trusted Workspace domain.
Captions in live streams can help make meetings more accessible for deaf and hard-of-hearing users, and can help other users who have a preference for reading text rather than listening get more out of the meeting.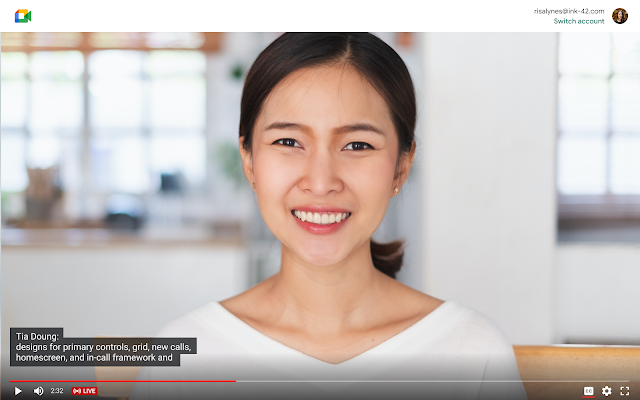 Captions enable users to read what's being said in the live stream
Getting started
Admins:

Cross-domain live-stream support: Use our Help Center content to learn how to

add trusted domains for live streaming in Google Meet

.

Note that you can add any Workspace domain to the trusted domain list, but Google has a recommend that you only add domains that you own (such as subsidiary companies or schools in your school district), as adding domains can potentially give access to livestreams to anyone who has an account in those trusted domains.
Rollout pace
Cross-domain live streams
Captions in live streams
Availability
Available to Google Workspace Enterprise Standard, Enterprise Plus, Teaching and Learning Upgrade, and Education Plus customers

Not available to Google Workspace Essentials, Business Starter, Business Standard, Business Plus, Enterprise Essentials, Education Fundamentals, Frontline, and Nonprofits, as well as G Suite Basic and Business customers
Source: Gimasys