Google Workspace for Education
Enhance your education with simple tools,
Flexible and secure with Google Workspace for Education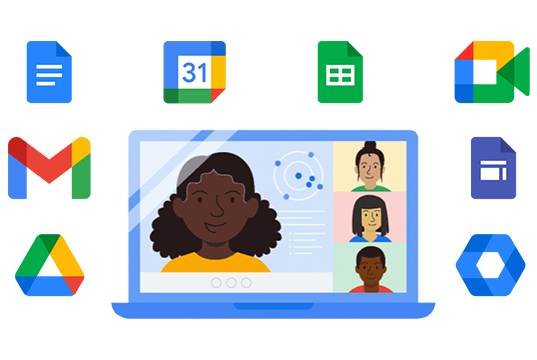 Make collaboration easier, streamline instruction, and keep your learning environment safe with Google Workspace for Education. Use our tools for free or add advanced capabilities to fit your organization's needs.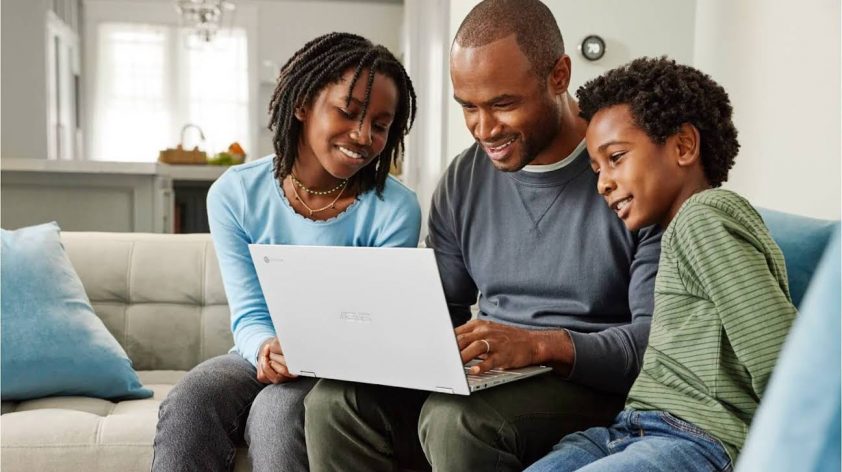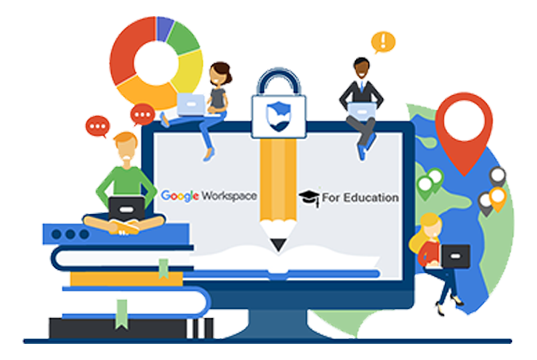 Select version of Google Workspace for Education
suitable for your organization
Google Workspace for Education Fundamentals (old G Suite for education)
Bring everyone in your school together with a set of free tools that enable better communication and collaboration
Free for educational institutions
Includes essential tools and features for education:
Business tools include Classroom, Docs, Sheets, Slides, Forms, and more
Communication tools include Google Meet, Gmail, and Google chat
Data loss protection for Gmail and Google Drive
Google Workspace for Education Standard
An upgraded version with enhanced security, analytics, and controls to stop increasingly sophisticated digital threats. 
Includes Education Fundamentals features, plus: 
Security Center to proactively secure, detect, and stop threats 

Advanced application and device management to control and fulfill application access and security requirements.

Extract Gmail and Classroom history for in-depth analysis with BigQuery

Check history with Google Drive, device, LDAP to be able to look up activity and usage in your domain.
Teaching and Learning upgraded version
Focus on enhancing teachers' teaching with enhanced video communication, rich classroom experiences, and tools to promote integrity in learning
Includes Education Fundamentals features, plus: 
Google Meeting can hold 250 attendees at the same time and livestreams to 10,000 people with the same domain

Premium interactive features in Google Meet including Q&A interactions, polls, Breakout Rooms, and more

Unlimited report templates and the ability to look up duplicate results on a data store that stores previous students' assignments
Google Workspace for Education Plus (old G Suite Enterprise for Education)
Transform your school with a comprehensive solution that combines security and advanced analytics, enhanced teaching and learning tools for both teachers and students, and more
Includes features in Education Standard version and Teaching and Learning upgraded version, plus: 
Livestreams to 100,000 people with the same domain on Google Meet

sync assignment sheets directly to the classroom from the school's student information system

Personalize Cloud Search for your domain to make it easier to access and find information
Version comparison table
Education Fundamentals
Education Standard
Teaching and Learning Upgrade
Education Plus
Go on bussiness
Docs
Collaboratively create and edit documents in real time
x
x
x
x
Sheets
Collaborating on Sheets
x
x
x
x
Slides
Work together to create presentations
x
x
x
x
Forms
Create surveys and quizzes
x
x
x
x
Classroom
Competency Assessments From Anywhere
x
x
x
x
– 3rd party applications
x
x
– Number of sample reports
5 reports per class
Unlimited report templates
Unlimited report templates
Assignments
Save time grading with your existing Learning management system
x
x
x
x
– Sample report
5 reports per class
Unlimited report templates
Unlimited report templates
Sites
Easily create a basic website
x
x
x
x
Groups
Share and discuss topics together
x
x
x
x
Connectivity
Gmail
School domain email
x
x
x
x
Calendar
Share your timetable
x
x
x
x
Meet
Meeting room/online classroom
100 people
100 people
250 people
250 people
Detailed subtitles
x
x
x
x
Livestream in domain
Up to 10,000 people
Up to 100,000 people
Record meetings and store in Google Drive
x (feature will soon be replaced by temporary logs)
x
x
x
Censorship
x
x
x
x
Hands up
x
x
x
x
Electronic whiteboard
x
x
x
x
Customize Backgrounds
x
x
x
x
Q&A and voting
x
x
Breakout Rooms
x
x
Follow participants
x
x
Noise canceling
x
x
Visit
Cloud Search
Smart search
x
Storage
Secure data storage for photos, Drive and Gmail
100TB of data storage Cloud Storage
100TB of Cloud Storage
100TB of general data + 100GB per account
100TB of general data + 20GB per account
Administration
Security Center
Threat prevention and automated management
x
x
Security Investigation Tool
Prevent phishing, spam and more
x
x
eDiscovery
For Emails, Messages, and Documents
x
x
x
x
– Store data in Gmail and Google Meet
x
x
x
x
– Check reports to track user activity
x
x
x
x
Admin
Security control and administration
x
x
x
x
– Mobile device management
x
x
x
x
– Data loss protection for Gmail and Google Drive
x
x
x
x
– LDAP is safe
x
x
x
x
– Advanced mobile device management
x
x
– Cloud Identity Premium
x
x
– Context-aware Access
x
x
– Multi-region data
x
x
– Analyze Gmail and Classrooms logs in BigQuery
x
x
– Gmail integration with 3rd party archiving tools
x
x