Gimasys Achieves Specialization For Infrastructure Certification On Google Cloud Platform
Last September 2023, Google officially announced that Gimasys - Google Cloud Premier Partner in Vietnam was officially honored with the title of Infrastructure Specialization Partner.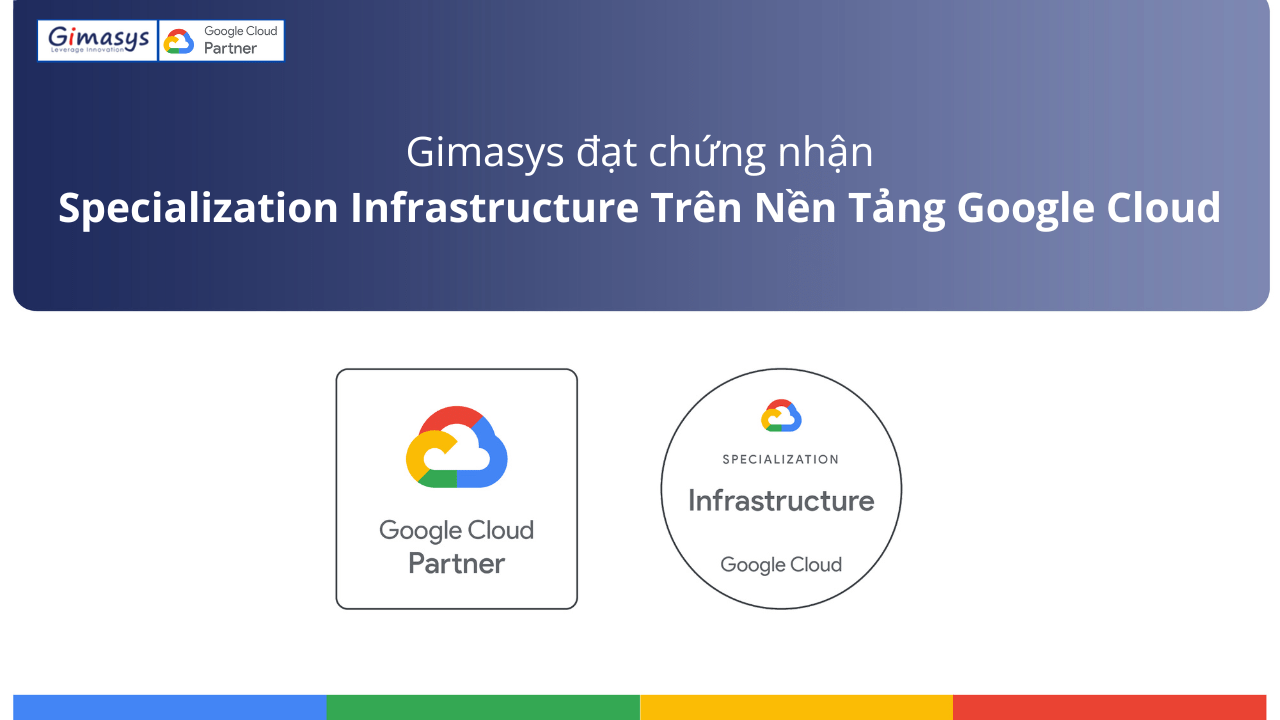 Google Cloud Partner Specialization What is Infrastructure?
Google Cloud Certified Partner Specialization is designed to provide qualified Partners with demonstrated technical proficiency and demonstrated success in providing solutions and specialized service areas. In particular, Specialization for Infrastructure will honor partners with outstanding achievements in helping customers design and build infrastructure and develop applications on Google Cloud. 
To achieve Partner Specialization For Infrastructure expertise, partners first need to demonstrate competency in the following areas: 
Solution Design

: Design and deploy infrastructure solutions on Google Cloud, including setting up and configuring basic services.

Move Workload to Cloud

: Helps organizations migrate their existing infrastructure to Google Cloud. 

Security:

Ensure that infrastructure solutions follow security and privacy best practices. 

Operating performance:

Ensure that the infrastructure operates efficiently, reliably and with high performance. 
In addition, partners must also demonstrate their contribution to the conversion process, building infrastructure, and successful applications of customers on the Google Cloud platform.
Gimasys is honored to achieve Specialization For Infrastructure expertise
In September 2023, Gimasys successfully achieved the highest Specialization for Infrastructure certification in the Google Cloud Partner Specialization Program from Google.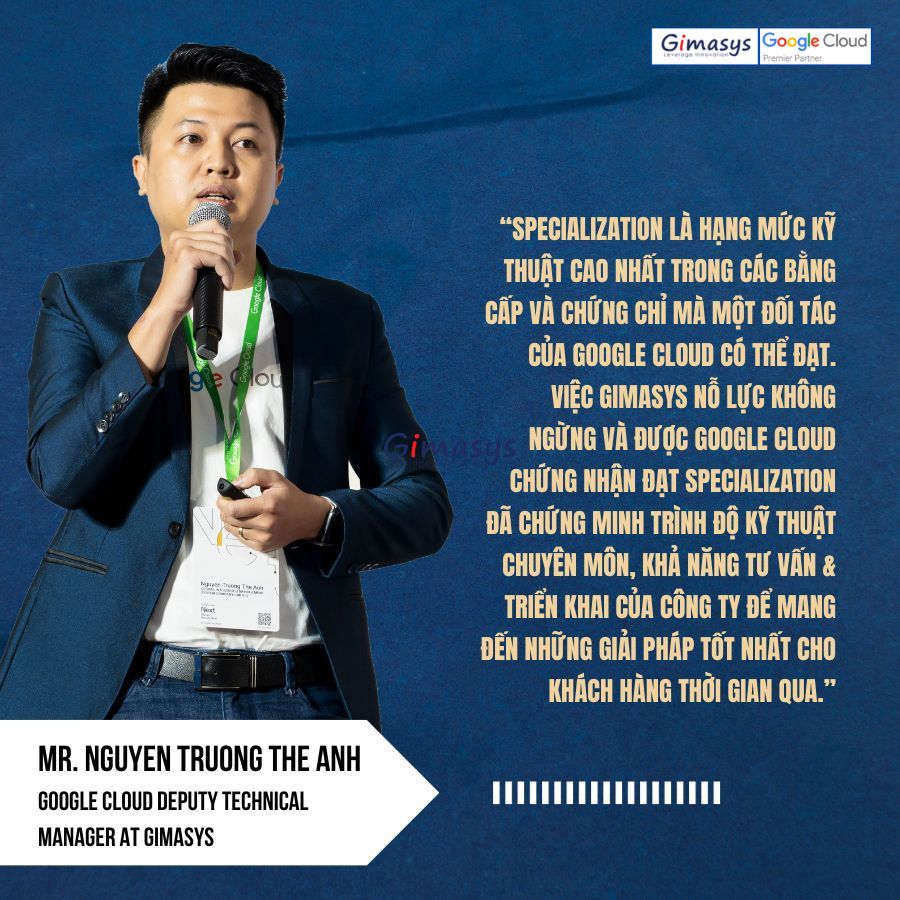 Achieving this certification is a testament to Gimasys' professional capacity and experience in consulting, implementing and supporting infrastructure solutions for customers in many different fields. This not only helps Gimasys improve its reputation in the industry but also gives customers confidence when choosing Gimasys as a partner for their digitization project.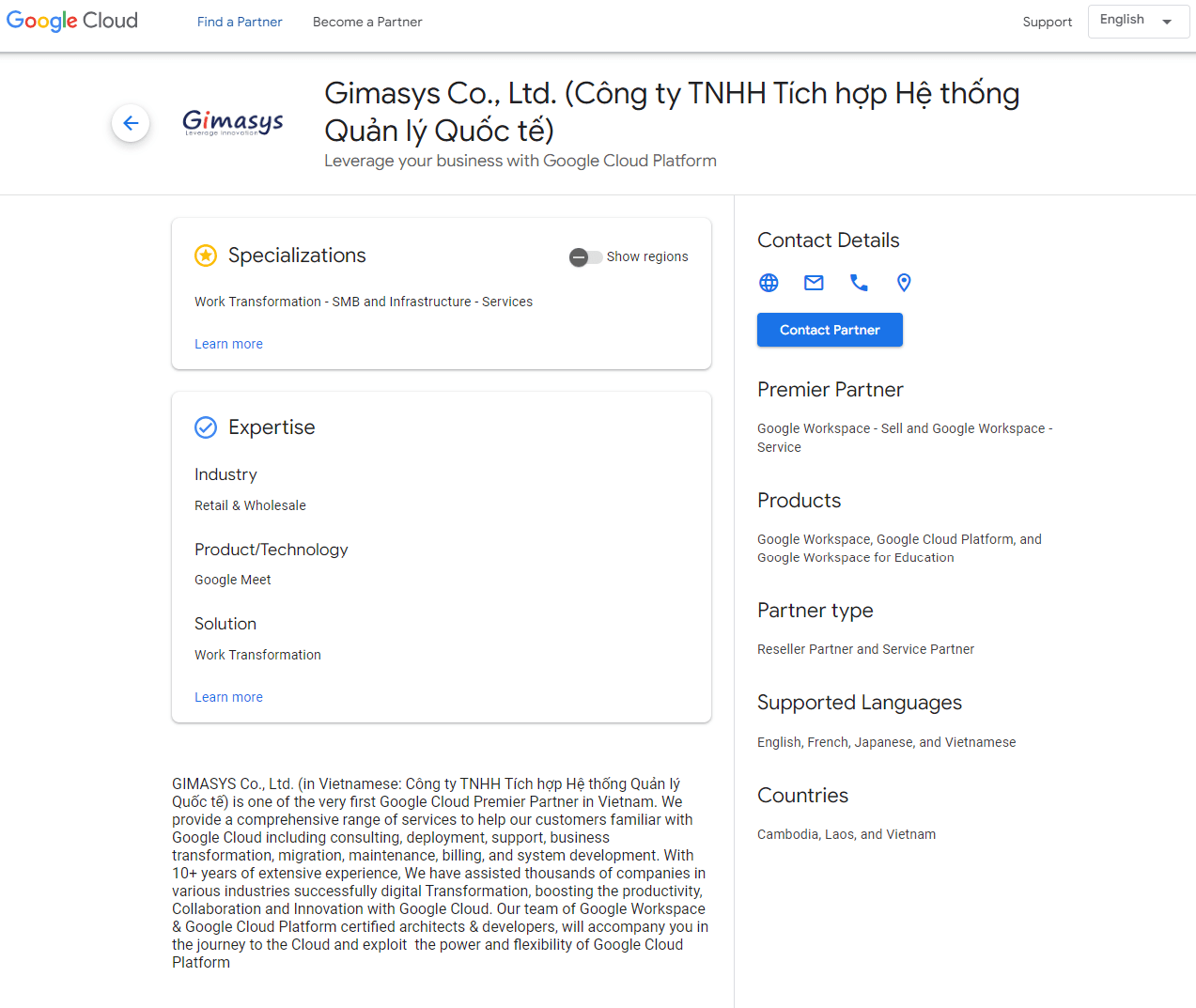 Gimasys is officially certified for the above Infrastructure capacity Google Cloud website
As a Senior Partner of Google Cloud in Vietnam, Gimasys is proud to have supported digital transformation consulting for thousands of businesses on the Google Cloud platform over the past 10 years. If your business is interested in the platform Google Cloud Platform You can connect with Gimasys to receive advice on strategic solutions according to the specific needs of your business. 
Gimasys – Google Cloud Premier Partner
Hotline: Hanoi: 0987 682 505 – Ho Chi Minh: 0974 417 099
Email: gcp@gimasys.com