Google Workspace helps HBC solve 90% communication problems
Target:
The mail system helps to ensure data safety and stable operation
Flexible in management and scalable
High quality video conference solution
Reduce costs for IT
Solution:
Using Gmail as a method of communicating important information
Use Google Drive to store data
Use Google Docs to work collaboratively
Use Hangouts to replace traditional meetings
Result:
100% Gmail application rate
Gmail solves 90% problems of the old mail system
Hangouts replaces the 95% number of face-to-face meetings.
80% business data stored on Google Drive.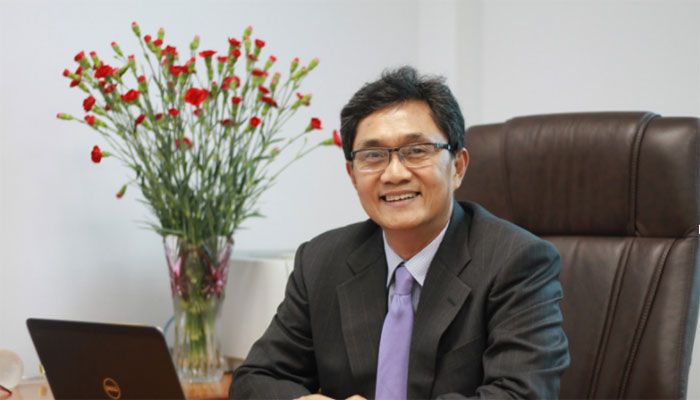 "Gmail helped HBC solve 90% communication problems compared to the old email system. Google meet replaces the traditional 95% meeting, helping HBC save considerable cost and time. Overall, Google Workspace helped HBC solve 70% problems compared to previous working systems."
- Mr. Le Quang Canh, CEO & Chairman of the Board of Directors of Hoa Binh Joint Stock Company (Vietnam)
In 2001, Hoa Binh Joint Stock Company (HBC) was established with the mission of "contributing to improving the quality of life through the provision of motivational products with advanced technology, high quality and friendly to the environment." environment" and the vision "to become the most professional supplier of industrial and agricultural products in Vietnam". With 16 years of experience in the field of distribution of motor products for agriculture, civil and industrial purposes, HBC has developed a distribution and service system including 7 subsidiaries, more than 200 sales agents. Retailers and more than 10 OEM agents are evenly distributed throughout Vietnam. At the same time, HBC is also an important distribution partner of famous world corporations such as Kubota Corporation, Honda Motors, Fiat Powertrain Technology (FPT), Linz Electric, Nitto Seiko and Martin Sprocket & Gear in this market. .
CHALLENGE
One of the important problems that HBC employees have a headache is that mail sent from the MDaemon email system they use is often blocked by other mail systems because the sending and receiving systems are incompatible. Since the company uses email as the official means of communication, the above problem causes information omission between HBC and stakeholders, reducing efficiency and effectiveness.
Besides, with a distribution network and a large number of representative offices nationwide, HBC needs a high-quality video conference solution to help them reduce costs and travel time. Periodically, the company has meetings or discussions with all offices throughout the system. Before use Google Workspace customer, HBC has applied many methods to organize remote meetings such as ConferLink or Skype. However, those methods have not yet achieved the desired effect: limited content sharing, limited number of participating connection points, poor quality audio and video. Due to the limitations of these methods, the frequency of online meetings only takes place once a month. In addition, they are forced to be held offline (expensive travel costs).
"With a sizable number of offices and distribution systems, we needed a powerful platform to help us communicate and collaborate effectively and quickly. Google Meet has made it easy for HBC employees to organize high-quality video conference meetings at a completely reasonable cost."
– Mr. Bui Nhan Hoa, IT Director, Hoa Binh Joint Stock Company (Vietnam)
SOLUTION
Internal pressure and external challenges led HBC's IT department to decide to look for an alternative communication solution that could completely eliminate the problem facing the organization. In 2014, Google Workspace was introduced to HBC. After using the trial version and consulting from Gimasys, the authorized distributor of Google Workspace in Vietnam, HBC decided to transfer all data from the old email system to this cloud computing solution and post it. Sign Google Workspace for all office staff.
Initially, HBC's employees found it quite difficult to switch to a completely new communication platform, they were too familiar with the working interface of Mdaemon and Outlook. The IT department has supported and trained employees to use Google Workspace and apply this toolkit to work for 3 months.
"Gmail helped HBC solve 90% communication problems compared to the old email system. Google Meet replaces the traditional 95% meeting, helping HBC save considerable cost and time. Overall, HBC solved 70% problems compared to older working systems"
- Mr. Le Quang Canh, CEO & Chairman of the Board of Directors of Hoa Binh Joint Stock Company (Vietnam)
RESULT
Now, with 180 employees using and applying the Google Workspace toolkit at work, 100% of email data and more than 80% of work data stored entirely on GDrive, HBC no longer has to worry about data loss. whether the device is damaged, lost or infected by a virus. 90% The old system's communication problem has been fixed by Google Workspace. 99.9% Number of employee emails successfully sent by Google Workspace.
Since using Google Workspace, the 95% has reduced the number of traditional meetings with short exchange duration, thus reducing travel time & costs. Video calls between offices are almost weekly.
Switching to Google Workspace and helping HBC employees change the way they work. The features of file sharing, working collaboratively from multiple devices at any time have helped the company change the culture of teamwork and improve productivity, increase mobility.
Besides, with the continuous quality improvement from cloud computing technology, Mr. Bui Nhan Hoa, IT director of HBC expects that Google Workspace can help HBC improve work efficiency to more than 80% and save money. Time saving about 40% for the company.
"In the short term, the application of Google Workspace has helped the company reduce investment costs: maintaining - managing equipment infrastructure and software licenses. In the long term, the company aims to integrate the system so that it can make the most of new technologies and use it to create competitive advantages in management & business."
– Mr. Bui Nhan Hoa, IT Director, Hoa Binh Joint Stock Company (Vietnam)
Perform: Gimasys