Admin: update features with Google Workspace security interface
Quick Summary
Google has updated the "Security" category in the left navigation of the Admin Console by:
Add navigation access to security features that were previously only accessible from the Privacy Settings page.

Adds Authentication, Access & Data controls and Security Center subcategories, making it easier to find available features.

Update the name of the Privacy Settings page to Overview.
Google hy vọng những cải tiến này sẽ giúp quản trị viên khám phá, truy cập và quản lý bộ công cụ bảo mật của Google Workspace dễ dàng hơn.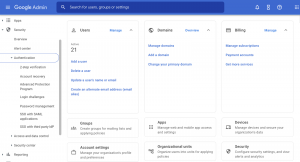 Additional details
Instead of the previous single list, security features are now categorized under Authentication, Data Access & Control, and Security Center. The availability of some subcategories and features will depend on your specific version of Google Workspace:
Authentication provides account and password management capabilities including:
2-Step Verification

Recover account

Advanced Protection Program

Login challenge

Password Manager

SSO with SAML applications

SSO with Third Party IdP
Data and access control provides granular capabilities to manage your data across devices, browsers and apps including:
API Control

Client-side encryption

Contextual Access

Data Security

Google Session Control

Google Cloud session controls

Less secure apps 
The Security Center provides advanced security intelligence and analytics including:
Dashboard

Investigation tool

Security Status
Getting started
Admin: This update will be available automatically.

End User: No end user actions or actions required.
Rollout pace
Rapid and scheduled release domains: Gradual rollout (up to 15 days for feature exposure) starting October 28, 2021
Availability
Available to all Google Workspace customers, as well as G Suite Basic and Business customers
Source: Gimasys