Access modeled data from Looker Studio, now in public preview
In April, Google announced the private preview of our integration between Looker and Looker Studio (previously known as Data Studio). At Next in October, to further unify our business intelligence under the Looker umbrella, we announced that Data Studio has been renamed Looker Studio. The products are now both part of the Looker family with Looker Studio remaining free of charge. At Next we also announce that the integration between these two products is now available in public preview with additional functionality.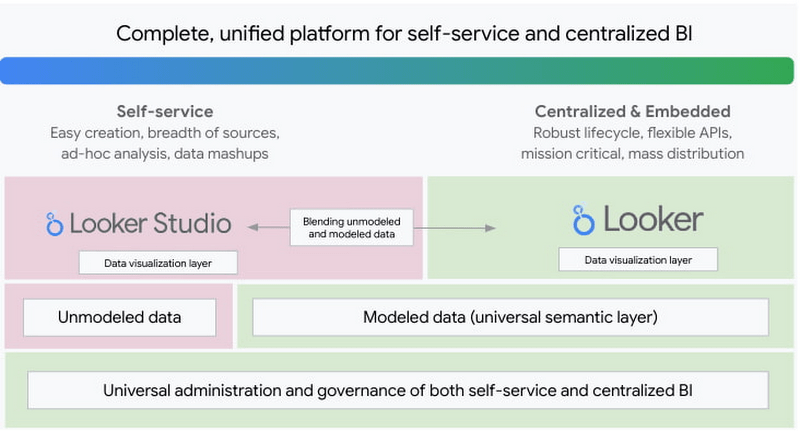 How does the integration work?
Customers using the Looker connector will have access to governed data from Looker within Looker Studio. The Looker connector for Looker Studio makes both self-serve and governed BI available to users in the same tool/environment. When connecting to Looker, Looker Studio customers are able to leverage its semantic data model, which enables complex data to be simplified for end users with a curated catalog of business data, pre-defined business metrics, and built-in transformations. This helps users make calculations and business logic consistent within a central model and promotes a single source of truth for their organization. 
Access to Looker-modeled data within Looker Studio reports allows people to use the same tool to create reports that rely on both ad-hoc and governed data. They can use LookML to create Looker data models by centrally defining and managing business rules and definitions in one Gitversion-controlled data model.. 
Users can analyze and rapidly prototype ungoverned data (from spreadsheets, csv files, or other cloud sources) within Looker Studio and blend governed data from Looker with data available from over 800 data sources in Looker Studio to rapidly generate new insights. They can turn their Looker-governed data into informative, highly customizable dashboards and reports in Looker Studio and collaborate in real-time to build dashboards with teammates or people outside the company. 
What's new in the public preview version?
We are excited that we are now able to offer this preview to a broader reach of customers, many of whom have already asked for access to the Looker connector for Looker Studio. Additionally, with this Public Preview, additional capabilities have been added to more fully represent the Looker model in Looker Studio:
We are providing support for field hierarchies in the Looker Studio data panel, to keep fields organized when working with large Explores. The data panel will now show a folder structure, and you will be able to see your fields organized in the usual ways - for Views, Group Labels, and Dimension Groups. 

We are providing greater visibility by exposing field descriptions in new ways to enable users to quickly check the description information specified in the Looker model. Field descriptions will be available within the data panel and within tables in the report.

Users will also see an option to "Open in Looker Studio" from Explores in Looker, enabling them to quickly create a Looker Studio report with a data source pointing back to that Explore.

And to ensure users are getting the most current data from the underlying data source, refreshing data in Looker Studio now also refreshes the data in the Looker cache. 
Specifically, for this public preview, we've implemented enhanced restrictions on Looker data sources in Looker Studio, so admins can rest easy about testing out the functionality:
We've disabled owner's credentials for Looker data sources in Looker Studio, so each and every viewer needs to supply their own credentials including for shared reports.

We're also currently disabling data download and email scheduling for these data sources in Looker Studio. We're planning to integrate with these permissions in Looker in the near future.

Calculated fields are disabled, so end users cannot define their own custom metrics and dimensions in Looker Studio, and need to rely on the fields defined in the Looker Explore. 
How do I access the preview?
This integration encompasses the connector along with changes made to both Looker Studio and Looker to represent the Looker model and extend Looker governance in Looker Studio. There is much more to come as we continue our efforts to bring together a complete, unified platform balancing self-service and governed BI. We're planning to continue adding functionality in Looker Studio to fully represent the Looker model, and want to ensure Looker admins have insight into API activity coming from Looker Studio - similar to the way they might use System Activity in Looker today. In extending governance, we want to expand the circle of trust from Looker to Looker Studio, and we'll be looking for customers to help us plan the best way forward. 
This integration is compatible with Google Cloud hosted instances with Looker version 22.16 or higher. To get access, an admin of a Looker instance can submit the sign-up form providing an instance URL and specifying which organizational domain to enable. For more information on how to get started go to the Looker Studio Help Center..
Nếu doanh nghiệp của bạn đang quan tâm tới nền tảng Google Cloud thì có thể kết nối với Gimasys – đối tác cấp cao của Google tại Việt Nam để được tư vấn giải pháp xây dựng ứng dụng theo nhu cầu riêng của doanh nghiệp nhé. Liên hệ ngay:
Gimasys – Google Cloud Premier Partner
Hotline:

Hanoi:

0987 682 505

- Ho Chi Minh:

0974 417 099

Email:

gcp@gimasys.com
Source: Gimasys