Adding Gmail translation to mobile devices
What's changing
For years, our users have conveniently translated emails in Gmail on the web to over 100 languages. Starting today, we're excited to announce a native translation integration within the Gmail mobile app that will enable you to seamlessly communicate in a wide range of languages. 
To translate messages on mobile, simply select "Translate" on the dismissible banner and choose your preferred language.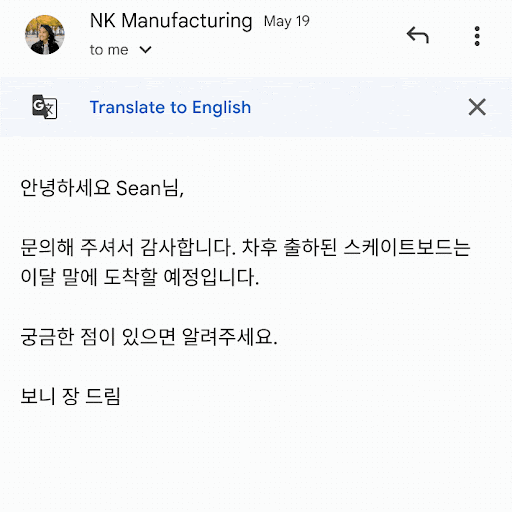 Who's impacted
End users
Why it's important 
This highly requested feature will help users read and understand a conversation in any language.
Additional details
A new dismissible banner appears when the content language of a message is different from the "Google.com Mail display language" in your account settings. You can also choose to have Gmail always translate or never translate specific languages.
Getting started
Admins: There is no admin control for this feature.

End users

To translate a message, click the "Translate" option at the top of your email.

If you dismiss the translation option, the option will appear again the next time the content language of an email doesn't match the set "Google.com Mail display language".

You can also turn off this setting, which never shows the banner again for a specific language, by accepting the prompt ("Don't translate [language] again") that appears when you dismiss the banner, or by selecting "Don't translate [language] again" from the translation settings menu.

If a user has explicitly opt-ed out of translation (as stated above) or the system did not detect another language, you can manually translate a message through the three dot menu.

Visit the Help Center to learn more about

translating Gmail messages

. 
Rollout pace 
Android: 
Rapid Release and Scheduled Release domains: Gradual rollout (up to 15 days for feature visibility) starting on August 8, 2023
IOS 
Rapid Release and Scheduled Release domains: Gradual rollout (up to 15 days for feature visibility) starting on August 21, 2023
Availability
For more detailed product information or to need technical support, you can contact Gimasys - Premier Partner of Google in Vietnam at the following information:
Source: Gimasys