Admin console: Google Workspace cập nhật giao diện thân thiện và dễ dàng sử dụng hơn
What's changing 
Đầu năm nay, Google đã công bố thiết kế cập nhật cho trang chủ Bảng điều khiển dành cho quản trị viên, nhằm mục đích giúp điều hướng xung quanh Bảng điều khiển dành cho quản trị viên nhanh hơn, dễ dàng tìm thấy các mục bạn cần quản lý và đơn giản hóa việc hiểu cách Google Workspace customers được triển khai trong tổ chức của bạn.
Going forward, Google is rolling out a number of new enhancements that make it easier for admins to perform common actions when managing users and domains in their organization, including improvements to the process Work around:
Add user and user profile picture

Update, rename and delete users

Domain management and primary domain changes
Who's impacted
Admins
Why it's important
Google hopes these enhancements provide a better view and actionable guidance, making it easier for administrators to manage users and domains in their organization.
Additional details
Update user management:
Add users
From the Admin Dashboard landing page, when you select "Add user," you'll see a new, streamlined full-screen dialog that will display the most important fields first, including User primary and secondary email addresses and domain information.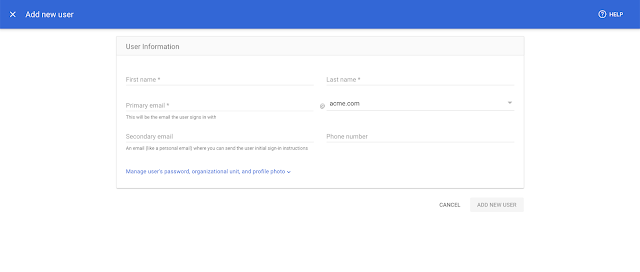 Assign password
Additionally, you can choose to generate or automatically generate passwords for users and specify whether users should change their password when they first log in to their Google Workspace account. Note: the default is to automatically generate passwords to comply with industry standard account security standards.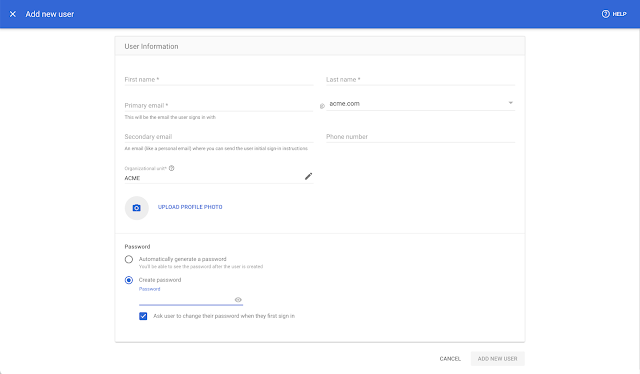 Assign profile picture
From the same form, you can assign users an organizational unit and upload profile pictures for users.
Google has made it easier for admins to discover by allowing users to update their profile picture. This setting can now be found in the "More" drop-down menu in the user management section of the admin console.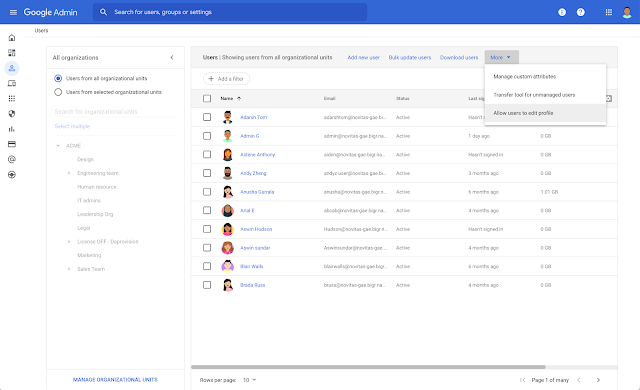 Delete user
Updates provide more information about what happens when you delete a user, alternatives to deleting a user, and data transfer options.
When you delete a user, you'll see information like when the user's data transfer started, the user's suspended status, and how long it takes an administrator to restore the account if needed.
User Update
Google has added more information about what happens to old email addresses and how it affects availability in Google Chat for guidance on how to improve.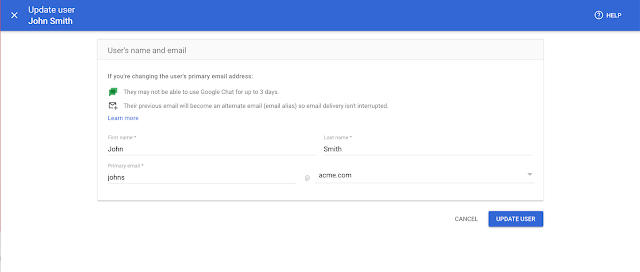 Google has also updated the call to action to change the name or email address of an existing user from "Rename Username" to "Update User" to reduce confusion.
Update domain manager:
They made some improvements to the Domains > Manage Domains page:
First, Google added an "Actions" column where admins can view and quickly perform actions like "Delete", "Add User", "Set Up Redirect", etc.
In the "Type" column, you will see more descriptive details related to the domain type, such as primary or test domains. You can also find more information and related articles in the Help Center for each domain type.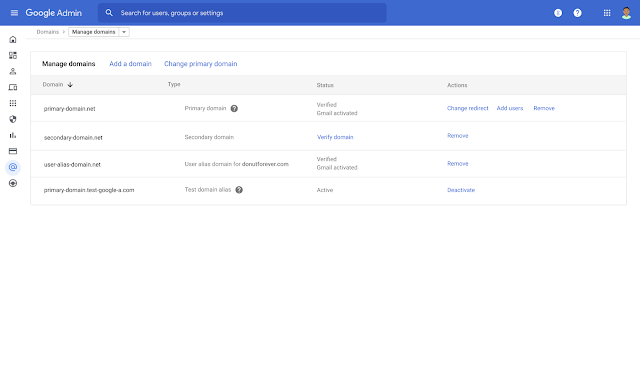 They have also updated the experience to better guide admins through the options of adding additional domains to their Workspace account. Google changed "domain alias" to "user alias domain" to better explain when to choose this option. Similarly, Google has also updated the terms "domains" to "subdomains" to provide a clearer context and distinction when managing primary and subdomains.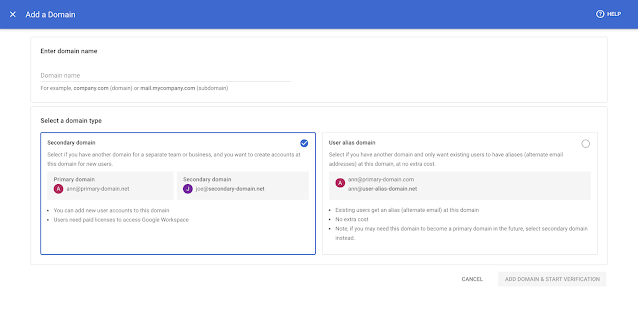 Along the way, you'll notice more information and annotations along the way to help make sure you don't accidentally duplicate domains or choose a domain type that can't be used as the primary domain.
For example, when entering a domain name, you'll see a pre-populated "www" prefix, which will more clearly indicate to the administrator the purpose of the field.

You'll see a warning if you accidentally add another pre-www fix to your domain:
Change primary domain
When you change your primary domain, you'll see instructions on when your primary domain should change, important information regarding changing your domain. and alternative courses of action to consider.
Important note: Google has moved the position of the "Change primary domain" option to the top of the table. This change makes the option easier to find, whereas before you had to hover over the domain name to see it.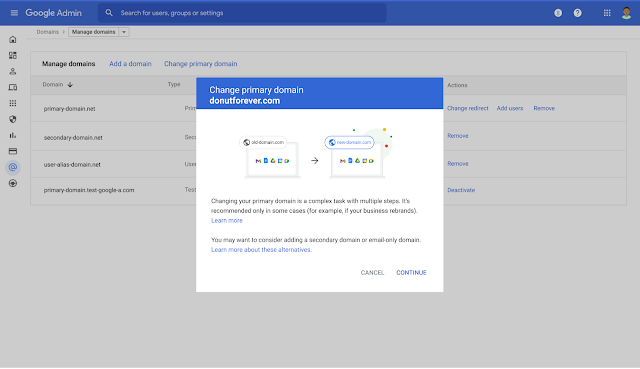 If you select a domain that can't be converted to primary, you'll see more information about why that's the case and the steps you can take to fix the problem.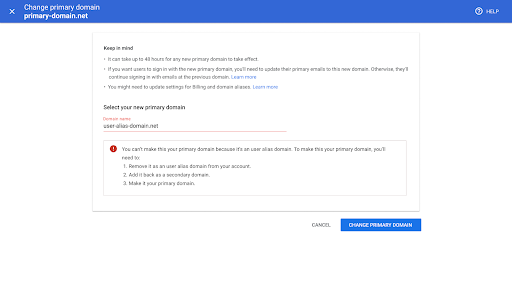 Once you've successfully changed your primary domain, you'll see a success screen with additional information about when the change will take effect and any additional steps that follow.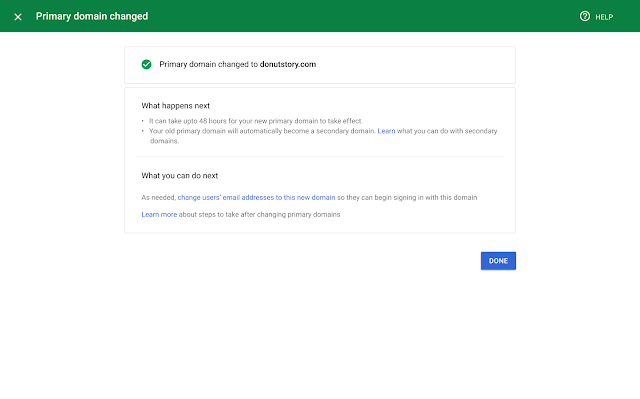 Rollout pace
Rapid Release and Scheduled Release Domains: Extended Release (may take longer than 15 days for features to be visible) starting June 23, 2021, with rollout expected to be complete by the end July 2021.
Availability
Available to all Google Workspace customers, as well as G Suite Basic and Business customers
Source: Gimasys