[Hướng dẫn] Cách chuyển đổi file google docs sang pdf
Chuyển đổi Google Docs của bạn sang dạng PDF là một cách an toàn, nhanh chóng và bảo mật để chốt chỉnh sửa tài liệu và chia sẻ với đồng nghiệp, khách hàng,… Các tệp PDF rất lý tưởng để chia sẻ các loại tài liệu như hồ sơ, hợp đồng, công văn,… Bạn cũng có thể chuyển các tài liệu được tạo trong Google thành PDF một cách đơn giản như những tài liệu bạn tạo trong Word. Hãy cùng khám phá cách chuyển đổi Google Docs sang PDF trong hướng dẫn này của Gimasys.
Overview of how to convert Google Docs to PDF
Convert Google Docs PDF format is very simple and easy to understand. Here is a quick summary of the key steps. 
      1. Get started. Sign in to Google Docs. Open your document or create a new one. 
      2. Save as PDF. To save and share, click File, Later Download and choose PDF from the list. 
      3. Email a PDF. To email the PDF, click File > Email, then select Email this file. Select PDF from the drop-down menu. 
      4. Access your PDF file. Whether saved on your laptop or shared via email, you now have your PDF.
Details on how to convert Google Docs to PDF
Now Gimasys will give you detailed step by step how to convert Google Doc to PDF. 
 Mở tệp Google Docs của bạn.

Press

File

and press

Email This File

.

      3. Select PDF from the drop-down menu.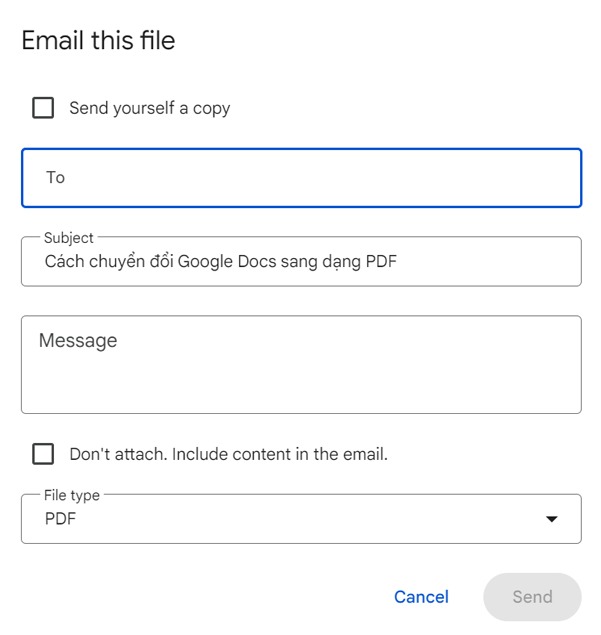 4. Enter the recipient's email in the address bar.
        5. Enter the content and title to send. 
        6. Press Send.
How to Save Google Docs as PDF
You may need a copy of the PDF file you are creating – be it for a paper file or an electronic one for you to send to someone. For such cases, you need to follow these steps to save Google Docs as PDF. 
       1. Open your Google Docs file. 
       2. Ensure documentation is complete.
       3. Press File > Download > PDF.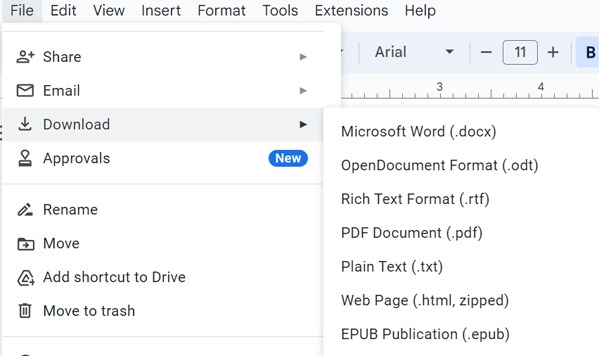 4. Find the PDF file in the folder Download on your desktop.
        5. Save the PDF file to a folder of your choice.
Benefits of Turning Google Docs into PDF
There are many benefits to converting Google Docs to PDF. We will briefly present some of the main advantages. 
Recognized and trusted. PDF files are a business format that has been around for so many years. Businesses globally rely on this file format with their contracts, reports, and other sensitive documents. 

No printing and version control required. Google Docs uses major versions that update in real time and can be emailed directly from Google Docs.

Accessible anywhere. By working with Google Docs, you know that your PDF will be accessible from almost anywhere. Colleagues and clients can receive them on their smartphones or while working in the office.
Cách chuyển đổi Google Docs sang PDF là một trong những thủ thuật bạn nên áp dụng thường xuyên. Để biết thêm thông tin chi tiết về Google Docs or Workspace or need technical support, you can contact Gimasys - Premier Partner of Google in Vietnam with the following information:
Hotline: 0974 417 099 (HCM) | 0987 682 505 (HN)

Email: gcp@gimasys.com
Source: Gimasys