New Google Meet settings improve the experience when using on phones
What is changing?
You can now limit Google Meet mobile data usage on Android and iOS mobile devices. When enabled, this feature helps:
Limit network data usage, save network data on your mobile plan.

Save energy.

Reduce the demand on the phone's CPU.
 This new Google Meet feature optimizes your mobile data usage, making your experience with Google Meet on your phone even better. 
Who is affected?
End users
Why do you use
Google Meet automatically adapts to your device, mobile network, and configuration to provide the best meeting experience possible. However, you may want to adjust the quality of the meeting to reduce the impact on your mobile device. Installing a data saver can help:
Minimize mobile data usage

Protect battery life

Free up your device's CPU and memory for other tasks
When needed, you can use Google Meet in higher quality by simply turning off the data saver setting.
Getting started
Admin: There is no admin control for this feature.
End users: This feature is OFF by default and can be turned on by the user. Visit the Help Center to learn more about turning it on Meet saver mode or off for your account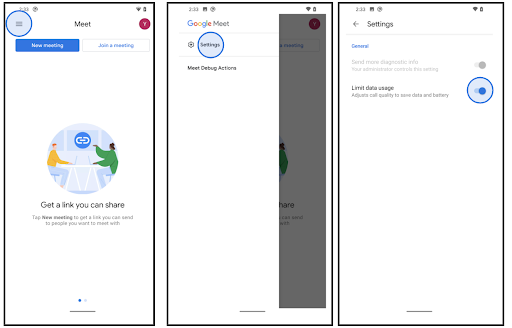 Rollout pace
Availability
Khả dụng cho Essentials, Business Starter, Business Standard, Business Plus , Frontline, Enterprise Standard, Enterprise Plus, Education Fundamentals, Education Plus, Nonprofits, Cloud Identity Free, Cloud Identity Premium. Có sẵn cho tất cả khách hàng của Google Workspace customers, cũng như khách hàng G Suite Basic và Business.
Source: Gimasys