Best Free Cloud Storage Service 2020
Các doanh nghiệp hiện nay thường trải qua tình thế khó khăn khi đưa ra quyết định di chuyển hoặc sử dụng một công nghệ mới để hỗ trợ kinh doanh. Và nguyên nhân phần lớn đến từ việc sao lưu và đồng bộ dữ liệu. Tuy nhiên, nếu các doanh nghiệp sở hữu cho mình giải pháp Cloud Storage tốt nhất hiện có, khoản đầu tư của họ sẽ giảm đi rất nhiều. Trong đó, dịch vụ lưu trữ đám mây miễn phí tốt nhất đã giới thiệu nhiều gói miễn phí cho doanh nghiệp để dễ dàng tìm kiếm dung lượng miễn phí.
About the free cloud backup service
Free Cloud Backup is a method of storing data online for free in the cloud of a cloud service provider. You can manage, maintain, and share your documents, spreadsheets, presentations, images, videos, and audio files in the cloud. This service usually comes with a limit on the amount of free space offered. However, sometimes you will also get exclusive options to increase the free space. The free cloud backup service allows you to access your data from any device through your free account.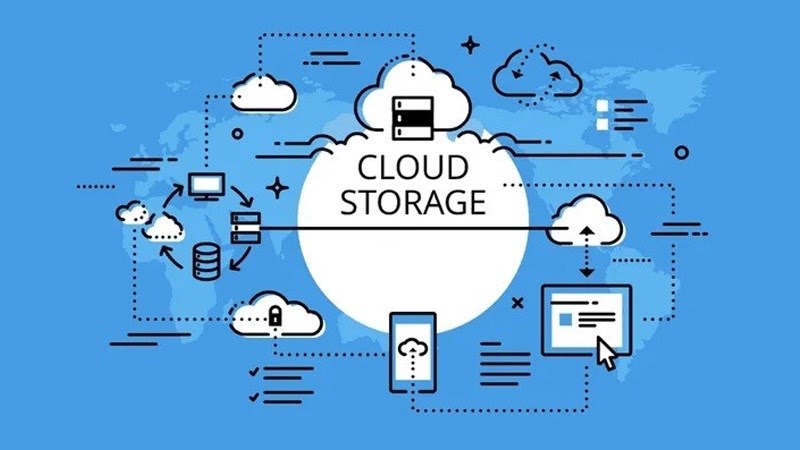 Free cloud backup services are easy to use and offer free storage space up to several tens of Gigabytes. Storage solutions can be used for personal as well as business hosting. All that is required is a basic knowledge of free cloud backup services and choosing the best from the available options.
Google Drive – the best free cloud backup service
Google offers a great free online storage called Google Drive, launched in 2012. Google Drive is compatible with a company's other systems and services including Gmail, Chrome, Google Docs, Android , Google Analytics and YouTube.
Feature overview
Online storage works like a regular storage, that is we use a file, store the same file on the web and synchronize it with our computer. However, there are many other features of Google Drive that set it apart from other cloud backup services. It allows users to store their personal documents in a personal way. Google free cloud storage offers 15GB free storage and is the best free cloud storage offered by Google.
Google Drive's offline services help users see all the photos and files that are being saved online even when their network service is not good. Scanning a document is made relatively easy by taking a picture of the document, and the rest of the work is done by Drive by storing it in PDF format.
Google's free cloud storage is best free cloud backup service as it can be integrated with all other Google services. You can create documents in Docs, Sheets, and Slides, and users can also build Forms through Drive to help take a survey. It is integrated with many external applications such as diagram tools, mind maps, etc. It can store Docs documents up to 1.02 million characters, Sheets documents up to 5 million cells, Slides up to 100MB and Google Sites up to 2,000,000 characters per page.
Secure remote documents
For security and backup purposes, public cloud storage provides a method to move copies of data to a remote site. For companies with specific jobs that require remote administration, cloud storage is an optimal cost-saving method.
Worldwide accessibility
People can access cloud storage anytime and from anywhere. Operating system or allocation requirements are not required to access cloud storage. Besides, to make the collaboration even more optimal, Google Drive allows to create and receive comments and feedback. And with just one click, users can share files with friends and set permissions to view, edit, and comment on their information.
To choose one for your business best free cloud backup service Obviously, businesses must consider many factors to best suit their business and development situation. The service from Google Drive is considered good when it has all the following factors: optimal features, reasonable cost and outstanding security.
Liên hệ Gimasys để được tư vấn chiến lược chuyển đổi phù hợp với tình hình thực tế doanh nghiệp của bạn và trải nghiệm miễn phí bộ ứng dụng Google Workspace
Hotline: Hanoi: 0987 682 505 - Ho Chi Minh: 0974 417 099
Email: gsuite@gimasys.com
Sign up for a free consultation: Here.
Source: Gimasys