G Suite Organizational Unit: Manage users by sub-organization
In most businesses, your location and role will affect access to various resources. Because of the different roles, the right to access information or use tools will also be different.
Eg: IT staff, HR administrative staff, chief technology officer (CIO) with different jobs and duties will not be able to share the same system access rights.
Điều này đặc biệt đúng khi doanh nghiệp của bạn phát triển lên với quy mô ngày càng lớn, sự phân cấp cũng sẽ rõ ràng hơn. Đó chính là lí do tại sao khi ứng dụng bộ công cụ G Suite (Google Workspace customers), Google cho phép admin phân chia và quản lý người dùng theo các tổ chức con – G Suite Organizational Unit (OU). This article will explain the benefits and guide you to manage users according to the structure and organization of your company.
1/ G Suite Organizational Unit – What is a sub-organization in G Suite?
Initially when installing and setting up accounts from the admin page Admin console, all users and devices belong to the same organization (one Organizational Unit (OU). This means that any settings found in the Admin console are applied to a single "mother organization" In other words, it applies to all employees and equipment in the company. 
However, as discussed above, The G Suite Admin can divide users into different subgroups and place them in multiple "suborganizations". The Organizational Unit is a way to separate access rights between employees in a company, helping to determine what applications a particular employee should or should not be allowed to access. For example, the board of directors and department heads can be merged into one sub-organization; sales and marketing staff could be placed in a different group;…
At this point, the admin can flexibly apply different settings to different levels of organization – "parent organization", OU 1, OU 2, OU 3, etc. Sub-organizations can inherit the settings settings are applied in the "parent organization" or can also have its own settings. 
For example, Gmail, Hangouts Chat, Hangouts Meet, Google Drive will be used for all users of the "parent organization". Meanwhile, users of the sub-organization will only be able to use Gmail, Drive but not Hangouts 
2/ How to install and add users to sub-organizations – G Suite Organizational Unit
To create sub-organizations in G Suite – Organizational Unit, you must use an admin account and follow these steps:
Access the general admin page:

admin.google.com

From the Admin console home page > click on the Menu icon

> Item Selection

Directory

> Selection

Organizational units. 

Hover over the organization you want to change and select

Create new organizational unit

In the information field

Name of organizational unit

: you enter the name of the sub-organization you need to create

Add a description (Description) if needed

In case you want to include this sub-organization below another: Click on the edit icon below

Parent organizational unit >

Select parent organization >

Done

.

Finally, you click on the section

Create

is complete. 
To move users into created suborganizations:
From Admin console home page > Go to

Users

Click on the organization the user is in. If you've never created an OU, or a user has never been migrated to any OU, they'll belong to the "parent organization".

If you want to move individual users: Find their account in the list of users > click on the empty box next to their name
If you want to move multiple users at once > click on all these users in the list
In the above section, click on the section

Change organizational unit

In the table that pops up, select the new organization you want to move the user to > Click

tiếp tục

In the credentials section, review and ensure that these new users will be subject to the same settings in the new organization

Finally, choose

Change

to finish. 
3/ Notes when setting up sub-organizations in G Suite – Organizational Unit
If the business has a different way of organizing departments with quite large differences in access to resources and information, the admin should divide users into many smaller sub-organizations. These sub-organizations can be of the same level or are built on a scale from top to bottom. Thus, the application of settings will be more specific and flexible.

When managing sub-organizations in a top-down hierarchical manner: The organization below will (by default) follow the settings of the organization above. Similarly, changing the settings of the parent organization will also change the entire settings of the underlying child organizations.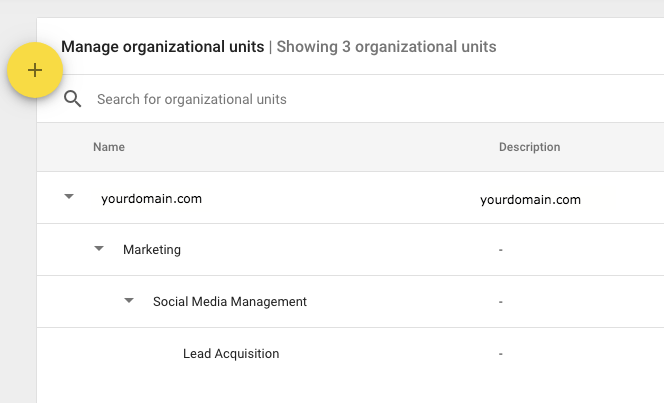 Sub-organizations can be divided based on factors such as geographic location, department, or corporate policy.

If your business uses multiple domains for G Suite services: You can group users from different domains and divide them into different sub-organizations. Basically, even though the domain names are different, those accounts still belong to the same "parent organization". In case you want to apply unique settings to users belonging to a specific domain, include them in an OU.
Delete a sub-organization: You can't delete a suborganization, or OU, in G Suite if the suborganization still contains users, devices, or other small organizations. If you want to delete, you must first move all users and devices to another organization, as well as move (remove) the other sub-organizations there. 
General, G Suite Organizational Unit (OU) or child organization in G Suite allows you, as admin and manager, to apply various settings to different groups of users. You should consider the company's policy, the specific work of each department so that you can meet the management needs without hindering employees from completing their work.