Limit the number of emails sent in Gmail – What you need to know
To keep the system stable and safe, Google limit number of Emails that the user can to send every day and number receiver on each message.
If you exceed the Email sending limit, you will see an error message like:
You have reached a limit for sending email:

You have reached your email sending limit

You reached a Gmail sending limit:

You have reached your sending limit in Gmail

You exceeded the maximum recipients:

You have exceeded the maximum number of recipients
Once one of these limits is reached, users cannot send new messages for 24 hours. However, you can still access your G Suite account (Google Workspace Email) to receive incoming Emails and use other Google services. After the suspension period, the limit on the number of outgoing Emails will be automatically reset (reset) and the user can continue to send mail.
1.Send Limit
Outgoing email limits are subject to change without prior notice. The sending limit is applied for a period of 24 hours, not for a fixed period of the day.
Note: Sending limits are different if your business uses an SMTP relay service to route outgoing mail through Google. You can read more about Send limit for SMTP relay service.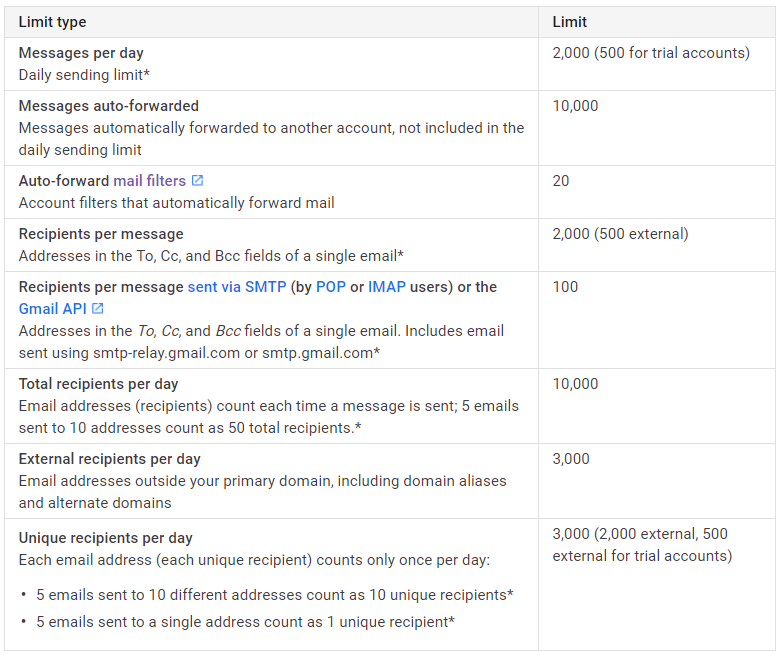 According to the information in the table above:
Messages every day:

 2,000 (500 for demo accounts) – This is the daily limit for outgoing mail*

Messages are automatically forwarded:

10.000 – 

These are the emails automatically forwarded to another account and will not be charged to the daily sending limit
Number mail filter  auto forward: 20 – This is number bo filter auto-forward mail filter) the maximum you can create
Number of recipients in an outgoing message: 

2000 (500 for email addresses outside of the business) – This limit applies to both email addresses and email addresses

address in the Cc and Bcc fields of an email*

 Number nrecipient for each message sent via SMTP (by user POP or IMAP ) hoặc Gmail API: 100 – Include the To, Cc, and Bcc addresses of an email. Include email sent using smtp-relay.gmail.com or smtp.gmail.com*
 Total recipients per day:

10,000 – US$

How many email addresses an email is sent to will be counted as recipients; 5 emails sent to 10 addresses count as 50 total recipients*.(For example, sending 5 emails to the same person will also count as 5 recipients in a day).

 Number nExternal recipients per day: 

3.000 – 

Email addresses outside of your primary domain, which include both your alias and alternate domains.

 Number of people receiving unique Email (unique recipe) per day: 

3,000 (2,000 for non-business recipients, 500 for out-of-business demo accounts). Different from "Total number of recipients per day" above, m

Each email address (or unique recipe) is counted only once per day:

5 emails sent to 10 different addresses count as 10 different recipients*

5 emails sent to a single address count as 1 recipient*
*Applicable to recipients inside and outside the business
2. These factors also count towards the user's limit
Messages sent from the user's alternate address or alias.

The assistant sends it on your behalf (if you delegate the mail to the assistant).

Messages sent from Gmail autoresponders.
3. Limit Gmail outgoings to mobile devices
When you use the Gmail mobile app in Google Sync mode, the same sending limits apply when you use Gmail on a web browser (described in the table above).
When you use the Gmail mobile app in IMAP mode, outbound limits for IMAP are applied (described in the table above).
4. Recover Suspended Gmail Account
The G Suite admin can check the User section in the Google Admin console to check if the user has reached the maximum limit. In some cases, the admin can restore access. For instructions, see how Restore suspended Gmail account .
Accounts identified as spammers may be permanently locked (no longer able to send emails). see more Policy on abuse and spam by Google.
5. Increase your limit by ending your free trial
There are some restrictions that are specifically imposed on accounts that are trying out G suite. At the end of the free trial, those limits will automatically increase when the business pays a total of at least 30$ (or equivalent). If you buy a domain name from Google, the amount needed to increase your sending limit is 30$ plus the cost of purchasing the domain name.
If you want to increase your limit sooner, you can end the free trial and proceed to the official paid subscription. It may take up to 48 hours to upgrade the limits after you submit payment. You can contact Gimasys for quick G Suite registration support
6. Some tips for sending mass emails
Here are a few ways you can send large amounts of mail, such as email marketing, and still avoid going over your sending limit:
Divide the amount of emails to send and do it in 2 days

: Send messages to a group of recipients, wait 24 hours, then send to another group.

Send a message to the group email address:

Send messages to multiple email addresses through group addresses. Example: You can contact all the users in your business using

how to add people to an email list

. For more details, see

policies and restrictions for

Group

and

Group

.

Use a third-party solution:

You can work with a third party that specializes in providing bulk mailing applications. 
Contact Gimasys for support to upgrade from personal gmail account to Gmail under business domain to increase the number of emails sent per day
Gimasys – Google Cloud Premier Partner
Hotline:

Hanoi:

0987 682 505

- Ho Chi Minh:

0974 417 099

Email: gcp@gimasys.com
Updated: Gimasys