Gmail confidential mode: How to send self-destructing emails with Google
After you send out an email, chances are it's out of your control. By now, the sender has the information and content they need and can easily forward, copy or print the message. This can often put you in a situation…dilemma, when not sending via email is no better way, but sending it out can't control the situation afterwards. Especially with emails containing important information. Because of these concerns, Google has officially included the Gmail confidential mode feature – the feature to send emails "secret", which then self-destructs. This article will guide you on how to use it and the necessary notes.
1/ Protect information with Gmail confidential mode
From March 2019, Google began testing the function of sending secret messages and self-destructing messages with Gmail confidential mode. This feature is said to help users protect sensitive information in emails by creating "expiration date" of emails, recall sent emails, disable the option to forward, copy, print or download emails. With Gmail confidential mode, you can reduce the risk of emails being shared with the wrong people. Or in case the recipient's account is hacked, the hacker still can't do anything with your message.
In addition to setting the email's self-destruct time, users can also require the recipient to perform an additional step of authentication through a text message on the phone, before being able to open the email. However, this message authentication feature has only been implemented by Google in certain countries, and in Asia, only Japan, India and Korea.
2/ How to send self-destructing emails Gmail confidential mode
If you're using a Gmail account provided by work or school (G Suite account – currently Workspace), you need to contact the admin to make sure that self-destructing mailing is enabled.
2.1. Instructions for admins
To enable Gmail confidential mode, you need to access the centralized admin page. Are from Admin console > Apps > G Suite > Settings for Gmail > User settings. Here admin will find an option to enable this feature by checking the box "Enable confidential mode".

2.2. User's Guide
Once Gmail confidential mode is enabled, you'll be able to send self-destructing emails.
a/ To send a self-destruct message:
Go to Gmail, click on Compose to compose a new message

In the new compose interface, enable self-destructing for the email you're about to send by clicking the padlock-shaped icon with a clock - in the bottom menu bar. If you have enabled this feature before, just look at the bottom of the email and click "

Edit"

.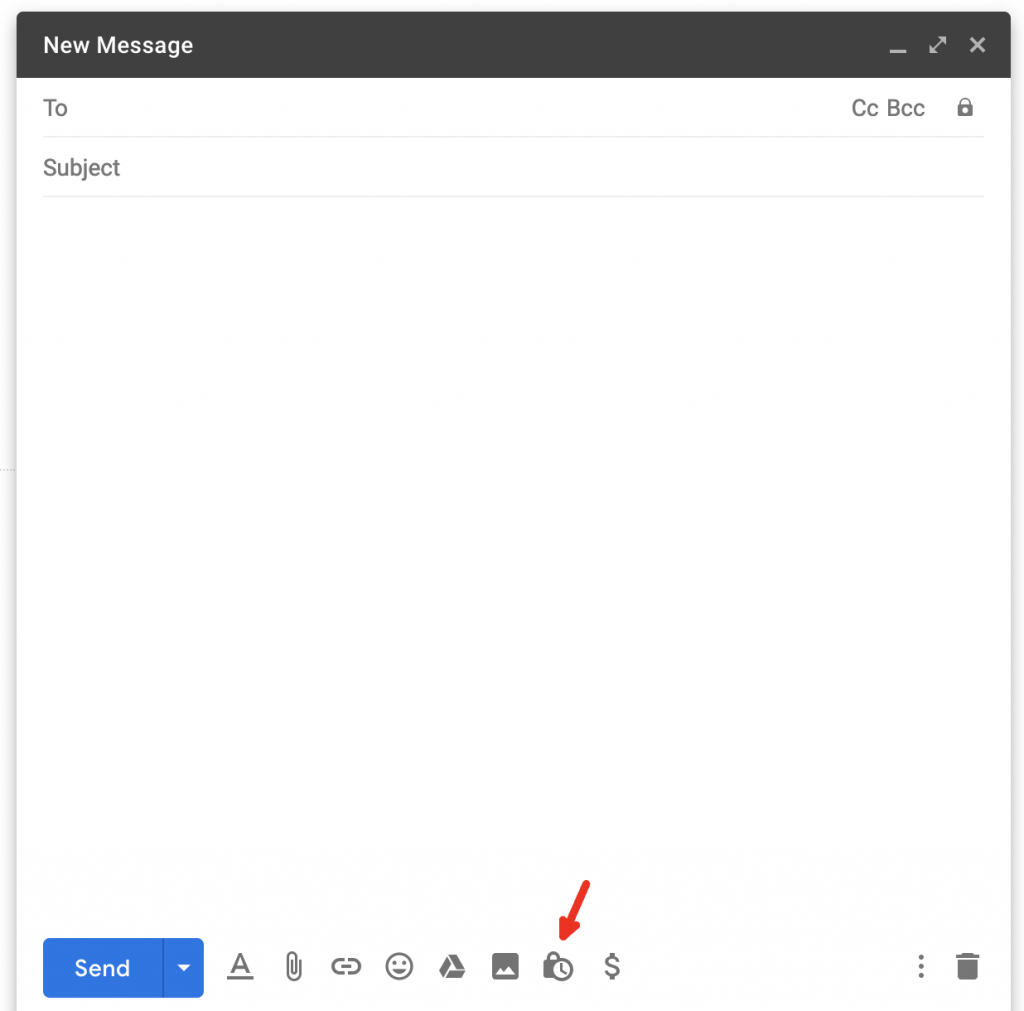 After clicking on the icon, the system will display a small settings panel, allowing you to set some settings related to the mailing mode "secret".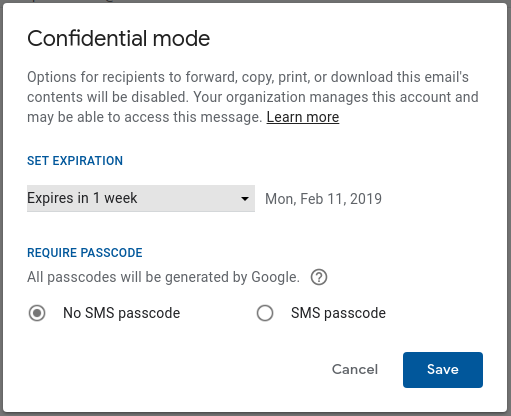 Here you can:
Set expiration date –

Set expiration date

: You can extend this period for 1 day / 1 week / 1 month / 3 months / 5 years, depending on your judgment. After this period, the email in the recipient's mailbox will self-destruct. Note: When you send a self-destruct message, the recipient will know it too. When they open the email, they will see a message saying that this message will "expire" at what time, so they can quickly process the email, instead of temporarily leaving it. From the time the email expires, if the recipient clicks on your email, nothing will appear, except the message that this email is no longer available.

Password required –

Require passcode

:

If you choose "No SMS passcode" – ie does not require password authentication via message. With this option, the recipient can open it directly. For recipients who don't use a Gmail account, they will receive an email with a password notification.

If you choose "

SMS passcode", you have required the recipient to enter a code before opening the email and the attachment. This code will be provided by Google and sent via text message. To do this, make sure you provide the recipient's phone number (Don't enter your phone number wrong).
b/ To revoke access earlier than intended
In addition to the above settings, you can also revoke the recipient's access to view emails earlier than their expiration date. To do this, you just need:
Go to my Gmail

In the left navigation bar, open the item "Sent" to view sent messages

Open the email you sent with self-destruct mode

Option "Remove access" to revoke access
Note that you should only do this after you have made sure that the recipient has read the email. Otherwise, you will waste time resending another email.
3/ Notes when sending self-destructing emails Gmail confidential mode
While Gmail's "confidential" or self-destructing message mode helps prevent recipients from accidentally sharing emails outside, it's certainly not completely secure. Because if you intentionally want to reveal information to the outside, the recipient can take a screenshot or a photo or an attachment that you send. Not to mention if you use some "black" software in your computer, they may still copy or download your email. That's why Google emphasizes that: this feature is useful when users accidentally forward/send email outside, or in case their account is hacked. Therefore, you should also consider and be careful when deciding to send important information to others.
In case you are the recipient of the self-destructing email (from someone else):
You can view messages and attachments until the email self-destructs, or until the sender revokes your access. So keep in mind that you only have a certain amount of time to get all the information.

You will not be able to copy, download, print or forward the email to others.

You may need to enter your password before you can open the email

If you're not using Gmail and want to open this self-destructing email: Click the link "

View the email

" >

Send passcode

> Check your phone message or email to get the code > Enter the code and press

Submit

.

If you use Gmail but access email from another email client: Click the link "

View the email

" and sign in with your Gmail account. Only then will you be able to read the message.