Google Appsheet – Build, Deploy Apps Without Knowing Code
Currently "low-code" and "no-code" becoming Popular trends in building application development. DRAWApril 2022 Google Cloud's AppSheet is mentioned as a prominent no-code trend and will make manual coding obsolete. Join Gimasys to learn more about communication Google Appsheet Please!
Overview of Google Appsheet
Is an intelligent "no-code" (no code) application development platform or can be understood as an application platform "low-code". 
AppSheet enables business users to create and deploy powerful applications tightly connected to existing business data. The data can be obtained from Google Sheet, Excel, Cloud SQL, Salesforce and other similar connectors. All activity of this app user will be synchronized with the connected data source. 

If your business is using an all-in-one application Google Workspace customers then you can easily create and manage applications depending on the nature and requirements of the job with this no-code platform.
Characteristics of a quality No-code platform
You can build a complete website yourself with just one action: drag and drop. All the steps from creating headers, footers, forms, tables, and attaching images, can be done in just a few minutes. With this approach, you will have the website you want.
Create a workflow model
It allows you to manage all your data smoothly without having to worry about programming languages. Prototyping the workflow is not only fast, but also fun thanks to the No-code platform.
Reusability
What do you think, if you could reuse different parts of different applications to create a new application? Another benefit of No-code programming is appreciated by many users because they can reuse parts from other applications to create their own applications. This also does not require any technical knowledge. 
Ability to combine
From Facebook to Linkedin and many other social networking sites, you can combine with No-code applications and automate the whole process. This feature is especially loved because it reduces the work that users often have to do and removes Excel sheets from the process. 
Mobility
High-quality No-code application building platforms will often provide additional mobile functionality. This means that you can decide how to design the look and feel and features your app will display on mobile devices and can customize it to your liking. This is an important feature, because according to statistics, there are about 3 billion smartphone users in the world.
Reporting and analysis
Along with the great features mentioned above, the No-code platform also creates reports according to your wishes. So your entire analysis process has been handled by the No-code platform.
Advantages of Google Appsheet
WOOD

It helps increase productivity in creating applications tailored to your business needs, reduces code editing errors, and reduces the backlog of technicians (IT) in your company.

Eliminate the burden of building and deploying applications in the traditional way of coding & administration, instead the Team will have more time to focus on exploiting and using the application to improve work efficiency. 

Bring flexibility to Google Workspace: AppSheet integrates tightly with Google Workspace, giving users the ability to customize work to their needs.
Features of AppSheet
Features under development
Powerful features under development on this platform:
Capture Images

Log Locations

Scan Barcodes

Deliver Notifications

Generate Reports

Send Emails

Build Dashboards

Accept Signatures

Work Offline

Install Across Devices

Integrate Platforms

Apply Logic
Approval feature
Here is a sample of the "approval" feature on the app AppSheet between management and employees, The data and content in this feature will be fully integrated from Google Sheet to ensure simulation and interaction with the huge data source inside Google Sheet.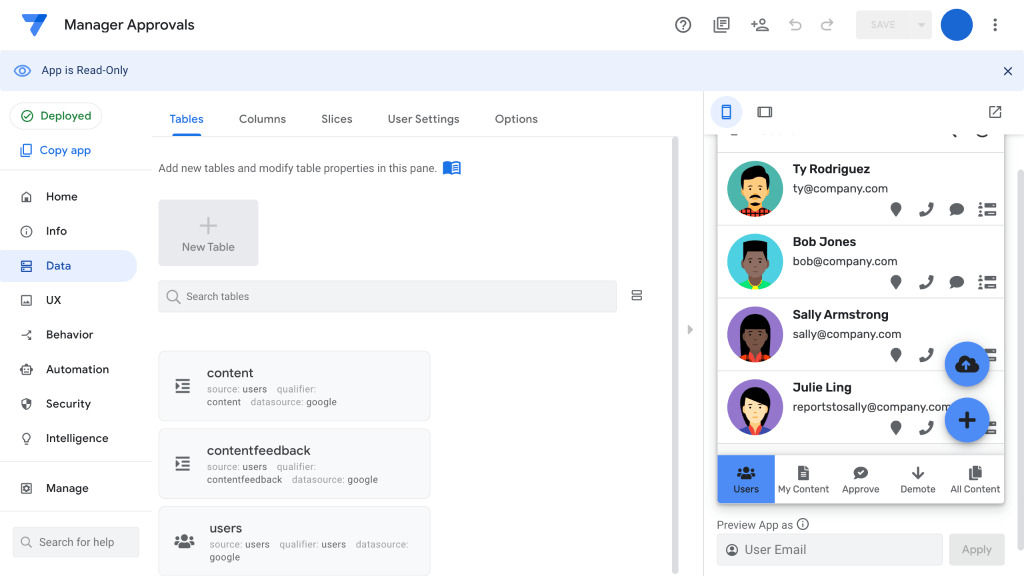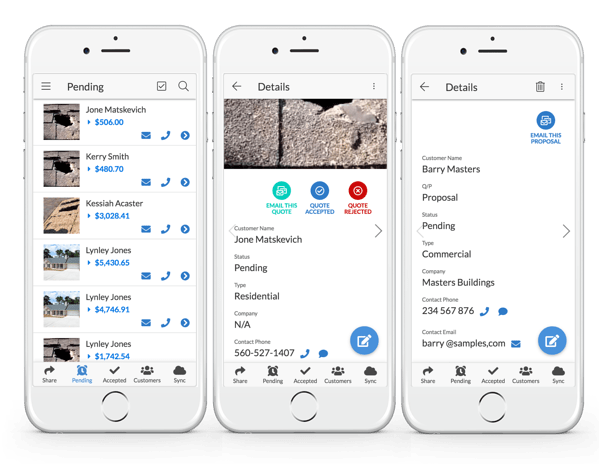 Application of the No-code platform
Currently, users can use the platform to build an infinite number of (unlimited) applications to serve the specific needs of their business. As long as you have an idea and use the right No-code platform, you can create practical applications in a short time. Some examples of applications you can create include:
Business applications:

Customer relationship management (CRM)

Task and project management

Support service management

Expense and travel management

Personnel management system

ESS – Self Service Employee 

Asset Management

Purchasing manager

Mobile app
Website and phone transaction portal
Instructions for building applications with Google Appsheet
How to Create a Simple App Using AppSheet: Task Tracking
The app we've sampled below can be used as a great starter project to get started with AppSheet and provide some internal value in the process. We'll go through a step-by-step process to create a skills directory app for employees.
First you need data to import into the app: 
       1. Create a Google Sheet to use as your data source. The column headings listed below are essential for job tracking. 
Job 

Code 

Report image 

Note

Attached link 
You are now ready to open the AppSheet and enter your data. After doing this (follow the steps below), you will see the application automatically create the application based on the type of data you enter. It will create a "section" for you to adjust and edit based on the information from your dataset.
       2. Go to page appsheet.com
       3. Log in or create your account (Google Workspace users can use single sign-on feature)
       4. You will be prompted to create a new application or you can Click Create > App > Start with a template Or Start with existing data 
       5. For this example, choose to start with a template.

       6. Select the application in the template folder you want to copy and click on the corresponding Icon. In this example we will choose Task Manager.
       7. Click Copy and Customize and name the application and field appropriately 

       8. Click Data > New Table > Add data from… and select the Google Sheet data field, then upload the data Sheets created in step 1.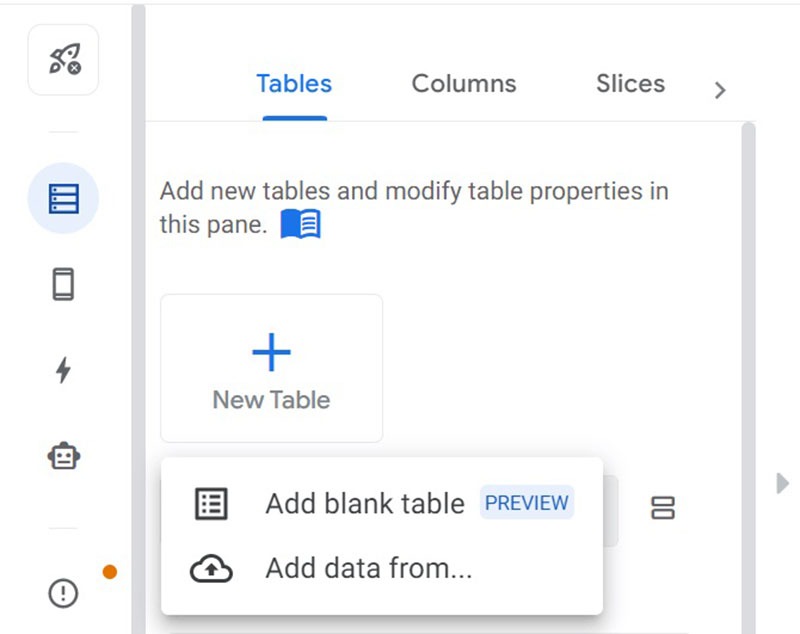 From here, your application is ready for review! You'll see the actual version of the app on the right side that you can interact with. Click the App button in the left column to modify the app as you wish. You can edit the base color, add a logo, hide certain data, select editable sections, and update your next action with ease.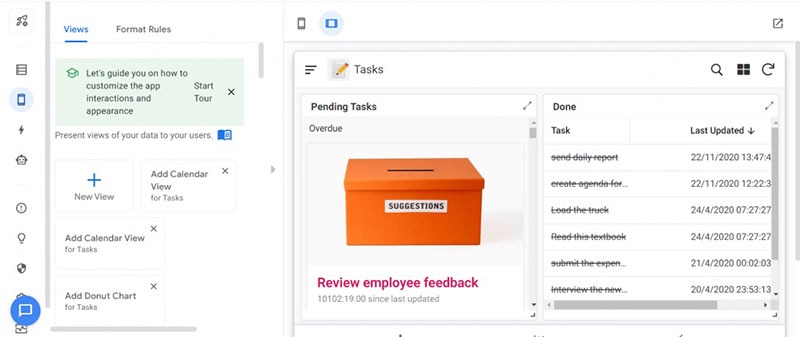 Once you've made the appropriate tweaks and left the app with the settings you want, you can deploy it by clicking the button in the upper left corner that says "Not Deployed". Scroll down and click Move app to deployed state despite errors. Once your app is live and deployed, the button will turn green with the text "Deployed" with a green check next to it.
Create complex apps with Google AppSheet or pre-build apps with Template 
To take your application a step further, integrate with existing large datasets, such as SQL databases. From there, you'll be able to work with more complex datasets to customize the functionality of your app. If you want to incorporate more automation, use bots and automation integrations to perform actions or behaviors based on preconfigured triggers. Example: After something has been edited or uploaded to your app, an automated email h is sent to the person who monitors this app. 
For more options and customization, AppSheet offers a variety of Templates for all types of industries and use cases. From asset inventory and order delivery to project management, the possibilities are endless.
The application building on Google Appsheet There are also certain requirements for database data processing skills and basic code reading to be able to connect data fields together.
If your business is not familiar with this "no-code" platform, you can connect with Gimasys – a senior partner of Gimasys. Google Cloud in Viet Nam; DGet advice on how to build and experience for free building custom apps with Google Appsheet. Detail information:
Gimasys – Google Cloud Premier Partner
Hotline:

Hanoi:

0987 682 505

- Ho Chi Minh:

0974 417 099

Email: gcp@gimasys.com
Source: Gimasys