New banners in Google Chat protect against malicious links
General information
Trong Google Chat (Google Trò chuyện), bạn sẽ thấy các biểu ngữ cảnh báo về các thông báo phần mềm độc hại và lừa đảo tiềm ẩn đến từ những người dùng có Tài khoản Google cá nhân. Các biểu ngữ cảnh báo này, đã có sẵn trong Gmail và Google Drive, giúp bảo vệ người dùng chống lại các tác nhân độc hại, giữ an toàn cho dữ liệu.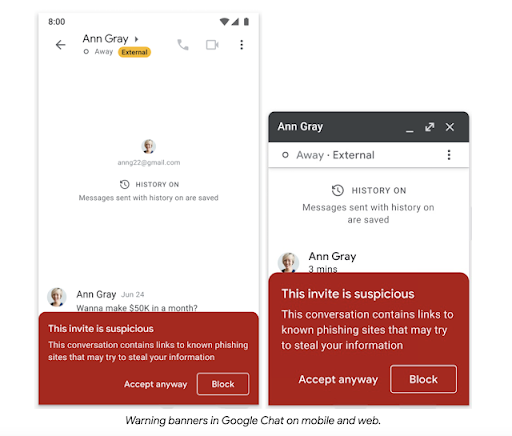 Additional details
In Gmail, warning banners are displayed when responding to emails sent from outside of your organization. Now, Android warning banners are also displayed as you add new external recipients. Admins can turn these specific warning labels on or off for their organization. trong admin
Getting started
Admins: There is no admin action required. Visit the Help Center to learn more about advanced phishing and malware protection.

End users: Visit the Help Center to learn more about how Google Chat keeps you safe.
Rollout pace 
Rapid Release and Scheduled Release domains: Gradual rollout (up to 15 days for feature visibility) starting on May 19, 2022
Availability
Available to all Google Workspace customers, as well as legacy G Suite Basic and Business customers.

Available to users with personal Google Accounts.
Source: Gimasys