Google allows editing of Calendar events directly on Gmail and Docs
Google allows editing Calendar events directly on Gmail and Docs in the G Suite app. Find detailed information below.
Quick summary
 You can now edit Google Calendar events directly in Gmail and Docs, without having to visit the Calendar page in your browser. You can also use "Find a Time" to see how much time other people have when planning events.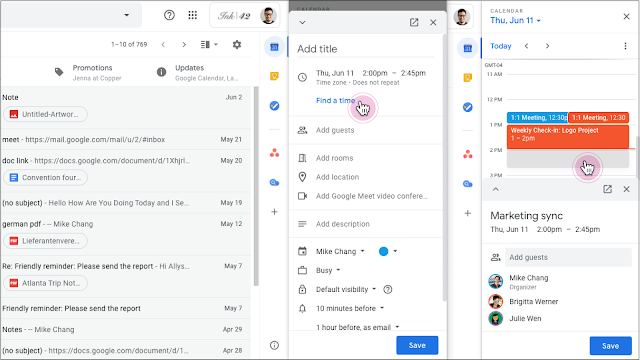 Getting started
Administrator: Administrators do not have control over this feature.
End User: The end user has no settings for this feature. Visit the Help Center to learn more about How to use Calendar side table.
Rollout pace
Rapid release domains: Gradual rollout (up to 15 days for full feature visibility) starting June 11, 2020.
Scheduled release domains: Extended rollout (may take longer than 15 days to show full features) starting June 24, 2020.
If you have any questions regarding the application or need to sign up for a free consultation to learn about its features, G Suite Please contact Gimasys immediately for advice:
Email: gsuite@gimasys.com
Sign up for a free trial: Here
Phone number: Hanoi: 0987 682 505 - Ho Chi Minh: 0974 417 099
Source: Gimasys