Google Docs: document approval request feature
What's changing
Google has rolled out a new feature that allows you to request and review formal approvals on Google Docs, Sheets, and Slides for more users. Once requested, the approver can approve, deny, add comments, or edit the document according to the response. All of this can be done without leaving the secure environment of Google Workspace.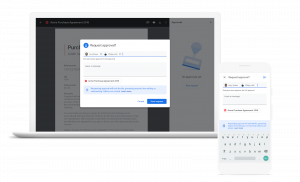 Yêu cầu phê duyệt trên Google Docs
Who's impacted
Admins and end users
Why you'd use it
Securing document approval can be difficult when collaborating with multiple stakeholders and competing priorities. This feature makes it easy to keep those approvals private and see who approved them.
This feature also ensures that when edits are made to a document, all reviewers are notified and the latest version of the document is re-approved. It also ensures that once all reviewers have provided their consent, the file is locked and cannot be edited, ensuring the integrity of your document.
Hopefully this feature streamlines the workflow needed to secure approval for contracts, legal documents, and other situations where formal approval is required.
Additional details
Once a document is submitted for approval, reviewers will receive notifications via email, browser, or Google Chat, based on the location they selected in Google Drive's web settings to receive notifications. They will then receive a link they can follow directly to the document.
If you set a due date, your reviewers will receive an email reminder that they need approval or are overdue. You can also prevent any user from editing the contents of the item or leaving comments and suggestions by selecting the document lock.
Note: Documents will by default remain unlocked until they are fully approved.
If you request approval from more than one person, the document is considered approved after all reviewers approve the file. If edits are made during the approval process, all reviewers will need to re-approve the latest version of the file and will receive email notifications in those cases. Document approval requests are denied for all reviewers if a single reviewer rejects the file.
After all reviewers approve the document, the file is locked. Locked files cannot be edited until they are unlocked or approved. Unlocking the file will cancel the current approval request.
Getting started
Admin: This feature will be ON by default and can be disabled at the domain level or managed by group/organizational unit.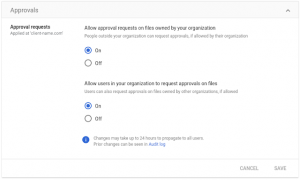 Enable approvals in the Admin Console
End users: Users can manage Drive notifications under Approval in Drive settings. 
Rollout pace
Admin Settings
Rapid Release and Scheduled Release Domains: Full Release (1-3 days for feature visibility) starting November 8, 2021
Note: While the Admin Console settings will be visible and configurable, your settings will not be enforced until November 15, 2021
End User Features
Rapid Release Domain: Extended rollout (up to 15 days for feature exposure) starting November 15, 2021

Scheduled Release Domain: Gradual rollout (up to 15 days for feature exposure) starting November 24, 2021
Availability
Có sẵn cho Google Workspace Essentials, Business Standard, Business Plus, Enterprise Essentials, Enterprise Standard, Enterprise Plus, Education Plus và tổ chức phi lợi nhuận, cũng như G Suite Business, G Suite Enterprise, Drive Enterprise, G Suite cho giáo dục, G Suite Enterprise cho Giáo dục và G Suite dành cho tổ chức phi lợi nhuận
Không khả dụng cho khách hàng Google Workspace Business Starter, Education Fundamentals, Education Standard, Frontline và G Suite Basic

Not available to users with personal Google Accounts
Source: Gimasys