Google Meet adds noise filtering outside the meeting
Quick summary 
To limit interruptions in your meetings, Google Meet can now intelligently filter out noises like keyboard knocks, door opening and closing, or building outside windows. An AI system is used to remove noise from your audio mic while still allowing your voice to pass through. 
Previously Google announced the feature This is a top-request and is now rolling out to G Suite Enterprise customers and G Suite Enterprise for Education using Meet on the web platform. Google will make this feature available to mobile users soon and will announce on the G Suite Updates blog when it's ready.
Getting started
Admin: No control over this feature. 

End User: This feature is OFF by default. To turn noise cancellation ON, follow the instructions:

Go to home page Google Meet
Press setting .
Option Audio.
turn on Noise cancellation.
Press Done.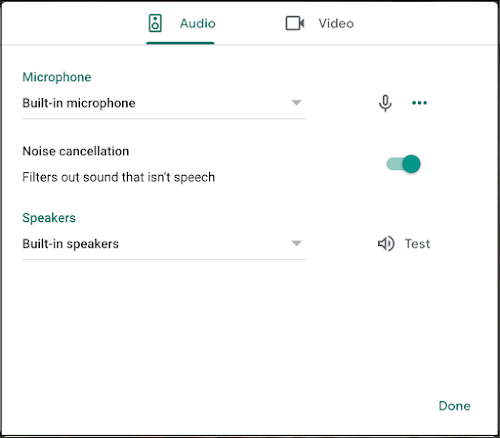 Rollout pace
Scheduled and Rapid Release Domains: 
The feature is currently available to all web users in most countries. 

For users in Australia, Brazil, India, Japan, and New Zealand, the longer rollout (potentially longer than 15 days for full feature visibility) begins June 30, 2020. 

Currently not available in some countries (including South Africa, UAE, and nearby localities). 
Effect 
Available to G Suite Enterprise, G Suite Enterprise for Education* customers 

Not available to G Suite Basic, G Suite Business, G Suite for Education, and G Suite for Nonprofits customers.
If you have any questions regarding the application or need to sign up for a free consultation to learn about its features, G Suite (Google Workspace customers) Please contact Gimasys immediately for advice:
Email: gsuite@gimasys.com
Sign up for a free trial: Here
Phone number: Hanoi: 0987 682 505 - Ho Chi Minh: 0974 417 099
Source: Gimasys