Google Meet allows mass acceptance of users
Quick summary 
You can now accept all pending join requests in Google Meet in bulk. Accepting all participants or students at once helps to limit interruptions in the video call. Note, only the meeting organizer can view or approve the request to join the meeting.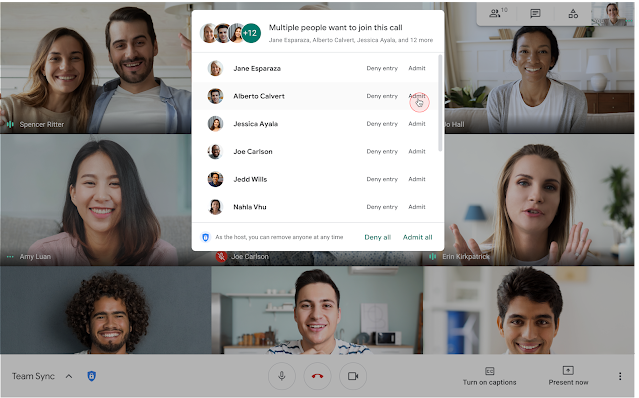 Get started with bulk join in Google Meet

Deployment Roadmap 
Gradual rollout (up to 15 days for feature visibility) starting November 4, 2020
Extended release (may take longer than 15 days to show features) starting November 16, 2020
Availability
Có sẵn cho các phiên bản Google Workspace Essentials, Business Starter, Business Standard, Business Plus, Enterprise Essentials, Enterprise Standard và Enterprise Plus, cũng như các khách hàng đang sử dụng G Suite Basic, Business, Education, Enterprise for Education, Nonprofits và người dùng có Google Account cá nhân.
Contact Gimasys for advice on a transformation strategy that is suitable for your business situation and to experience the free Google Workspace toolkit: 
Hotline: Hanoi: 0987 682 505 – Ho Chi Minh: 0974 417 099
Email: gcp@gimasys.com
Sign up for a free consultation: Here.
Source: Gimasys