Google Meet allows attendees up to 500 people
General information
Đối với các phiên bản Google Workspace customers được chọn, người dùng hiện có thể tổ chức các cuộc họp trong Google Meet với tối đa 500 người tham gia. Xem bên dưới để biết thêm thông tin về tính khả dụng.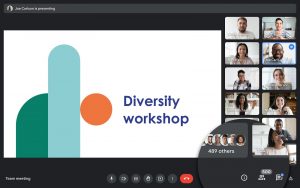 500 people in 1 meeting
For select versions of Google Workspace, users can now host meetings in Google Meet with up to 500 participants. See below for more usability information. 
Getting started
Admin: No action needed.

End User: No action required. New participant limits automatically occur for all meetings in your domain. If you need to host an even larger meeting, you can enable live streaming, allowing up to 100,000 viewers at a time.
Rollout pace
Rapid and scheduled release domains: Full release (1–3 days for feature visibility) starting November 16, 2021
Availability
Khả dụng cho khách hàng của Google Workspace Business Plus, Enterprise Standard, Enterprise Plus và Education Plus

Not applicable to Google Workspace Essentials, Business Starter, Business Standard, Enterprise Essentials, Education Fundamentals, Frontline, Nonprofits, Teaching and Learning Upgrade, or G Suite Basic and Business customers
Source: Gimasys