Google enhances 2-step security by showing phone prompts to multiple users
Google enhances 2-step security by showing phone prompts to multiple users. Join Gimasys to find out detailed information through the following article.
What changes? 
Starting July 7, 2020, Google will implement reminders phone verification for "2-Step Verification (2SV)" for all eligible users, unless they have used security keys as the 2SV method of choice. This means that if you sign in to your Google account and also sign in on a smartphone device, you will be asked to follow the prompts on your phone to verify access when trying to sign in. . This will help increase account security while making it easier to log in.
This will not apply if you use security key to protect your account. You'll also be able to use other methods (such as receiving a written code) by choosing a different method during the verification steps via phone prompts.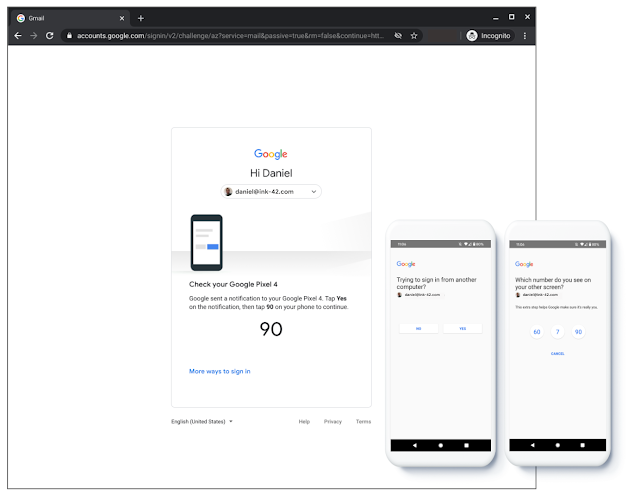 Who is affected?
End users
Why it's important 
Reminder on phone, called "device prompts", more secure than text or voice codes as 2-step verification. They are also easier to use because they avoid requiring the user to enter a code received on another device. By making prompts a primary method for many users, Google hopes to help them take advantage of this additional security without having to change settings manually – although they can still use methods." Other 2-Step Verification if desired.
Additional information 
Phone reminders work how
After you enter your password to sign in to your Google account, Google sends an "Attempting to sign in" prompt to any eligible mobile device where you sign in. This message will let you know when and where your password is being entered, and then ask you to confirm or block an attempt to sign in by tapping your mobile device. You can also choose a different verification method during login if it is available on your account. You will also stop receiving notifications on your phone if you sign out of that device. Learn more about phone reminders.
Users with security keys are excluded from this change
Users will not have notifications as their primary method of 2-step verification in two scenarios:
If an organization chooses to oblige

2-step verification option "security key only"

for the user, there will be no change and the user will continue to be required to use the security keys. 

If an existing user or at any time is later added, the security key on their account, verification with the security key will be applied as the primary method. 
Also, if the user does not enable 2-step verification, this will not apply.
Getting started
Admin: This feature will be ON by default. The administrator can only disable this feature by requesting the use of security keys. Visit the Help Center to learn more about how

Protect your business with 2-step verification

.

End User: This feature will be ON by default and can be turned off by the user. Visit the Help Center to learn more about how

login with 2-step verification
If you have any questions regarding the application or need to sign up for a free consultation to learn about its features, G Suite Please contact Gimasys immediately for advice:
Email: gsuite@gimasys.com
Sign up for a free trial: Here
Phone number: Hanoi: 0987 682 505 - Ho Chi Minh: 0974 417 099
Source: Gimasys