What is Google Workspace Individual? Compare Google Workspace Individual and Business
Is a service package designed by Google towards businesses that only need to register for one individual, Google Workspace Individual Officially available on the market from August 2022 and possesses many superior features compared to the free Google version. 
What is Google Workspace Individual? 
Google Workspace Individual is an upgrade to the free personal version of Google, it will help improve issues limited to the free personal version such as extending meeting time on Google Meet, increasing storage capacity store or receive support from the Google team.  

Google Workspace Individual feature? 
Some outstanding features of Google Workspace Individual compared to the free version include: 
Group meeting time increased to 24 hours

Supports live streaming of meetings to YouTube

Record the meeting

Use noise cancellation

Join the meeting by phone

Use breakout rooms, transcripts, raise hands, and polls during meetings

Add co-hosts to the meeting

Ask participants questions

View the list of meeting participants
Customize the layouts included in your subscription with your choice of colors, images, and more. 
Personalize emails with names and other information on Google Sheets with the Mail Merge feature.
Create newsletters and announcements with branded information using customizable layouts.
Create multiple appointment types with a separate schedule and booking page. Avoid scheduling conflicts with support for multiple calendars, improve attendance with email reminders, collect payments with Stripe, and more.
Share appointments via web or mobile devices
Add an appointment booking button to your website
Embed an appointment booking page on your website
Set the start and end date of your appointment
Select a sub-schedule to determine free/busy status when booking
Change the free/busy status of a specific day
Add waiting time between appointments
Set the maximum number of appointments
Email verification is required for appointments
Accept payments for booked appointments
Edit the appointment booking form
1 TB cloud storage,

Securely store, share, and collaborate on files and folders using any device
Integrated electronic signature: 
Save time when signing contracts with electronic signatures. The built-in electronic signature functionality in Docs can help you create agreements with customers.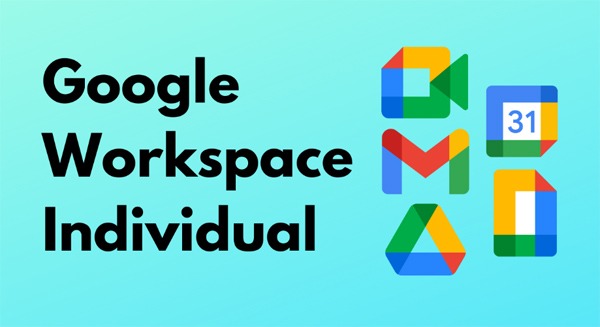 Difference between google workspace individual vs google workspace business
| | |
| --- | --- |
| Google Workspace individual | Google Workspace Business |
| The service package is only for 1 individual, similar to the free personal gmail package | Service packages for businesses in all segments |
| Custom emails based on individual domains are not supported | Supports custom emails according to the business's own domain name |
| Supports basic features in the Google Workspace package, does not support additional extended features  | There are full features from basic to advanced in the Google Workspace package (additional support for duet AI, Appsheet), supports easy add-on expansion with 3rd parties |
Above is general information about the version Google Workspace Individual, if your business is very small and only wants to unlock some limitations of the free Gmail version and access some more advanced features of the Google Workspace version, you can choose the Individual version, in case the company has If you want to purchase a service package for 2 or more users or want to use custom email, consider choosing to register for our packages. Google Workspace Business (Starter, Standard, Enterprise…)
Source: gcloudvn.com