[Knowledge] Differences between Google Workspace and G Suite
A perfect product that is a harmonious combination of design, interface and user experience, Google's G Suite business application suite has now been renamed Google Workspace, along with new designs and a new name. Let's find out how Google Workspace is different from G Suite.
Overview of Google Workspace
Google Workspace customers (before is G Suite) is a suite of cloud-based productivity and collaboration tools from Google that enables businesses to use them to power their business.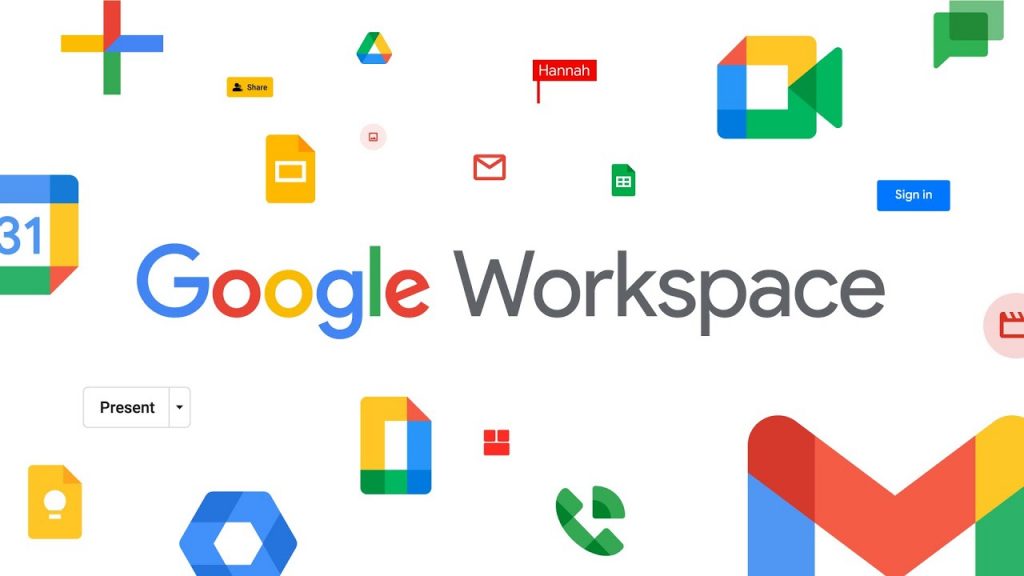 Google Workspace continues the development of G Suite, with a toolkit of useful applications serving from communication, storage, collaboration to business administration, including Business Gmail, Google Calendar, Docs, Sheets, Slides, Google Meet, Google Chat, Google Drive, Google Sites, … Previously, G Suite apps functioned as an ecosystem that powers the business. Now, however, the separate tools in that ecosystem are more deeply integrated with each other. Or it can be said, with Google Workspace, instead of switching between applications, businesses can access all services continuously and throughout in the same interface.
In this change, Google Workspace customers There are comprehensive changes in all factors. The appearance becomes more modern and dynamic, product packages are diverse and more focused on business users. Besides, the prices of packages also become more flexible, more suitable to the needs and goals of the business.
1. New experience for users
Experience Google Workspace customers new is to experience new methods to increase productivity. And to further optimize and enhance its toolkit, Google brings the Google Workspace upgrade with 4 outstanding features that make the user experience perfect, providing a great working space. .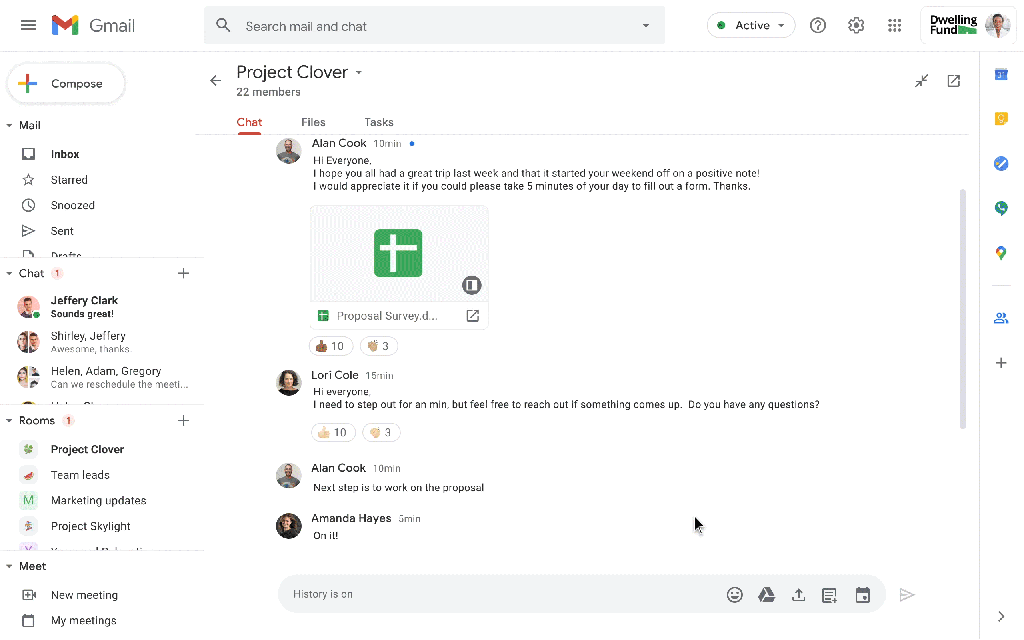 Collaborate easily on new documents
Google Workspace customers will allow you to create and collaborate on documents (Docs, Sheets, Slides) in Chat's chat interface without having to switch screens. This will make it easier to share content and work directly with customers or anyone outside the business.
Preview the linked file
The feature allows users to preview the content of a link be it Docs, Sheets or Slides without having to leave the original document. This makes users spend less time moving between different apps and optimize their time to get more done.
Easy connection with "smart chips"
With this feature, when a user @reminds someone in Docs, Sheets, and Slides, a smart chip displays detailed information that provides context and suggested actions. Users can add the person to Contacts or contact via email, chat, or video. This allows users to easily connect relevant content and people in the toolkit, making interactions limitless.
Picture-in-picture function
Google rolls out Meet's Picture-in-picture functionality to Docs, Sheets, and Slides. This feature allows users to see and hear the people they are working with while collaborating on a project in real time. This can be especially useful for client interactions such as when presenting proposed advertising ideas or reviewing documents.
2. Google Workspace has a new brand identity
In terms of recognition, four-color icons will appear on your productivity apps Workspace: Gmail, Calendar, Drive, Docs, Sheets, Slides and Meet are all updated to familiar Google colors with a new 2-D folded paper interface. This keeps the majority of Google's consumer and enterprise products up to date and in line with the company's Material Design 2.0 design trends.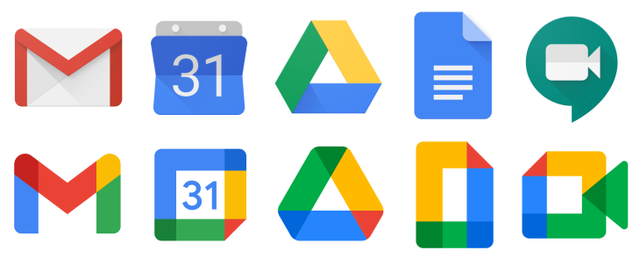 3. Google Workspace (old G Suite) has the optimal choice for business groups
Before, G Suite provides a toolkit aimed at all users by offering 3 packages with features and prices classified by segment, including: Basic, Business and Enterprise with prices ranging from $6 - $25/ users/month.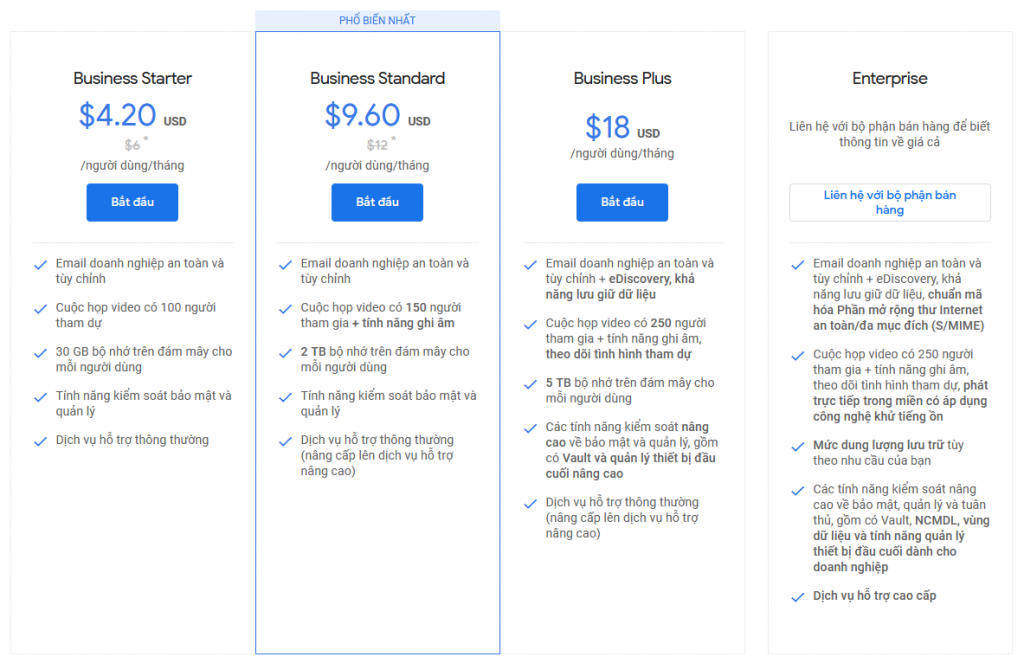 Unlike G Suite, Google Workspace versions are now more optimized for users in many different types of businesses, specifically there will be two main groups: the business group suitable for businesses in the SMBs and Enterprise segments. for LCSs businesses.
Business Group: For Business customers, Google offers 3 application packages, including: Business Starter, Business Standard and Business Plus. Accordingly, features are gradually upgraded at each level, suitable for each scale and usage needs of each business in the SMBs segment.
Enterprise group: For larger-scale businesses in the LCSs segment, Google Workspace has 3 options and is also classified according to gradually advanced features according to packages from Enterprise Essentials, Enterprise Standard to Enterprise Plus. At each level, Google will optimize in accordance with each business development goal. Most notably, users on Enterprise packages will receive 24/7 support from Google.
4. Update special security features
In addition, to ensure the upgrade works more stably and optimally, Google has announced a series of security features coming to Workspace.
New Meet safety features: New features will allow Meet to automatically detect abusive names or display codes, exclude them from previous meetings, and then prevent similar users from joining your meetings in the future.
Chat security updates: The new audit log will allow admins to update and identify potential malicious behavior that could include phishing or data compromise in Chat, automatically classifying spam Chat rooms.
In-depth Gmail protection: Audit log for Gmail, allowing admins to know when users have enabled automatic email forwarding outside the business domain and take action to prevent potential data loss due to policy violations, malware internally or the account is compromised.
Redesigned rules page: Google Cloud redesigned the rules page in the admin console Google Workspace customers to focus on rule discovery, creation, and management for Google-powered rules and custom rules.
Update Google Vault: Google Cloud will soon release a redesigned user interface for Google Vault, enabling data retention and eDiscovery in Google Workspace Business and Enterprise editions.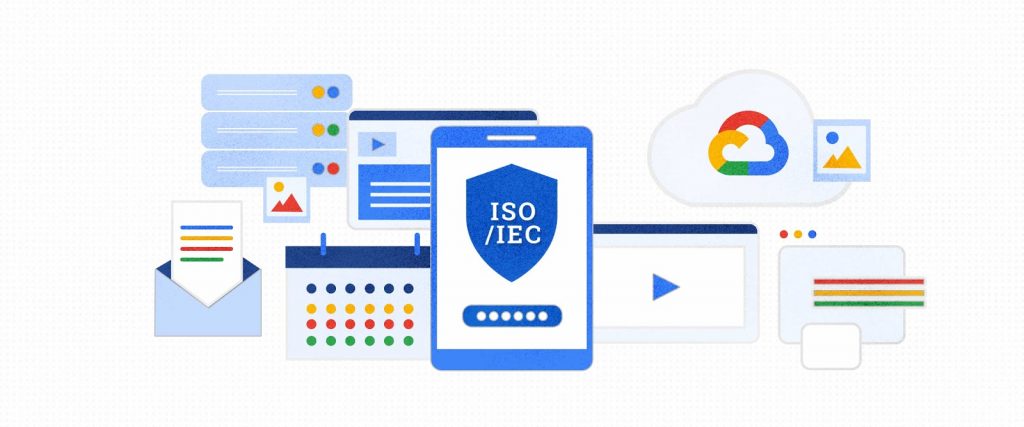 In particular, Google says Workspace is the first major productivity suite to receive ISO/IEC 27701 certification as a data processor. Currently, Google is continuing to develop and improve other in-depth features to best meet business needs.
From the modern appearance, diverse product packages, flexible prices and more focus on business users, Google always puts business and user experience in the mission of the toolkit. Google Workspace customers – a suite of increasingly optimized support tools for business users.
Contact Gimasys for advice on a transformation strategy that is right for your business situation and to experience the free Google Workspace application suite: 
Hotline: Hanoi: 0987 682 505 – Ho Chi Minh: 0974 417 099

Email: gcp@gimasys.com
Sign up for a free trial: Here.

Update: Gimasys