Restrict the right to share documents outside the company with the new Target Audience
What is changing? 
Google is rolling out a new feature that allows admins to identify specific audiences to whom their users have shared links on Google Drive. This gives administrators control over who their users share files with, and helps protect their organization's data by reducing the chance of accidentally sharing multiple files. Target audiences will initially be available in beta.
Who's impacted 
Admins and end users
Why are you using this feature?
Previously, admins could allow users to share a file's link with their entire domain or anyone with the link. Target audiences allow admins to define and recommend more granular link sharing options for users. 
This means admins can prevent over-sharing without hindering collaboration – as the target audience is defined and suggested by their admin, users can trust that sharing files with the target audience feature is a more appropriate, secure, and widespread way. It can also help users share files faster because target audience allows easy link sharing, but with a more specific audience. It can be reduced that users can manually add specific users and groups and respond to individual access requests.
For example, an administrator can set up a specific audience that includes all members of the "finance" group. When someone in the group turns on link sharing for a certain file, they'll see an option to allow the link to be shared with anyone in the "finance" group. Team members can access the link immediately, while anyone outside of the group will have to ask for permission before they can view the file.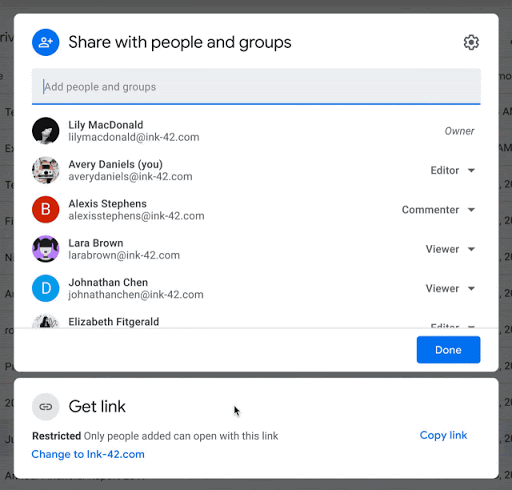 Getting started 
Admins: Find Target audience settings in

Admin console > Directory > Target audiences

. You can specify target audiences at the group or organizational unit (OU) level. Visit the Help Center to learn more about

how to manage target audiences for your organization

. 

End users: There are no end-user settings. If this feature is enabled by the administrator, users will see target audiences as a link sharing option for Google Drive, like the image above.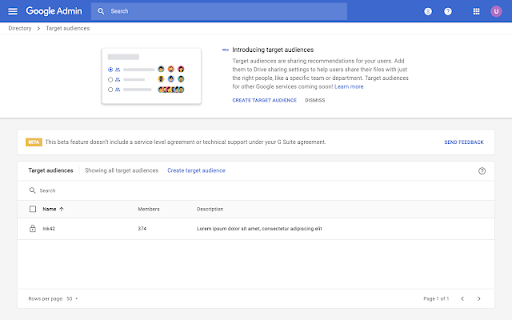 Rollout pace 
Availability
Available to G Suite Business, G Suite Enterprise, and G Suite Enterprise for Education customers 

Not available to G Suite Basic, G Suite for Education, G Suite Essentials, G Suite Enterprise Essentials, and G Suite for Nonprofits customers 
Source: Gimasys