Unify classic Hangouts and Chat management
What changed?
Trong phần cài đặt bảng điều khiển dành cho quản trị viên G Suite (Google Workspace customers), Google kết hợp giữa Hangouts Chat và Hangouts cổ điển. Điều này sẽ giúp quản lý chính sách của bạn dễ dàng hơn và make sure they are properly configured. The new setting will be located at: Admin console > Apps > G Suite > Hangouts Chat. 
Who will be affected?
Only administrator
Why use?
The settings in this G Suite admin console will help you define how your organization uses G Suite chat or messaging products. For example, you can set policies for chat history, chats with external users, and 3rd party integrations (bots). With this update, you only need one place to control all the chat settings for your organization. This, in turn, can help simplify deployment and ensure that policies are set up as desired.
How to get started
Additional details
Note, Google will not make any changes to your current settings, only the location and presentation of the settings will be changed. Clicking "Chat Settings" from the classic Hangouts page in the Admin Console will redirect you to the Hangouts Chat settings page. From there, you'll find all the chat control settings on both Classic Hangouts and Hangouts Chat.
The specific policies affected by this change, along with details of the impact of the change, are shown in Help Center. New policies can be customized for each organizational unit (OU). 
Additional details on the functionality of the settings for which products they apply are provided in the Admin Console interface.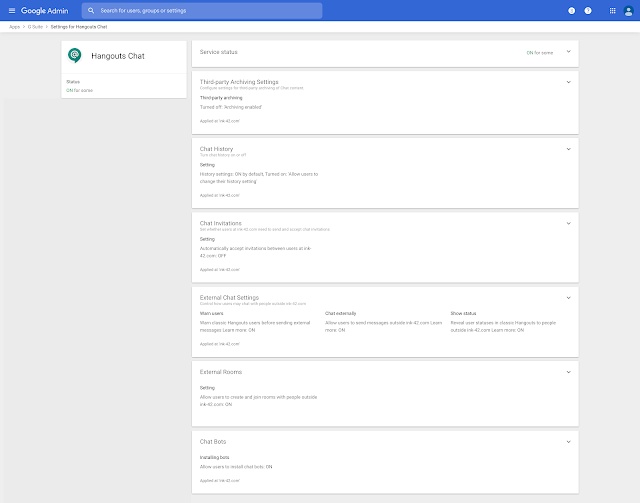 Source: Gimasys