New appointment scheduling features of Google Calendar
What's changing 
Appointment scheduling allows you to manage your availability and let customers and partners book time with you directly within Google Calendar via a personal booking page. To improve upon the current experience, Google is adding:
Five to fourteen minute appointment slots that are customizable. Previously, the minimum duration was fifteen minutes.



The option to hide or show Appointment schedules within the calendar view on web.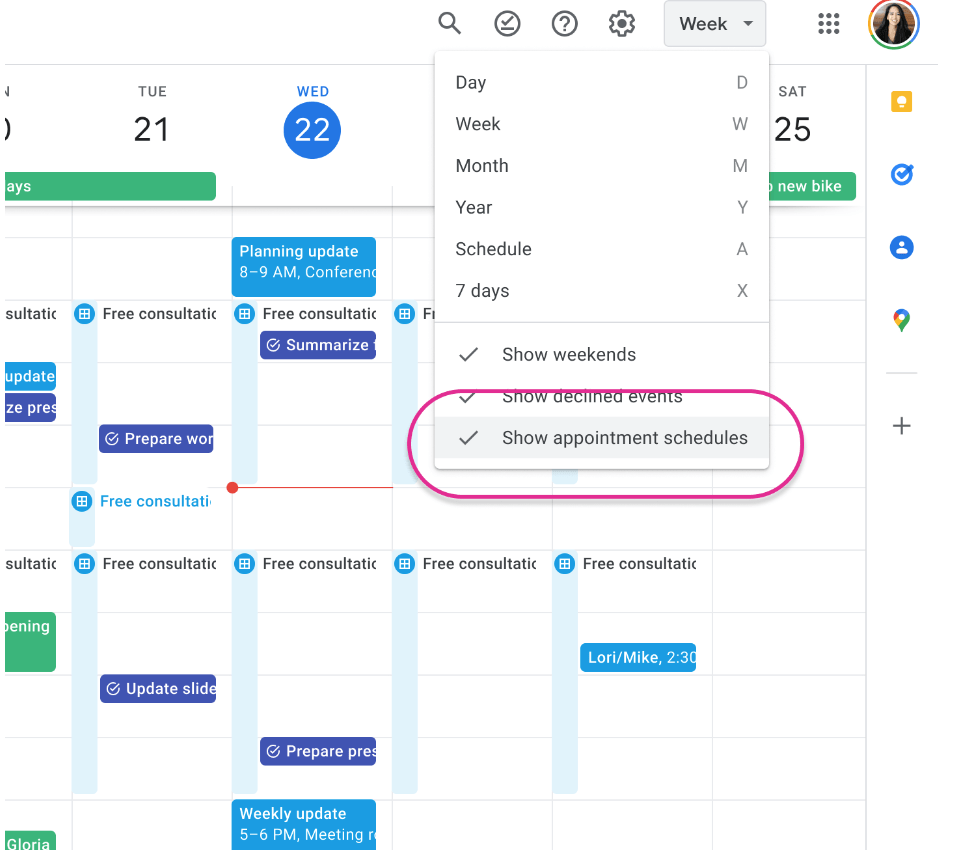 Google hopes these highly requested features help you to set more relevant meeting durations and tailor your calendar view to match your preferences.
Getting started 
Admins: There is no admin control for this feature.

End users:

To set up your appointment schedule, open Calendar > at the top left, click Create > select Appointment schedule > Set up the schedule.

To customize appointment slot durations, create or edit an Appointment Schedule. Under Appointment duration, select the dropdown > click Custom > Enter a duration. Visit the Help Center to learn more about

setting your appointment duration

. 

Appointment schedules will show by default. To hide Appointment schedules, go to the View Switcher and deselect Show appointment schedules. Visit the Help center to learn more about

creating an appointment schedule

. 

Note: if Appointment schedules are hidden and you create a schedule or add time to an existing schedule, appointment schedules will reappear in your calendar view.
Rollout pace 
Rapid Release domains: Full rollout (1–3 days for feature visibility) starting on March 14, 2023.

Scheduled release domain: Full rollout (1–3 days for feature exposure) starting July 18, 2023
Availability
Available to Google Workspace Business Standard,Business Plus, Enterprise Standard, Enterprise Plus, Education Fundamentals, Education Standard, Education Plus, the Teaching and Learning Upgrade, Nonprofits, Workspace individual subscribers, and users with personal Google Accounts .
Source: Gimasys