Analyze Big Data with BigQuery and Google Sheets
What's new: Google has connected Sheets and BigQuery to make data analysis and sharing easier. BigQuery Data Linker will help you
Collaborate with colleagues and partners on the familiar spreadsheet interface

Ensure data is only taken from one unified source, users do not need to extract multiple CSV files

Streamline the reporting process and synthesize and analyze data
Who is affected?
End users
Why should you use this feature?
From the beginning, Google built BigQuery to help users easily process and understand large volumes of data – now users, employees, and members of non-analytics teams – can access and analyze data. By combining these two tools, people can together view up to 10,000 rows of data from BigQuery easily, in a familiar interface. This feature will make collaboration and information sharing simpler, thereby allowing the team to make faster decisions.
To start using
For Admins

: No need to do anything

For end users:

Here are the steps to take to get data from BigQuery and analyze it in Sheets:

From Menu, select Data > Data Connectors > BigQuery

Use our

feature Explore
Create Chart

(create charts)

Create Pivot Tales

(create Pivot Tables)
To test key access permissions to the BigQuery data joiner, you can see here.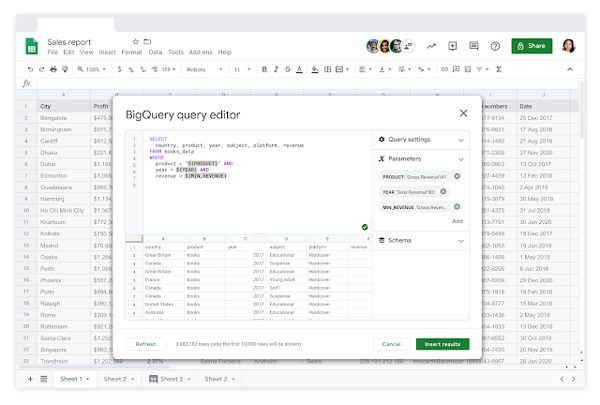 Additional details
Anyone you share the spreadsheet with will see the data saved in the Sheet. Only those with edit rights in the Sheet and view rights in the BigQuery table will be able to refresh the data.
As always, use shared access to control who can see, edit, and share your data.
In the coming weeks, you'll be able to use tools like App Scripts and features Macro recorder to schedule automatic updates of data from BigQuery to Sheet. For example, you can automatically update sales data in a spreadsheet so that it is always fresh and ready for analysis at the beginning of business hours each day. To learn more about recording and running macros in Sheets,
If you have any questions regarding the application or need to sign up for a free consultation to learn about its features, Google Cloud Platform Please contact Gimasys immediately for advice:
Email: gsuite@gimasys.com
Sign up for a free trial: Here
Phone number: Hanoi: 0987 682 505 - Ho Chi Minh: 0974 417 099
Source: Gimasys