Site Recovery Manager assists in recovering from disaster scenarios in information technology
The trend of digital transformation is taking place increasingly rapidly and strongly. This needs to go hand in hand with businesses needing to shorten the time to compete with the market in investing in information and digital technology; Specifically, the development of data infrastructure. To be able to do that, businesses need to be equipped with architecture and solutions to quickly handle technological problems or disasters that occur with their systems. Site Recovery Manager in VMWare virtualization infrastructure. Site Recovery Manager is a solution designed to minimize downtime in the event of disaster scenarios or sudden delays or shutdowns.
What is Site Recovery Manager?
Site Recovery Manager (SRM) is a VMware tool that helps automate disaster recovery and move applications and data between different physical and virtual locations, in addition to VMware Site Recovery Manager (SRM) is a disaster recovery solution that protects virtual machine-based workloads running on virtualized hosts (vSphere-ESXi). Disaster recovery solution is an essential requirement for any organization to meet critical application SLAs in case of complete Data Center failure due to various reasons like natural disasters/power outages etc.
With the new Site Recovery Manager (SRM), organizations can create recovery plans, identify critical applications and data, and automatically take recovery steps when problems occur. SRM provides the ability to move and restore applications and data between physical and virtual data centers, helping to minimize operational downtime and minimize the risk that exists when problems occur.
How Site Recovery Manager works in VMware
Site Recovery Manager (SRM) supports backup and restore not only for virtual machines, but also for physical servers and applications as it integrates with storage systems and array-based replication to ensure Ensure consistency and ensure that your organization's critical applications and data are always up and running.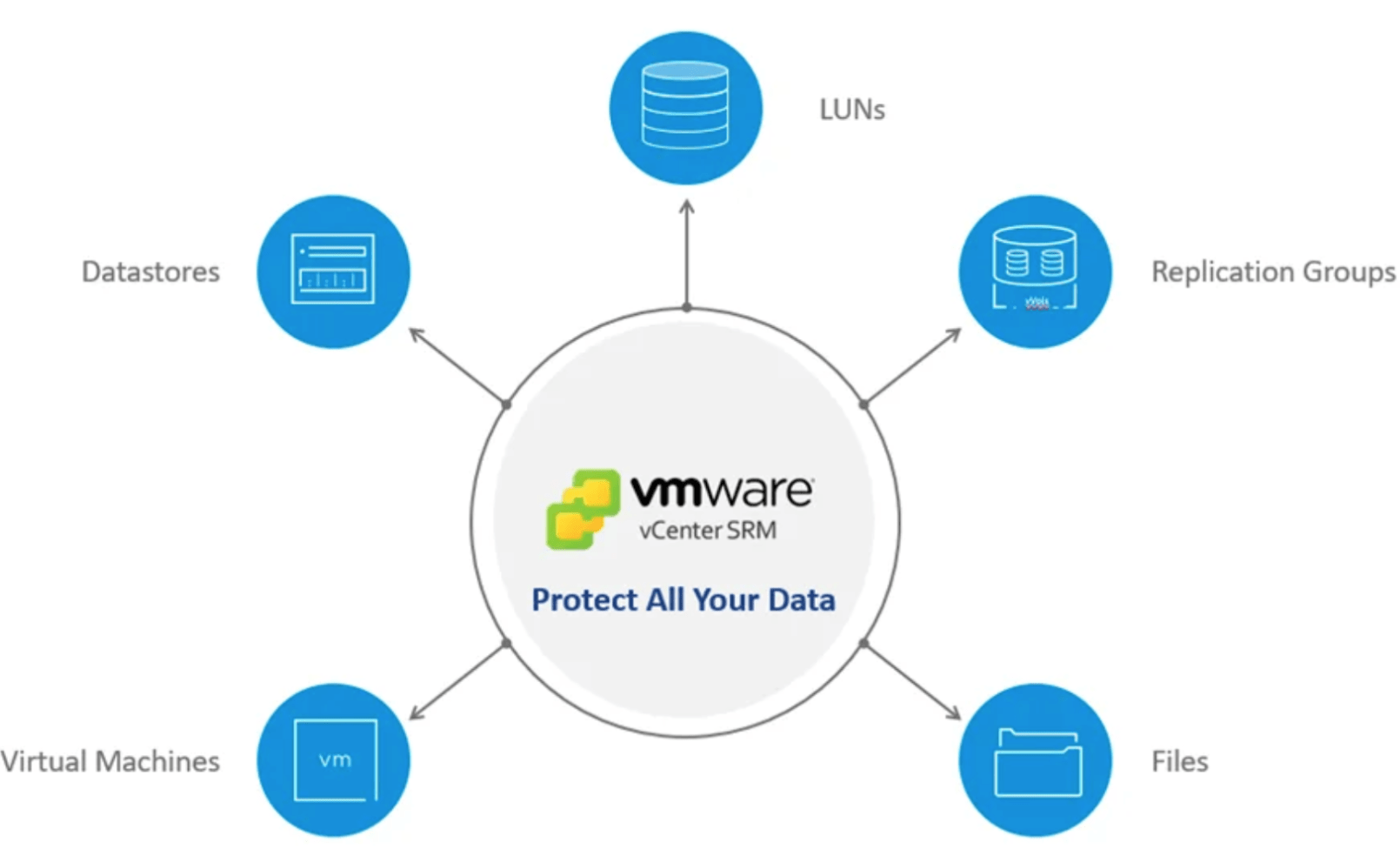 Why should you choose Site Recovery Site Manager in VMWare?
With reasons and features to help handle and minimize downtime and stagnation in enterprise system errors, the following is a summary of the reasons that large businesses should consider choosing Site Recovery Manager in VMWare like:
Automated failover and failover

Planned Migration from DC to DR or vice versa can be performed

Easily manage workloads from a single pane of glass

Testing will not cause disruption

This is the easiest solution for protesting vSphere-based workloads

Convert complex migration plans into simple recovery plans

Application owners can define automated scripts in the recovery plan if any modifications are required during failover.
Effective benefits of Site Recovery Manager
The main ability is to recover from errors, system disasters, and failovers in an extremely short time because virtual servers and storage components need to be synchronized in real time (this only takes time). server startup time).
In addition to the ability to predict/prevent possible system disasters, Site Recovery Manager also has the following user support features:
Migration:

for users who need to convert DC to a new location without spending a lot of down time.

Maintenance:

Supports maintenance, servicing and upgrading of enterprise systems by converting the operating mode to

recovery site.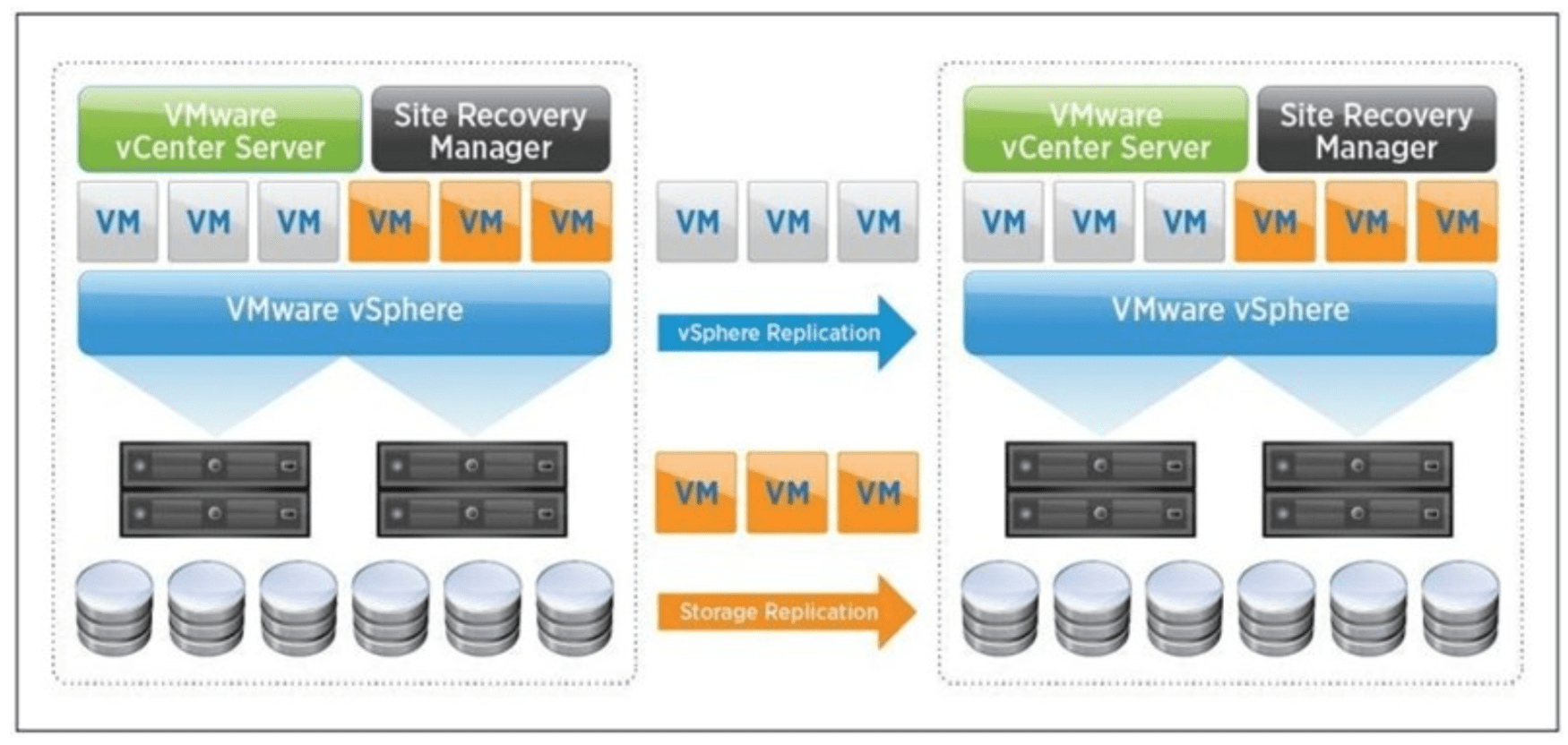 Other limitations of Site Recovery Manager
Besides the outstanding features, VMware SRM also has certain limitations: 
High licensing costs: SRM is a highly featured and proprietary software product. It has quite high licensing costs compared to other software products on the market. In addition, VMware SRM also requires hardware and software that meet certain configuration requirements, causing additional costs for businesses when deploying the product.

Technical support limitations: One limitation of VMware SRM is that support may not meet customer needs for complex technical issues. These issues may require support from senior technical experts or VMware's product development team.

Deployment complexity: VMware SRM has a complex deployment process, which includes many steps such as software deployment, configuration, and testing. This can increase implementation time and requires careful management.
Conclusion
Site Recovery Manager Often suitable for large-scale organizations and businesses when they need to deploy and run services with "huge" amounts of data - requiring almost no incidents to occur. Site Recovery Manager handles "downtime" and unforeseen delays to avoid causing major damage to business and organizational systems.
For more detailed product information or to need technical support, you can contact Gimasys - Premier Partner of Google in Vietnam at the following information:
Hotline:

0974 417 099 (HCM) | 0987 682 505 (HN)

Email:

gcp@gimasys.com
Source: Gimasys