Smart Compose is now available in Google Docs
Quick summary
Last year, Google announced the beta for Smart Compose in Google Docs, một tính năng giúp bạn soạn nội dung có chất lượng cao trong Google Docs nhanh hơn và dễ dàng hơn. Smart Compose giúp bạn tiết kiệm được thời gian bằng cách cắt giảm văn bản lặp đi lặp lại, giúp giảm nguy cơ sai lỗi chính tả và ngữ pháp, và có thể để xuất các cụm từ theo ngữ cảnh có liên quan.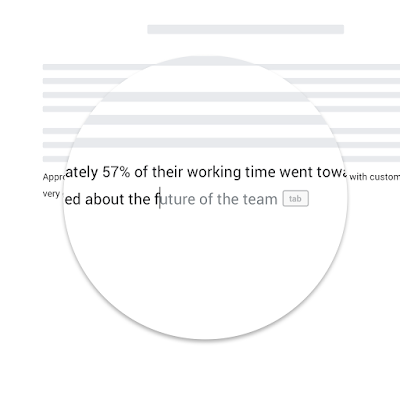 This feature is available now and has begun rolling out to all G Suite customers. Note that Smart Compose is currently only available in English.
Getting started
Admins:

  There are no admin controls for this feature.

End users:

This feature is

ON

by default and can be disabled by selecting

Tools > Preferences

and uncheck "Show Smart Compose Suggestions". When enabled, you will automatically see Smart Compose suggestions. To accept a suggestion you like, press "tab" or press the right arrow key. Visit the Help Center to learn more about

how to use Smart Compose in Google Docs
Deployment speed
Express release domains:

Gradual rollout (up to 15 days for feature visibility) starting February 18, 2020

Scheduled release domains:

Extended rollout (may take longer than 15 days for feature exposure) starting March 3, 2020
Effect
Available to G Suite Basic, G Suite Business, and G Suite Enterprise customers 

Không có sẵn cho khách hàng G Suite for Education (Google Workspace for Education), G Suite Enterprise for Education, và G Suite for Nonprofits

Not available to users with personal Google accounts.
Source: Gimasys